We Count! The Power of Participation
Welcome to "We Count," a short series focused on building community power and civic engagement in Nebraska. The 2020 census is coming up soon and we need your help to make sure we receive the funding, representation, and information that reflects Nebraska's growing communities. 
The census is important because…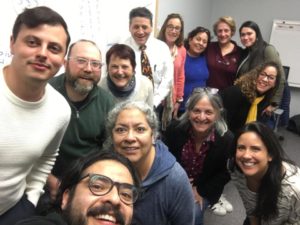 There is power in participation! For the next ten years, the 2020 Census will determine how much funding and resources our communities receive for schools, housing, hospitals, child care, school breakfast and lunch programs, and more. Nebraska receives almost 4 billion dollars per year in census-impacted funding. Let's make sure our voices are heard for our communities, children, families, and ourselves.
Will my information remain confidential?
There are strong protections for census data. Census Bureau employees with access to protected data are sworn to keep information confidential for life under threat of a criminal penalty. Wrongful disclosure is punishable by a fine of up to $250,000, imprisonment for up to five years, or both.
Personally-identifiable data will NOT be shared; the census data will only be used for purely statistical purposes. Law enforcement is not considered a statistical purpose.
There are robust laws providing data confidentiality protections. For more information, go to the Census Bureau's website or view this fact sheet: English | Spanish. 
What if I don't participate?
In addition to being mandated by law to fill out a complete and accurate census, the risk of not participating is a loss of community resources and representation. Even just a 1% undercount in Nebraska could mean a loss of over $215 million over the next decade in critical community funding, such as food programs, health coverage, child care, and more. 
After the March-April period for online census participation, Census workers will begin visiting homes to help those who have not yet filled out the Census.
The citizenship question will NOT be on the 2020 Census.
Through community organizing and litigation, advocates won the legal battle to keep the citizenship question off of the census. The Census is just a short number of questions that take only a few minutes to fill out.
The administration is not backing down from creating fear in communities, but we are not backing down either. Nebraska communities will make sure our voices are heard.
Nebraskans are working to ensure a fair and complete count in 2020—no matter age, citizenship status, or background. We all count in Nebraska!
Are you sure I should participate?
YES! Every Nebraskan should participate including:
Children who live in your home, including foster children and young adults, children who split their time between homes, and newborn babies, even those who are born on April 1, 2020.

Fact: Children ages 0-5 are one of the most undercounted groups in the nation.

International students living and attending college in the United States.

People who are living in temporary, emergency, or transitional housing or shelters.
If you still have questions on who should be participating in the census, visit the Census website.
Take Action 
Ensure you and your families and friends are counted by filling out the census form in Mid-March. Use this community flyer in English and Spanish

 to share information, and

stay tuned for community events

where local assisters can help you fill out the form together.

Refer to these additional fact sheets for basic information on the census timeline and census FAQs.
Volunteer and speak up in your community

by filling out our volunteer form

here

.