Tell Congress: Pass New Positive Immigration Legislation

Long-overdue legislation has been introduced in the U.S. House of Representatives and the Senate that would provide protections for Dreamers and longtime residents with Temporary Protected Status (TPS) and Deferred Enforced Departure (DED) status who are part of the fabric of local communities.
This critical legislation would provide stability for Nebraska families and communities by creating a process to apply for permanent residency and citizenship for Nebraska Dreamers and TPS community members with long-standing ties to our country. A majority of TPS residents have lived in the U.S. for more than 20 years, building lives, families, and businesses. The original Dream Act was introduced in 2001.
Tell both U.S. senators to SUPPORT the Dream Act of 2019 and Secure Act of 2019. And, tell your U.S. representative to support the Dream and Promise Act of 2019. Urge them to provide DACA youth, TPS, and DED residents a means to apply for permanent residency and eventual citizenship in the country they know as home and to which they contribute so much.
Dreamers continue to enrich Nebraska communities, contributing their skills and talents to the only place they know as home, while living with constant uncertainty after the Trump Administration announced an end to the Deferred Action for Childhood Arrivals (DACA) program one year ago. Similarly, the Administration announced a sudden end to TPS status for residents from several countries where conflict or other extraordinary circumstances make it impossible to return without jeopardizing their lives.
It is long past time to provide stability for Nebraska communities and families through common-sense legislation that creates a way to apply for citizenship for contributing community members. Contact Nebraska's congressional delegation today.
---
Medicaid expansion wavier hearings announced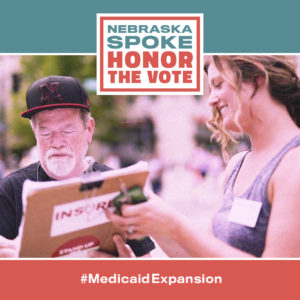 The Nebraska Department of Health & Human Services released their proposed plan to implement Medicaid expansion, a Section 1115 waiver known as the Heritage Health Adult Program. The proposed waiver includes a two-tiered benefits system, work and wellness requirements, and changes to retroactive eligibility.
Over the next month, you have the opportunity to raise concerns about the proposed waiver at public hearings held across Nebraska and by submitting your own comments.
Public Hearings
The public hearings will be held at the following times and locations:
Tuesday, October 29: 7pm-8:30pm MT
Scottsbluff High School (Board Room)
313 E 27th St, Scottsbluff, NE
Wednesday, October 30: 6:45pm-815pm CT
Kearney Public Library (South Platte Room)
2020 1st Ave, Kearney, NE 68847
Thursday, November 7: 6pm-7:30pm CT
Norfolk Public Library (Meeting Room A)
308 W Prospect Ave, Norfolk, NE 68701
Tuesday, November 12: 7pm-8:30pm CT
UNO College of Public Affairs and Community Service (Room 132)
6320 Maverick Plaza, Omaha, NE 68182
Click here to share the hearing details on Facebook.
Submit a Comment Online
Beginning today, Nebraskans now have the ability to submit comments to the Department of Health & Human Services. Whether or not you can attend a hearing, it's important to submit comments on the proposed waiver.
You can submit written comments HERE or via email to DHHS.HHAWaiver@Nebraska.gov or by mail to:
Department of Health and Human Services
Nebraska Medicaid
ATTN: HHA Waiver
301 Centennial Mall South
P.O. Box 95026
Lincoln, NE 68509-5026
Background
Nebraskans are needlessly waiting for lifesaving coverage while the Department chooses to experiment with a proposed Section 1115 waiver that is incredibly confusing and imposes additional barriers and reduced benefits.
It is especially concerning that work requirements have been included in this proposal, especially when work requirements have been shown to be expensive, burdensome, and legally suspect.
Nebraskans voted to implement Medicaid expansion with their neighbors, friends, and family in mind.
It's time to honor the vote of the people and swiftly begin the program without barriers or unnecessary experiments.
---
Fight hunger in our schools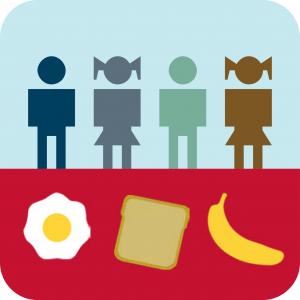 Our school districts make critical decisions when planning school breakfast programs that affect not just students' ability to eat a nutritious meal, but also their health and academic performance.
National data shows Nebraska continues to trail behind nearly all states in making sure children are getting the breakfast they need to be healthy and learn. Nebraska Appleseed's School Breakfast Report identifies pockets of success and specific opportunities to make sure hungry students get a nutritious breakfast at school to support their classroom achievement. The report also makes recommendations for schools to allow more students to start the day with a nutritious meal.
Given rising food insecurity among families and unpaid meal debt among schools, making sure Nebraska schools have effective breakfast programs ticks both the urgent and important boxes.
View our interactive map to see how your school district performs in in making sure children get a breakfast to support their success in the classroom, and learn how together we can help make sure more Nebraska children have a nutritious meal at the start of their day.
---
Everyone should have a safe workplace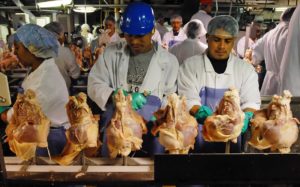 Over the past decades, significant and convincing data has piled up to show that working in the meatpacking and poultry processing industries continue to be some of the most dangerous jobs in the country.
The Trump Administration has proposed a new rule to make it even more dangerous – both for workers in pork slaughter plants and the food that makes it to your plate. The plan to remove federal food safety inspectors and increase the already dangerously high line speeds in pork plants would be a disaster for all involved.
Tell our members of Congress to pass a law to protect food and worker safety by rejecting this increase in line speed. Our lawmakers must pass protections that prevent the hard-working men and women who prepare our food from suffering permanent, crippling injuries on the job.