Essential workers need essential protections as meatpacking outbreaks grow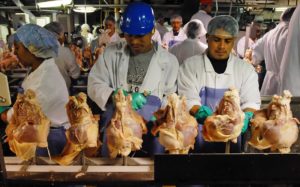 Recent news continues to illuminate a pattern of callous disregard for the people who perform essential work in meat and poultry plants — from plant managers who took bets on how many workers would get COVID-19 to further examples of inhuman treatment in Nebraska plants exposed in a new ACLU lawsuit. A new study shows how meatpacking plant failures link to broader community spread.
Despite months of pleas from workers, their families, and communities for the Legislature to act, they failed to address the working conditions in meat and poultry plants during the last session.
Nebraska's meat and poultry workforce need essential protections:
Most importantly, 6-foot physical distancing in all areas of the plant, including locker rooms, break areas, and the processing floor

At least two weeks of paid sick leave so people can afford to stay home and monitor symptoms or care for a family member with symptoms

Protective equipment including the best available masks

Effective screening and quarantine practices with transparency of information for employees
Call your senator at (402) 543-5799 as they prepare for the January session. Let them know you are grateful for the Nebraska neighbors, family members, and friends who process our food and who, after many months, are still at risk every day.
---
Tell Your Story: What Does Medicaid Expansion Mean to You?
After years of waiting, Nebraskans in the coverage gap will finally be able to enroll in expanded Medicaid coverage later this year. We want to know why Medicaid expansion is important to you. How will it make a difference for you or your loved ones?