SUMMER FOOD SUPPORTS NEBRASKA FAMILIES
EMPTY CLASSROOMS SHOULD NOT MEAN EMPTY STOMACHS
The Summer Food Service Program (SFSP) supports healthy eating for kids during the summer. The program offers all kids aged one to 18 a free meal in a high-needs location that is supervised, safe, and welcoming. Organizations, camps, agencies, school districts, or other groups can be sponsors through the SFSP, serving meals at service sites and receiving federal reimbursement. This program feeds thousands of children across Nebraska who may be without consistent meals during the summer.
SIX BEST PRACTICES FOR SFSP AND EQUITY
Increasing equity and access at SFSP sites is not only good for kids and families, it better supports SFSP reimbursements and programs. Find 6 best practices taken from current sponsors that are tearing down barriers to access and making programs more welcoming to ALL children.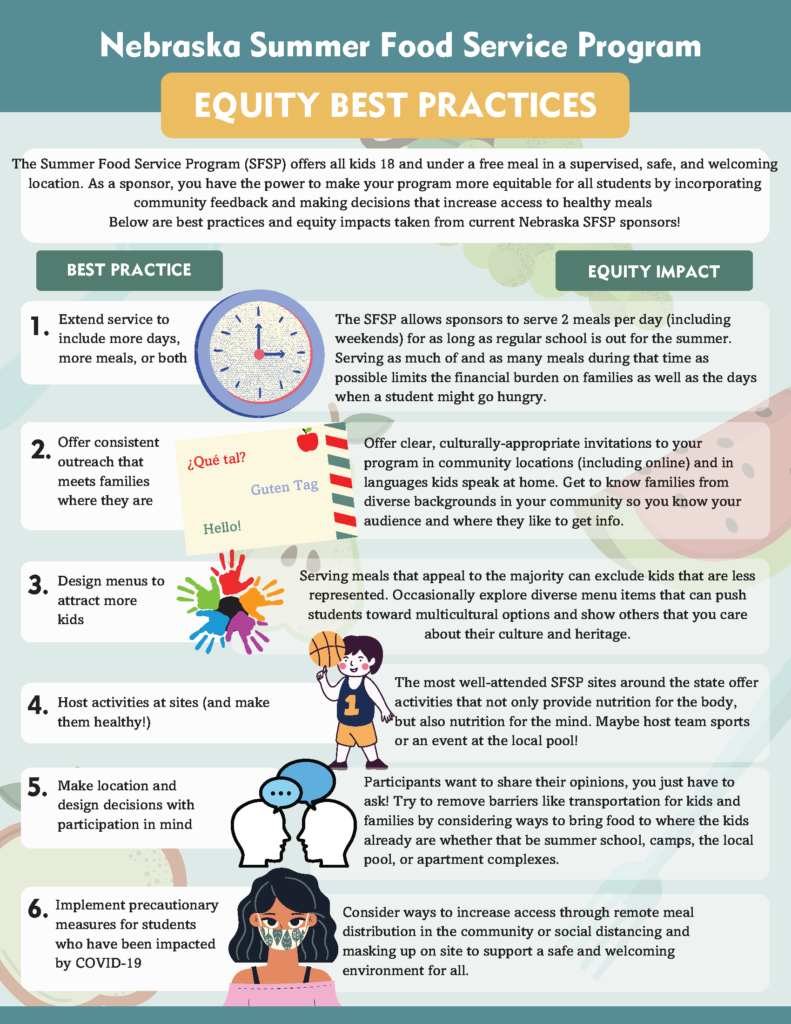 FIND A SUMMER FOOD SITE NEAR YOU
The SFSP is open to all kids ages one to 18 during the summer months (and when schools are closed unexpectedly). Use the tools below to find a Summer Food site near you.
TEXT "FOOD" OR "COMIDA" to 304-304
During summer, Nebraska Appleseed's national partner No Kid Hungry hosts a text line to help families find summer meals: Text "FOOD" or "COMIDA" to 304-304 to get referred to the 3 closest meal sites open near you.
USDA'S MEALS FOR KIDS SITE FINDER
The USDA's Meals 4 Kids map shares SFSP site information from across the US during summer.
RESOURCES FOR CURRENT SFSP SPONSORS
GRANT OPPORTUNITIES
Go Big Breakfast in Nebraska is keeping track of school nutrition grant opportunities, potentially including those for SFSP.
Nebraska Department of Education (NDE) Summer Equipment Grants (up to $15,000!) The NDE accepts applications for the SFSP Expansion Grants each year from mid-January to the end of February. This is an excellent opportunity to expand your organization's reach and engage more participants. The grant is available annually and you can apply each year!
NEBRASKA SPONSOR OUTREACH TOOLKIT 2023
Nebraska Appleseed created template social media posts and images, newsletter/email blurb, and a press release Nebraska SFSP sponsors can use to drive participation at sites. This year, resources are in English and Spanish!
View materials and templates in our digital 2023 SFSP Sponsor Outreach Toolkit.
FEDERAL COVID-19 CHILD NUTRITION WAIVER IMPLEMENTATION: BEST PRACTICES
This report covers federal changes that have allowed schools to continue feeding students during COVID-19, implementation methods from KS, IA, CO, and NE, and policy recommendations to support more kids eating at school.
RESOURCES FOR POTENTIAL SFSP SPONSORS
Becoming an SFSP sponsor can support an organization's mission and bottom line. Find resources for potential Nebraska SFSP sponsors below at NDE's SFSP webpage. Find answers to some common concerns from new SFSP sponsors like school districts, nonprofits, churches, and libraries.