COUNTDOWN TO COVERAGE
Tuesday, July 7, 2020, at 10 a.m. CT
Facebook Live on the Nebraska Appleseed page
After years of waiting, 90,000 of our family members, friends, and neighbors will finally be able to enroll in Medicaid expansion in August, with coverage beginning in October.
Alongside Nebraska health care advocates, Nebraska Appleseed will hold a virtual Countdown to Coverage community event to celebrate and provide information on enrollment for expanded Medicaid coverage.
Share your story
We want to hear from you about why Medicaid expansion is important and about how it will make a difference for you or your loved ones, especially during this pandemic. Share your story using our online form, leaving a comment on our event page, or responding to this email.
In this global health crisis, it's more important than ever to make sure all of our community members have access to equitable, quality, and affordable health care.
---
Solidarity Saturdays
Every Saturday at 2:15pm CT.
If you live in Crete, Grand Island, or Lexington, you're invited to join weekly drive-in vigils for meatpacking workers and COVID-19 protections.
All vigils start at 2:15 pm CT.
Vigils are organized by Solidarity with Packing Plant Workers.
For more info here.
---
October 1: The Good Apple Awards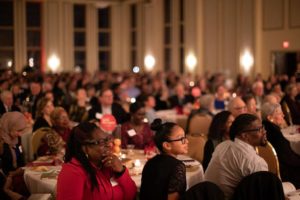 Thursday, October 1: 6pm-8:30pm
Livestock Exchange Building Ballroom
4920 S 30th St, Omaha, NE 68107
Save the date for this year's Good Apple Awards! Join us as we honor people who stand up for justice for all Nebraskans, and celebrate the year's accomplishments with Nebraska Appleseed. Stay tuned for information about this year's honorees!
---
Get Involved
Want to get involved by participating in a phone bank, hosting a letter-writing party, or doing something else? Let us know on our Volunteer page