Nebraska Wesleyan University Lecture Series
Thursday, April 2, 7:00 p.m.
Lecture: How to Improve Outcomes for Black Males – Callen Conference Center
Dr. Joseph Marshall, Jr. is an author, lecturer, radio talk show host, and community activist. He is the founder of Alive & Free (http://stayaliveandfree.org/), an international violence prevention organization headquartered in San Francisco, CA. His worked has impacted the lives of more than 10,000 since 1987. Co-Sponsored by the NWU Action Council, Gender Studies, and Gender Advocacy Place
Sunday, April 12, 1:00 – 5:30 p.m.
Workshop: XXIX Peacemaking Workshop: Eating (Jim Crow) featuring Leonard Pitts, Jr. –– First United Methodist Church – 2723 North 50th Street, www.firstumclincoln.org.
Leonard Pitts, Jr. is an American commentator, journalist, and novelist. He is a nationally syndicated columnist whose work focuses on race, politics, and culture. Mr. Pitts won the Pulitzer Prize for Commentary in 2004. Leonard Pitts, Jr. will speak at 1:00 p.m. followed by five workshops dealing addressing Divisions Created by Race & Divisions Created by Poverty.
---
Guided tours of The Quilted Conscience Project in Omaha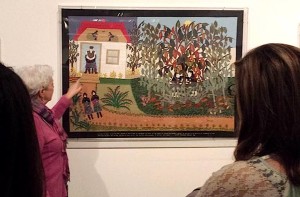 There are several chances in Omaha to see "The Quilted Conscience Project," a moving and meaningful art project that fosters cross-cultural bonds across generations.
You can see The Quilted Conscience Project at the Joslyn Art Museum and KANEKO gallery through April 25. Free, guided shuttle tours of all three locations will be held:
April 11 

All guided tours will be held from 1-4 p.m. Click here to RSVP for a guided tour
The Quilted Conscience Project works with immigrant and refugee children, newly arrived in the United States, as well as community members whose families have been here for generations and now are getting to know their newest neighbors. Together, the groups form bonds and discover similarities through sharing their dreams and memories via quilting. It encourages creativity, respect, and friendship.
---
One Person Stands Up For Justice: The Appleseed Poster Show
Wednesday, April 15 at 7:00pm
A powerful tool for advocating change, quite possibly the purest form of communication, the poster, will be up on display this April at the Bancroft building in South Omaha. Specifically, 44 posters by Nebraska designers for Nebraska Appleseed, a non-profit, nonpartisan public interest law firm that works for equal justice and full opportunity for all Nebraskans. Over the last four years at their annual community awards event called the Good Apple Awards, these prints, hand-pulled by Screen Ink in Lincoln, have been used to help tell the story of Appleseed and the people the organization helps. As well as to inspire others to stand up for justice in their own communities.
These posters, at 18×24 inches, are small when compared to the daunting challenges of reducing poverty, creating welcoming communities for everyone, or expanding access to health care. But they are a reminder that it only takes one person. One person is all that's needed to write a letter, to call a Senator, to march for opportunity, to rally for equality. One person is all that's needed to say no to discrimination, oppression, and indifference. To stand up for justice, it only takes one person.
One seemingly small act, when taken together, can lead to profound, positive change in the places we all call home. These posters as a collection are positive, uplifting and hopeful. They're an example of the roll-up-our-sleeves work ethic of the people in our state who donate time and talent to help an organization make change by doing the one thing that designers know best how to do — move people to action.
Entry to the poster show is free, with all proceeds from poster sales going directly to Nebraska Appleseed. Learn more and RSVP
---
The 2015 Good Apple Awards
Save the date for Appleseed's annual event honoring Nebraskans who stand up for justice and opportunity for all: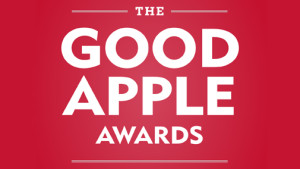 Thursday, October 8, 2015
Livestock Exchange Building Ballroom
4920 S 30th St
Omaha, NE 68107
Stay tuned for info about this year's honorees!