July (month long): Partnership at the Urban Abbey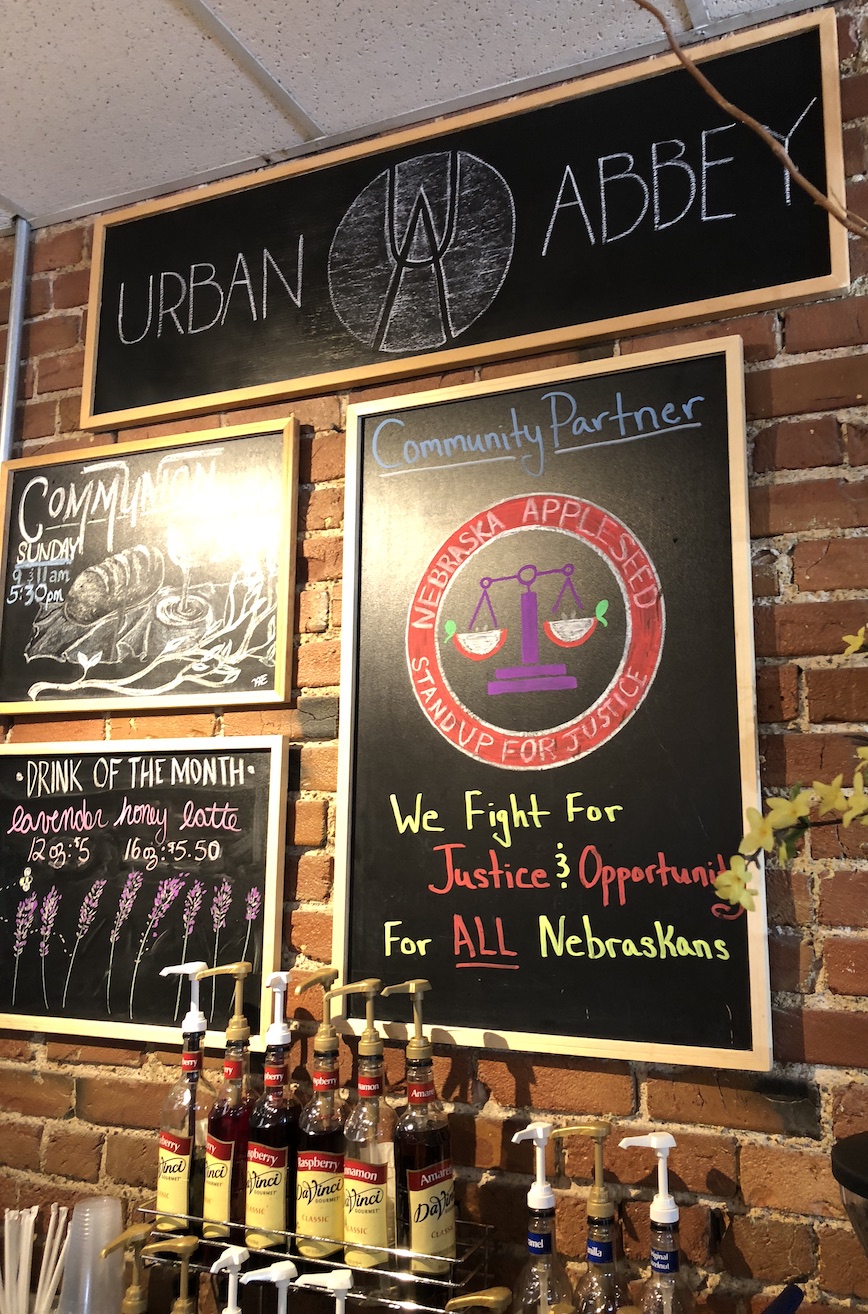 Urban Abbey
1026 Jackson St, Omaha, NE
Throughout the entire month of July, 10% of all purchases at the Urban Abbey's coffee bar will be donated to Nebraska Appleseed! Your cup of coffee, tea, or delicious muffin will help fuel the fight for justice and opportunity for all Nebraskans.
The Urban Abbey is a nonprofit, fair trade coffee shop, bookstore and church located in the heart of Downtown Omaha's Old Market. The Urban Abbey is a space of inclusion and hospitality, building relationships, and community in our neighborhood and city. They serve as hub for productivity for professionals and students, a space for meaningful events, and a home for modern worship.
---
July 25:
Let's Talk Medicaid Expansion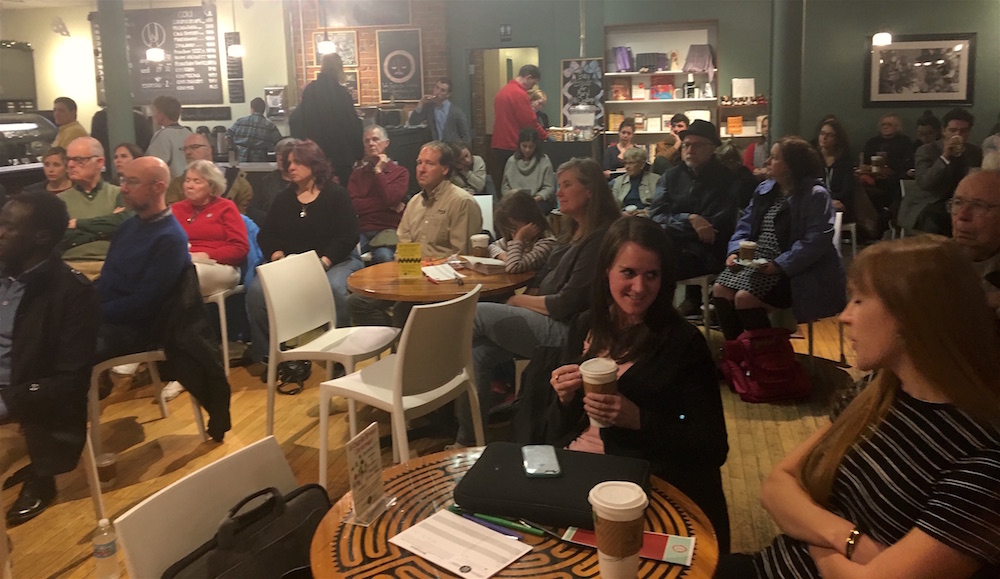 Thursday, July 25 at 6:00pm
Urban Abbey
1026 Jackson St, Omaha, NE
Join Nebraska Appleseed for a presentation providing a general overview of Medicaid expansion in our state. You'll also have a chance to learn how to get involved!
---
August 3: Community Builder Workshop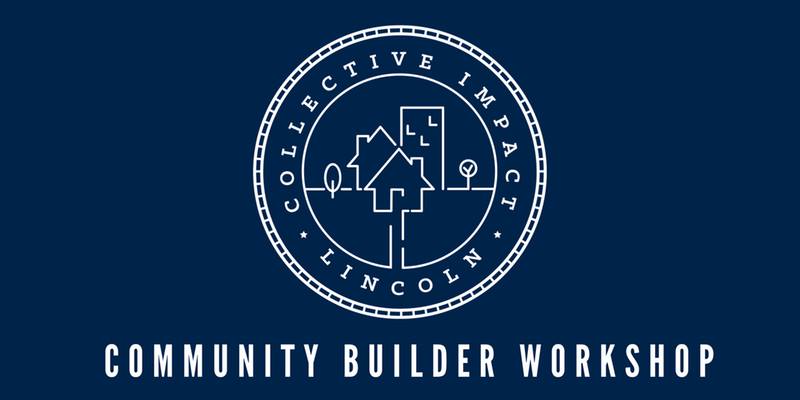 Saturday, August 3: 10am-2pm
Educare Lincoln
3435 N 14th St, Lincoln, NE 68521
Join us for our next Community Builder Workshop with Civic Nebraska and South of Downtown Community Development Organization! Please register and sign up for two breakout sessions: http://bit.ly/august2019cbw
Registration: 9:30 to 10 am
Program: 10 am to 2 pm
Session 1
Welcome & Story of Self
Session 2
Community Asset & Needs
Session 3
How to Sessions (Breakout)
Good Governance: Organizations don't run themselves. An effective organization relies upon good leadership from officers, a solid foundation of governing documents, and constant visioning and participation by members.
Coalition and Partnerships: Strengthen partnerships with like-minded organizations and learn how to build a community of business in your neighborhood.
Grassroots Advocacy for Community Groups: This session will teach neighborhood groups how they can advocate and organize for civic action.
Session 4
How to Sessions (Breakout)
Building Membership in Your Organization: Members carry out the mission daily, give voice to the programs, and represent the constituent base. The voice of members is vitally important and it's imperative to have a strong member base.
Fundraising and Seeking Sponsorship Partners: Find out strategies and fundamentals for fundraising and how to build sponsorship partners for your neighborhood organization.
Getting Your Organizational Message Out: Learn how to equip your organization with the tools they need to tell their story in a consistently engaging manner, craft effective messaging, and define your organizational brand.
Wrap Up & Planning Your Next Steps
Questions? Contact Nancy Petitto at nancy.petitto@civicnebraska.org
---
August 16-17: Appleseed at the Maha Music Festival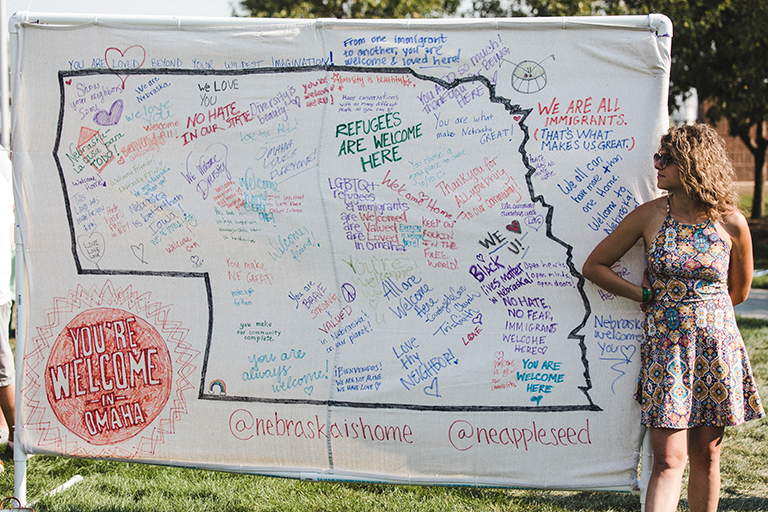 Friday, August 16 and Saturday, August 17
Stinson Park at Aksarben Village
67th & Center St, Omaha, NE
Appleseed will be at the Maha Music Festival's Community Village! Stop by Appleseed's tent to contribute your voice in support of inclusive, vibrant communities! We're having festival goers write welcoming messages on a patch that will then be attached to a Nebraska-shaped canvas to create a collective, collaborative quilt.
Learn more about the Maha Music Festival and the Community Village.
---
October 10: The Goods Apple Awards
Thursday, October 10: 6pm-8pm
Livestock Exchange Building Ballroom
4920 S 30th St, Omaha, NE
Join us for our annual celebration of outstanding advocates who stand up for justice and opportunity for all Nebraskans. The Good Apple Awards is Appleseed's annual fundraiser event, featuring live music, a social justice poster show, and community awards celebration. For details, please visit our Good Apple Awards page.
Share with your friends you're going to the event on our Facebook event page.
---
Get Involved
Want to get involved by participating in a phone bank, hosting a letter-writing party, or doing something else? Let us know on our Volunteer page