CELEBRATE OUTSTANDING NEBRASKA ADVOCATES
Join for our annual Good Apple Awards as we honor people who stand up for justice for all Nebraskans and celebrate the year's accomplishments.
Social hour with an hors d'oeuvres dinner and live music begins at 6:00 pm with a short program to follow at 7:00 pm.
2023 Good Apple Awards – Thursday, October 5, 2023
Livestock Exchange Building Ballroom | Omaha, NE
6:00 p.m. Music & Hors d'Oeuvres Dinner | 7:00 p.m. Program
Thank you to our 2023 Good Apple Award Sponsors.
CORE SUPPORTER
Terry & Catherine Ferguson | Husch Blackwell LLP | PhRMA
ADVOCATE
Anonymous | Creighton University School of Law | Timothy & Janet Cuddigan
Enterprise Bank | Wanda & Mike Gottschalk
Matt & Donna Johnson | Union Bank & Trust | Art & Chris Zygielbaum
"This year the Good Apple Awards will recognize organizations and individuals that have kept community needs at the center of their work and used their skills and resources to advance the fight for Justice and Opportunity for all.
We decided to recognize 3 organizations that are working at the grassroots level to support people directly affected by some of the most pressing issues in Nebraska. The people closest to the problem are closest to the solution and grassroots organizing is the best way to identify and elevate those solutions.
We are also recognizing the legal work of Stinson LLP, who has provided countless pro bono hours to critical research to advance social justice in Nebraska.
The Jim Wolf Equal Justice Award is going to a life-long advocate, community organizer, and supportive leader. Yolanda Chávez Nuncio has dedicated her career and free time to advancing the cause of justice. Fighting for immigration reform, workers rights, voting rights, health care, child welfare, and economic justice. The impact of her leadership will be felt across the state for decades to come." Becky Gould, Executive Director
---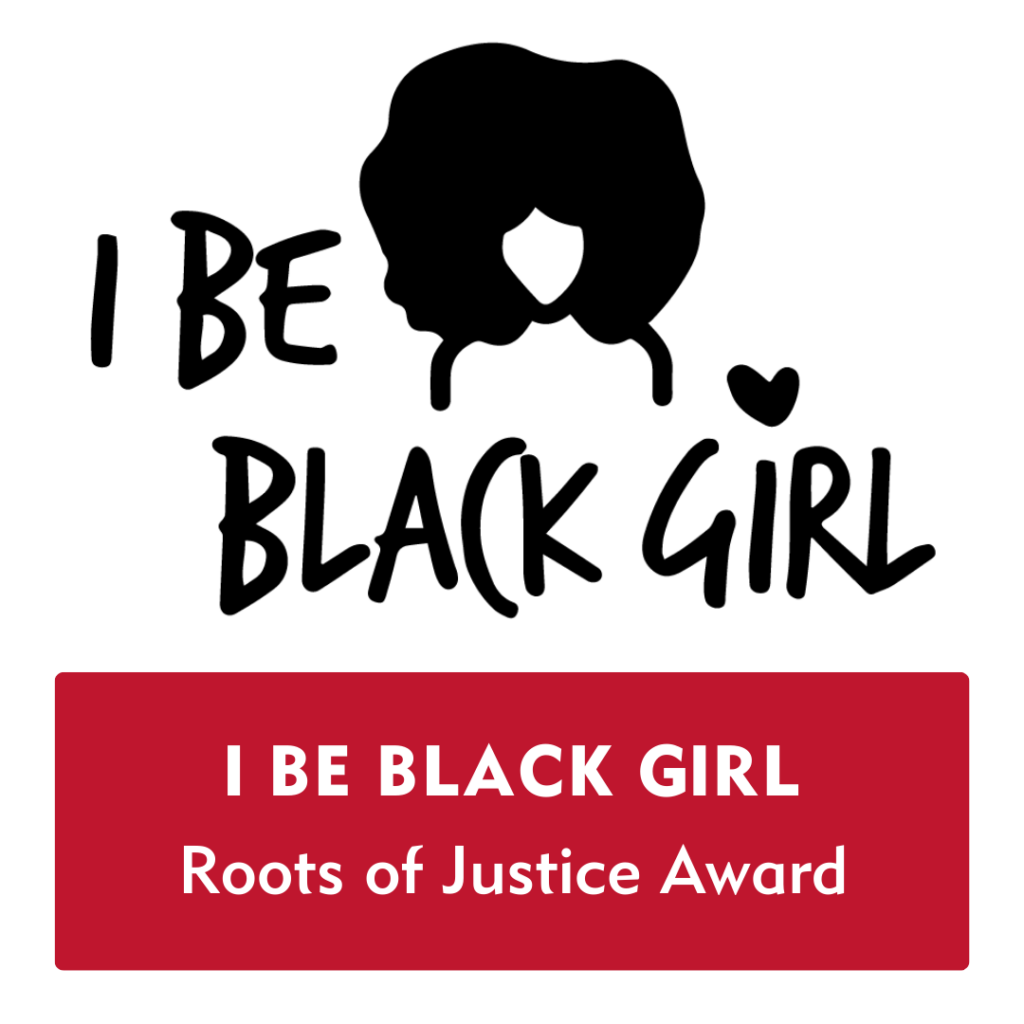 "I Be Black Girl is a stand-out leader in the reproductive justice movement in Nebraska. Their work has been instrumental in the increasingly critical fight for access to health care, specifically abortion care and care for birthing people. This year their leadership and advocacy helped to extend postpartum coverage for new parents with Medicaid. IBBG's work to advance reproductive justice makes our communities healthier and stronger." Kelsey Arends, Staff Attorney – Health Care Access

"I Be Black Girl is an outstanding organization advocating for critical issues in our community with an impressive list of successes. IBBG takes holistic and innovative approaches to make long lasting systemic changes to address severe racial disparities in birthing experiences. Nebraska is lucky to have IBBG! " Sarah Maresh, Program Director – Health Care Access
I Be Black Girl is a reproductive justice organization that leads with boldness, innovation, and inspiration, actively creating a radical change-making culture that centers Black women, femmes, and girls. Inspired by the work of bell hooks, Alice Walker, Audre Lorde, and other Black feminists and womanists, our organization provides transformational change at the intersections of gender and race.
The term "I Be," framed by author bell hooks in Be Boy Buzz, inspired IBBG's founder to fill spaces with what it means to exist as a Black woman, femme, or girl — where we are free to define and own that narrative.
Connect with I Be Black Girl on their Website, Facebook, Twitter, Instagram, and LinkedIn.
Additional information on I Be Black Girl
---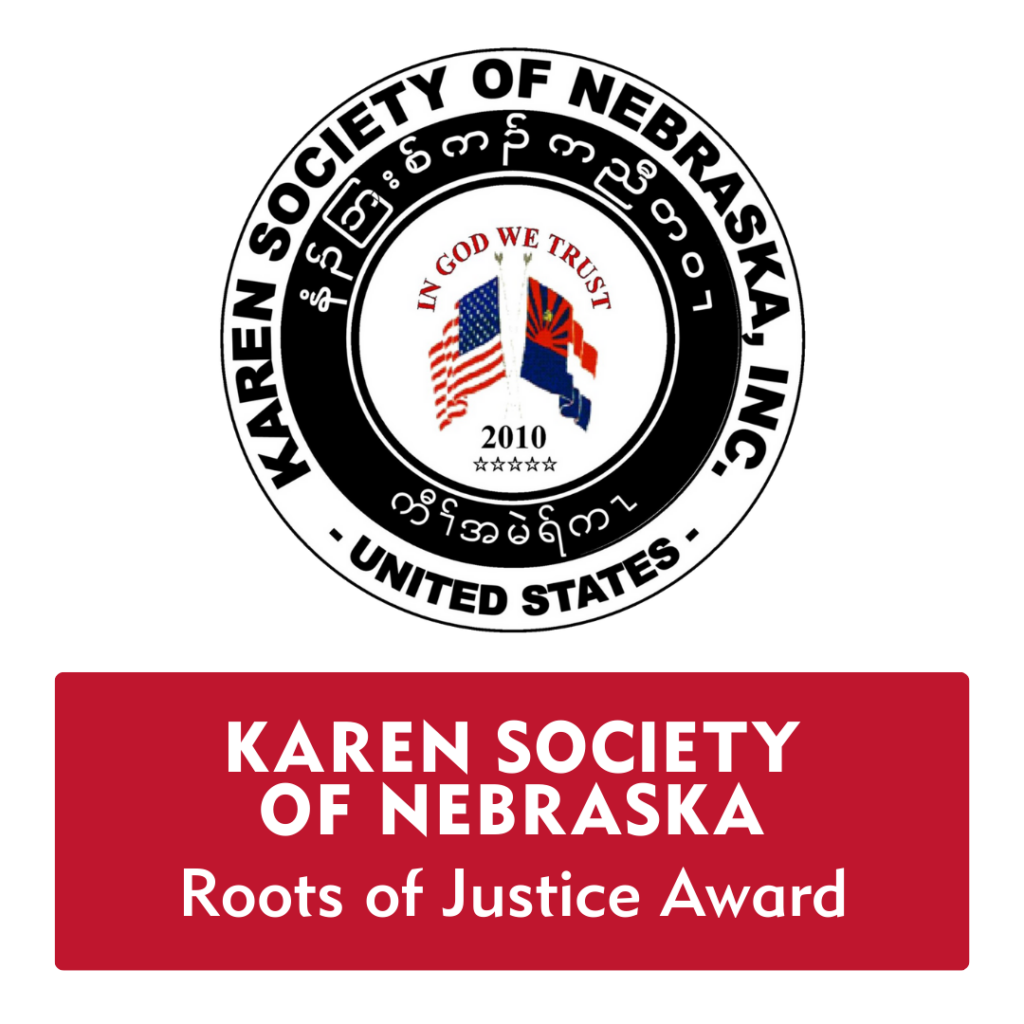 "The Karen Society of Nebraska is a leader and innovator in creating inclusive activities and events. We have seen relationships deepen with local elected officials, community leaders and neighbors because of the Karen Society's leadership and purposeful engagement. The Karen Society has been successful in their mission to improve and create communications of both learning and sharing cultures among all Nebraskans." Christa Yoakum, Senior Welcoming Coordinator – Immigrants & Communities
The Karen Society of Nebraska's mission is to help refugees and immigrants from Burma build and sustain a high quality of life and achieve self-sufficiency in Nebraska. With offices located in Omaha, Lincoln, and Madison/Norfolk, the Karen Society aims to:
assist refugees and immigrants to become well-integrated into Nebraskan society
help the refugees and immigrants preserve their heritage and culture, for their benefit and the benefit of the whole society
increase the ability of the organization to meet the needs of the entire community
The Karen Society of Nebraska was founded in 2008 and has since been working to make a better transition for people in the Burma community transition into American society. They join hands and work together as a family; leading their community in moving forward to achieve self-sufficiency. In 2010, The Karen Society of Nebraska registered as a 501(c)(3) non profit organization, recognized by the State of Nebraska. They also work to make positive relationships with employers, organizations and churches in our local community to make sure our community gets maximum benefit from it.
The Karen (pronounced Ka-REN) are an ethnic group from the mountainous border regions of Burma and Thailand, where they are the second largest ethnic group in each country. They have long been subject to persecution and ethnic cleansing by the Burmese government, and many have been living in refugee camps in Thailand for years before being resettled to Nebraska. There are approximately 5,500 Karen living in Nebraska with an additional 300 refugees from other ethnic groups in Burma. Because of the employment opportunity and family reunion, Omaha currently has the largest and fastest-growing Karen populations in the U.S. Other communities in Nebraska with a large Karen population include Lincoln, Crete, Nebraska City, Grand Island, Norfolk and Dakota City.
Connect with the Karen Society of Nebraska on their Website, Facebook, and YouTube.
Additional information on Karen Society of Nebraska
---
"OutNebraska has been integral to empowering LGBTQIA+ Nebraskans to speak out and amplify each other's voices. Their strategic leadership combined with authentic belief in the power of our community, has culminated in the collective sound of our voices literally drowning out the voices of hate while inviting more Trans and Queer people to step out of the shadows and be seen, valued, and heard." Vic Klafter, Campaigns Organizer
"OutNebraska is a safe, supportive, and electric group of advocates in Nebraska. In thinking about the especially tough days in 2023, Nebraskans could always count on OutNebraska to be there to support, hug, shout, and motivate. They created vital spaces to express and reflect, and remind why this fight is so important. Without a doubt, they are here to help. OutNebraska is essential to keeping all Nebraskans safe and loved." Allison Derr, Senior Staff Attorney – Child Welfare
OutNebraska is the statewide center of advocacy, education and celebration for LGBTQ+ Nebraskans, dedicated to bringing "the Good Life" to everyone. Our programs include an annual LGBTQ+ Lobby Day at the Nebraska State Capitol, Drag Story Hour Nebraska, the Prairie Pride Film Festival, Owlish, Queerpop, monthly community events, training and facilitation services, a non-partisan business coalition in support of nondiscrimination protections and much more.
OutNebraska believes in a Nebraska that embraces and celebrates the full spectrum of LGBTQIA2S+ people. Often, LGBTQIA2S+ Nebraskans experience discrimination, disparities, and isolation – particularly transgender people and people of color. OutNebraska is dedicated to empowering, celebrating, and growing LGBTQIA2S+ communities in Nebraska.
For more than 10 years they've been making an impact by advocating, celebrating and educating to improve the lives of LGBTQ+ people:
Advocating for reform, connecting with local and state representatives, encouraging civic engagement and making investments for the betterment of our communities.
Growing connections, lifting up our allies and celebrating LGBTQ+ people through fun events like the Prairie Pride Film Festival.
Providing inclusivity training and engaging in community conversations to help ensure a welcoming and thriving environment for all.
Connect with OutNebraska on their Website, Facebook, Twitter, Instagram, and LinkedIn.
Additional information on OutNebraska
---
"I have had the good fortune of working with a variety of attorneys at Stinson over the years, and I can say without hesitation that they are one of the most committed and consistent firms in terms of providing pro bono resources, not only in Nebraska but across the country. Their Senior Pro Bono manager Katie Cronin is not only brilliant, but dedicated to ensuring that Stinson is consistently going above and beyond their general obligations to provide pro bono services. Katie has not only connected us with attorneys from their Omaha office, but from their offices across the country, ensuring that we always can partner with the most talented attorneys on a broad array of issues from internal compliance matters, to policy research, to even submitting a brief to the United States Supreme Court. I am proud to be associated with Stinson and would stand behind the quality of their work, and the attorneys that work there, any day." Robert McEwen, Legal Director
For more than a century, Stinson's attorneys, paralegals and staff have volunteered time and counsel to help people in need and to make our communities stronger, more resilient, more welcoming places to live and work. They invest their pro bono resources in programs and communities around the country, including the Omaha community and state of Nebraska.

Each year, Sinson's attorneys and paralegals provide thousands of hours of pro bono legal representation to low-income individuals and the nonprofit organizations that serve them. Stinson's pro bono program, spearheaded by their Pro Bono Committee with members throughout their offices, encourages and supports involvement at every level – from partners to summer associates. The firm's strategic plan describes their annual pledge to donate 3% of total billable hours to pro bono legal service as one of their key values and commitments. In 2022, the firm exceeded this goal, donating 3.44 percent of total billable hours to pro bono, for a total of 22,900 hours at a value of $8.72 million in free legal services. Last year, attorneys and paralegals in every office and every practice of the firm participated in the pro bono program, with 100 percent associate participation.
Pro bono defines Sintson's history and identity as a firm. Their pro bono program is committed to helping pro bono clients obtain justice in a world where the deck is often stacked against them.
For almost 15 years, Sintson has donated almost 600 hours to Nebraska Appleseed ranging from Medicaid Work Requirements, Intellectual Property, and research on Minimum Wage, Medicaid, Census, and Immigration Bond Funds.
Connect with Stinson LLP on their Website, Facebook, Twitter, Instagram, and LinkedIn.
---
"Yolanda is the 'go-to' person in Grand Island! She is known throughout the community (and beyond!) as someone who folks can go to with almost any question or problem, knowing she will often have an answer, or will go to great lengths to help search for one! She is a trusted leader in the community whose door is always open — whether it's connecting community members to scholarship opportunities, food resources, or their members of Congress. She has been a longtime community leader and advocate, active during the Chicano movement in the 60s and 70s and continuing to mentor and support community members today–She is retired and still working full time on community issues, resources and support. A result of her deep community knowledge and relationships is that when she calls on community members to 'show up, 'they do!" Vanessa Martinez, Organizing Manager – Immigrants & Communities
"Tiene mucha energía, es muy proactiva. Yolanda está en todos lados. Donde haya algo para abogar para los inmigrantes, Yolanda está allí. Es increíble como ella se entera y ella llega, y está presente para poder informar a la comunidad.

She has so much energy and is very proactive. Yolanda is everywhere. Wherever there is something or some way to advocate for immigrants, Yolanda is there. It's incredible how she finds out about different spaces and gets there. She makes sure she's there so she can share what's going on with the community." Gloria Sarmiento, Senior Community Organizer – Immigrants & Communities
"Yolanda is a powerhouse of community energy with a deep passion for youth leadership. I can't count how many times I've heard people from all across the state say, "I really got involved when Yolanda Nuncio encouraged me…" If the community needs something, she's there. Her dedication and collaboration have connected so many people in an incredible tapestry of action and positive change across Nebraska." Darcy Tromanhauser, Program Director – Immigrants & Communities
Yolanda Chávez Nuncio is a dedicated community organizer and advocate who has made a significant impact in various areas of social justice and community service. Her passion for fostering inclusivity and empowering marginalized communities is evident through her extensive involvement in different initiatives.
Yolanda's commitment to education and cultural representation is exemplified by her work as a substitute teacher at GICC, where she organized a school-wide Spanish language mass. This event provided an important platform for students of color to actively participate in the school community and celebrate their heritage. Yolanda's bilingualism and her role as a lector further showcased her dedication to bridging language and cultural barriers.
Recognizing the importance of civic engagement and representation, Yolanda served on the Parish Council at her church and initiated voter registration drives for over 20 years. Her efforts to empower new Americans to exercise their right to vote have resulted in hundreds of newly registered voters. Additionally, Yolanda's commitment to community well-being led her to partner with the health department to organize vaccination clinics during the pandemic, providing much-needed protection for families and the community.
Yolanda's involvement extends beyond her immediate community. She has volunteered at the southern border, offering support and assistance to asylum seekers and collaborating with various organizations. Her commitment to immigrant rights and social justice is also evident in her work during immigration raids, where she organized emergency aid, mental health support, and legal assistance for affected families.
Throughout her extensive community work, Yolanda has demonstrated resilience, compassion, and a strong sense of social responsibility. Her dedication to education, advocacy, and empowerment has positively impacted the lives of many, making her a true agent of change in her community and beyond.
Additional information on Yolanda Chávez Nuncio
BECOME A SPONSOR OR RESERVE YOUR TICKETS TODAY!
The 2023 Good Apple Awards is SOLD OUT.
To check ticket availability or be added to the waitlist, please contact:
Drew Duncan at dduncan@neappleseed.org or (402) 438-8853 x137.
QUESTIONS? Contact Drew Duncan at dduncan@neappleseed.org or (402) 438-8853 x137.