CELEBRATE OUTSTANDING NEBRASKA ADVOCATES
Join us for our annual Good Apple Awards as we honor people who stand up for justice for all Nebraskans, and celebrate the year's accomplishments with Nebraska Appleseed.
Social hour with an hors d'oeuvres dinner and live music begins at 6:00 pm with a short program to follow at 7:00 pm.
2022 Good Apple Awards – Thursday, October 6, 2022
Livestock Exchange Building Ballroom | Omaha, NE
6:00 p.m. Music & Hors d'Oeuvres Dinner | 7:00 p.m. Program
Thank you to our 2022 Good Apple Award Sponsors.
CORE SUPPORTER
Timothy & Janet Cuddigan | Terry & Catherine Ferguson
PhRMA | Katie Weitz
ADVOCATE
Carol & Steve Bloch | Husch Blackwell LLP | Matt & Donna Johnson
Creighton University School of Law | Wanda & Mike Gottschalk
Rick McFayden & Matt Stokely
"We're so excited to gather in person this year for the 2022 Good Apple Awards. Now more than ever is a great time to gather together and feel a sense of community that reminds people there is a larger movement across Nebraska that wants to see positive change. This year's honorees reflect the amazing breadth of work happening across Nebraska. They're a mix of organizers, entrepreneurs, lawyers, and organizations using a variety of skill sets to create positive change. We are excited to celebrate these 2022 Good Apple Award Honorees!"
Becky Gould, Executive Director
---
CENTRO HISPANO
ROOTS OF JUSTICE AWARD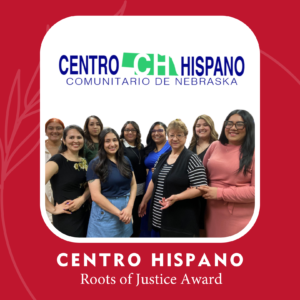 "In Columbus, Nebraska, there is a very special organization with a phenomenal circle of leaders accomplishing transformative community inclusion work in the region. Centro Hispano is a truly visionary community organization with staff who are bold, creative, and caring."
Darcy Tromanhauser, Immigrants & Communities Program Director
This award recognizes grassroots advocates who have made outstanding contributions to justice and opportunity for all while building a stronger community. Centro Hispano's mission is to foster intentional change for immigrant families, learners, and entrepreneurs through direct services, programming, and advocacy. Serving primarily the counties of Platte, Colfax, and Madison, Centro Hispano has programming around immigration, education, welcoming and belonging, family assistance, and business.
As they support immigrant community members in the region, they are also sharing and building a vision of inclusion and belonging for the whole community. As just one example, Centro Hispano's new plans for a community welcoming center reach far beyond the organization for city-wide impact and collaboration – inviting cross-community connections on numerous levels, including arts, storytelling, downtown revitalization, and building a stronger whole by connecting the city's people and institutions.
Connect with Centro Hispano on their Website, Facebook, Twitter, and Instagram.
Additional information on Centro Hispano
---
UNIVERSITY OF NEBRASKA COLLEGE OF LAW – CIVIL CLINIC
SEEDS OF JUSTICE AWARD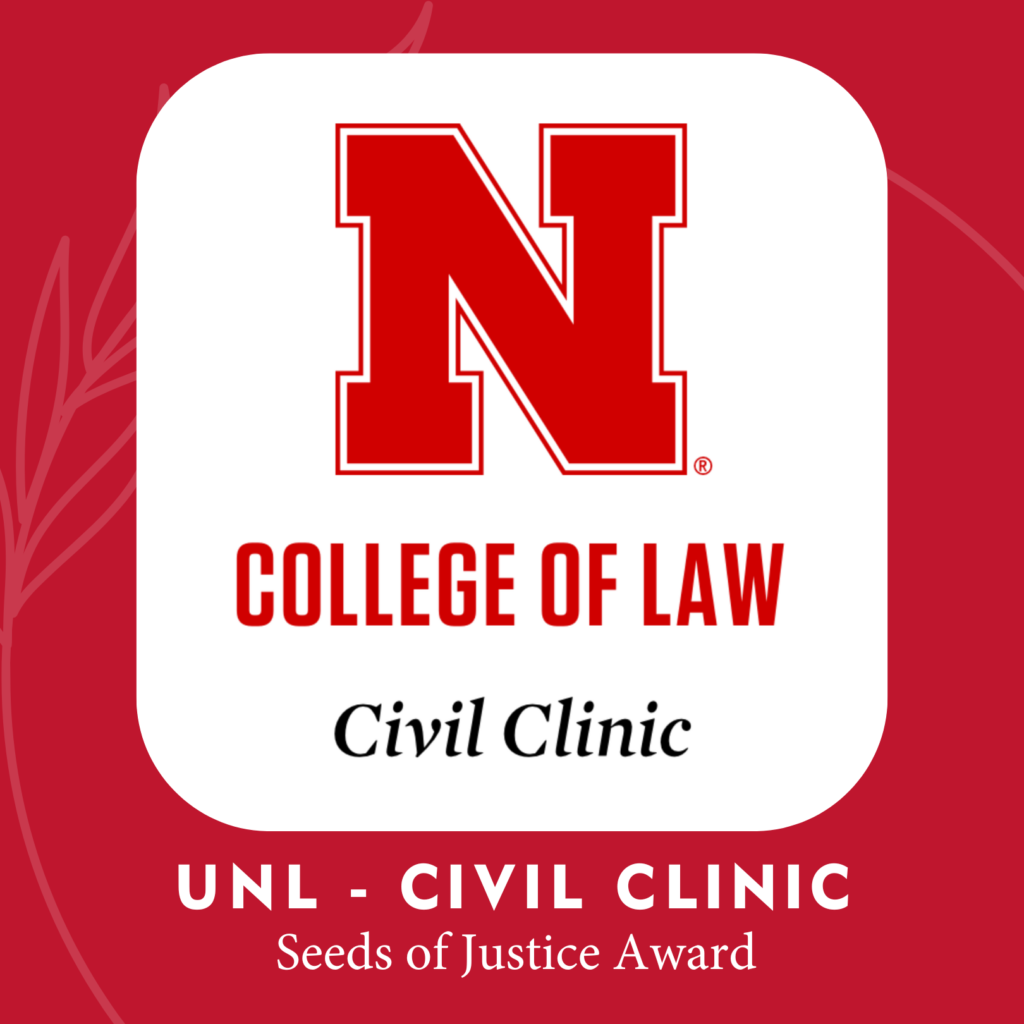 "The Civil Clinic not only trains law students to represent clients in their individual civil cases, but also teaches those students to use their expertise and resources to advocate for policies and best practices at the Nebraska Legislature regarding legal issues they are working on, including housing issues, family law, and criminal history assistance. They teach the importance of pro-bono representation and public interest legal work in all areas of the law, encouraging law students to provide access to justice and advocacy for all individuals."
Allison Derr, Child Welfare Sr. Staff Attorney
This award recognizes outstanding legal contributions to public interest law. The Civil Clinical Law Program is the College of Law's first formal clinical program. Since 1975, Students in the Civil Clinic have had opportunities representing low-income clients in a wide variety of civil and administrative cases selected by the faculty for potential litigation and trial experience and maximum pedagogical benefit. These efforts have garnered thousands of hours of legal services to low-income clients who otherwise would have been unable to afford legal representation.
Over the years, hundreds of students have passed through the Civil Clinic during their time at the College of Law, and have had the benefit of the experiential learning it afforded them. And although the primary goal of the Civil Clinic has always been to enable students to develop and hone their lawyering skills by assuming the role of practicing lawyers, those students have also provided thousands of hours of legal services to low-income clients who otherwise would have been unable to afford legal representation.
Connect with University of Nebraska College of Law – Civil Clinic on their Website and Facebook.
Additional information on Centro Hispano
---
ERIN FEICHTINGER
MILO MUMGAARD EMERGING LEADER AWARD
Named after Appleseed's founding executive director, this award recognizes young, emerging leaders who have a vision for the best of what Nebraska can be and, through initiative, hard work, and dedication, are pushing to make their vision a reality. We are thrilled to have two honorees for this award.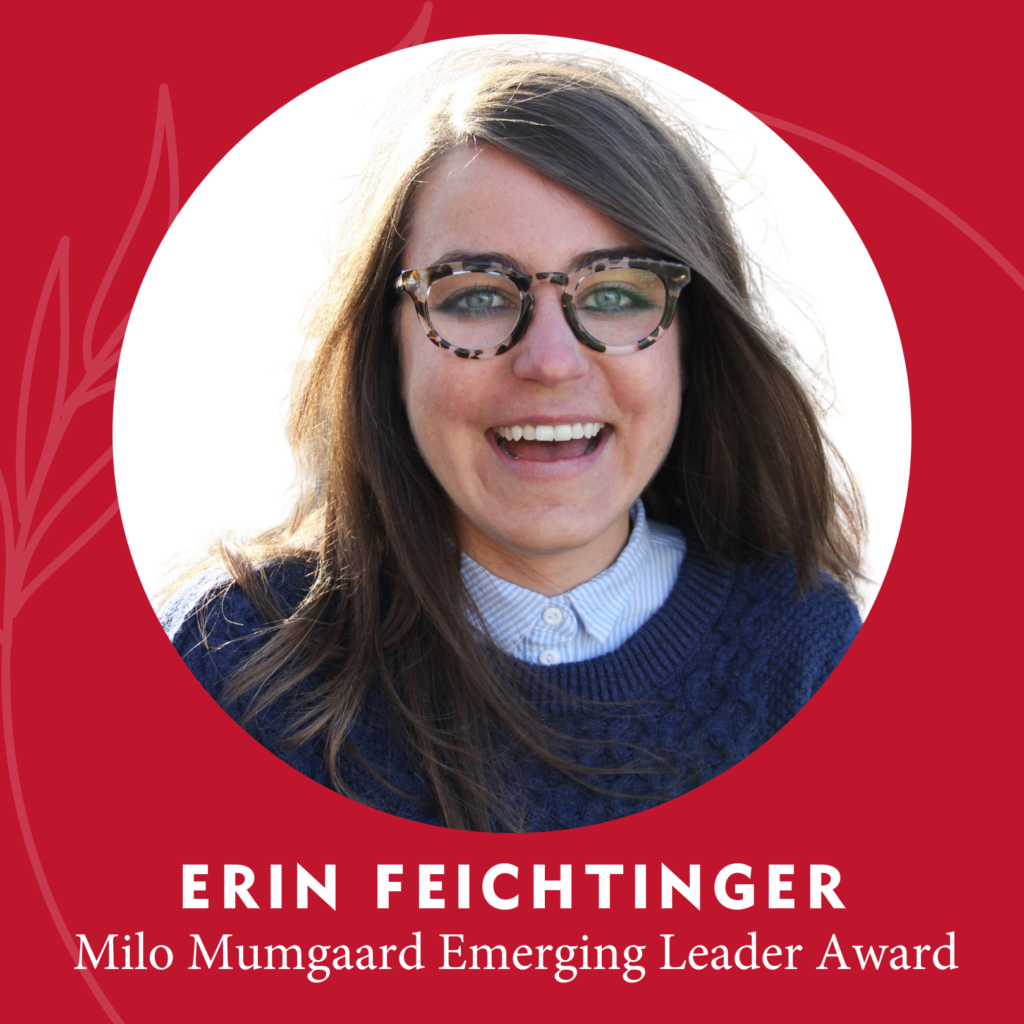 "Erin not only has a brilliant strategic mind, but she throws all of herself into fighting for justice and opportunity for all Nebraskans. She is passionate for standing up for the rights of all and is an incredibly effective advocate. Appleseed is lucky to have a partner like Erin in our work!"
Katie Pitts, State Policy Director
"Erin provides an example of leadership that is simultaneously impressive and relatable. She keeps her fight in the open. Not to get recognition or applause, but so that everyone can see how she does it and learn from it."
Vic Klafter, Campaigns Organizer
Erin Feichtinger has worked on policy to increase housing security, food security, and economic security at both the local and state level, including several successful policy initiatives such as Omaha's Rental Registration and Proactive Inspection Ordinance, legislation increasing tenant protections and access to justice, increasing access to SNAP and affordable childcare. Her most recent efforts to secure federal funding for rental assistance and legal representation for tenants in eviction court has resulted in increased housing stability for all Nebraskans.
Erin Feichtinger is the Policy Director at the Women's Fund of Omaha, having previously worked at Together as Director of Policy and Advocacy.
Additional information on Erin Feichtinger
---
OLGA GUEVARA
MILO MUMGAARD EMERGING LEADER AWARD
"Olga is an incredible leader with incredible instincts who really listens to community members. She has a love of community and joy in working with the people around her – all the while providing deep insight into the complex dynamics within the issues at hand."
Darcy Tromanhauser, Immigrants & Communities Program Director
"Olga always acts strategically and with the utmost dignity, even in the toughest of fights."
Christa Yoakum, Immigrants & Communities Sr. Welcoming Coordinator
Olga Guevara is the previous Executive Director and current board member of Unity in Action, a non-profit in South Sioux City that focuses on empowering Latinos by promoting workers' rights, civic engagement, and justice through education, training, and advocacy. Her collaborative work with local leaders and community members has had significant local and statewide impact.
Olga first stepped into the role of Executive Director as a social work student. Demonstrating wide levels of flexibility, she helped guide the organization's development to ensure its important work can continue for the long-term — bringing the all-volunteer effort to become a sustainable local nonprofit with multiple staff, a strong base of funding, vibrant office space, and a core of dynamic volunteer leaders to serve a central role in the community.
Connect with Unity in Action on their Website, Facebook, Twitter, and Instagram.
---
NANCY WILLIAMS
JIM WOLF EQUAL JUSTICE AWARD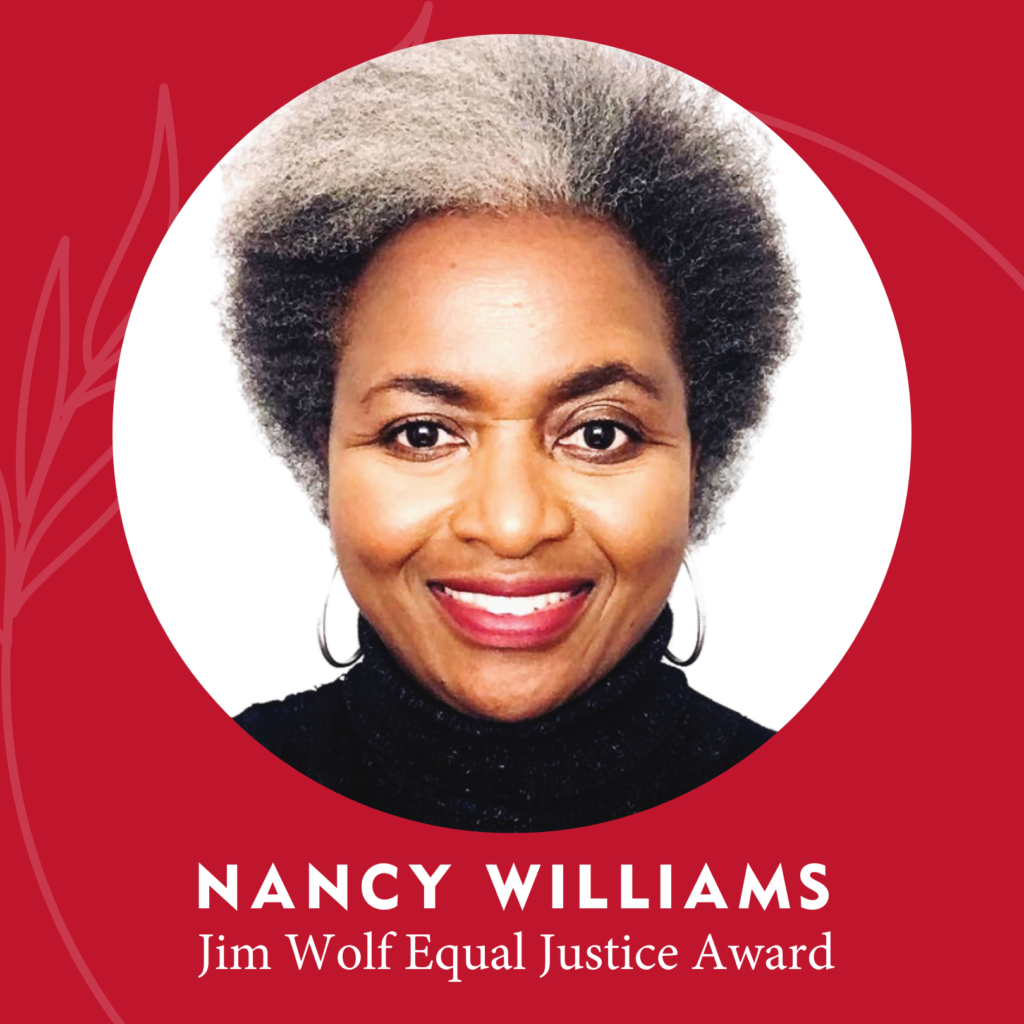 "Nancy is one of the most open, flexible, and effective leaders our state has working in the food justice space. She is always ready to partner on events with community participants, constantly scans for opportunities to fill gaps, and makes time to grow her organization's impact on advocacy."
Eric Savaiano, Economic Justice Program Manager – Food and Nutrition Access
"Nancy brings honest joy to doing hard things. She's a leader with vision, drive, and humor. She invests her time and energy in work that uplifts creative, compassionate solutions to injustice. I value her investment in me and other young leaders tremendously."
Vic Klafter, Campaigns Organizer
This award recognizes a Nebraskan who has made significant contributions to justice for all by stepping outside of the comfort of their day-to-day lives and, without thought for their own economic or political gain, devoted themselves to public service to benefit the common good. Nancy Williams is the Co-Founder and CEO of No More Empty Pots, a grassroots non-profit corporation that connects individuals and groups to improve self-sufficiency, regional food security and economic resilience of urban and rural communities through advocacy and action.
Nancy has diverse experiences in agriculture, from corporations, serving as an agronomist for local farmers and entrepreneurs to grassroots organizing and management for nonprofit community organizations.
For nearly 15 years, Nancy served as an IT leader for Boys & Girls Clubs of the Midlands; where she led award winning programs, increased technology integration, and supported improved organizational outcomes.
Connect with No More Empty Pots on their Website, Facebook, Twitter, and Instagram.
Additional information on Nancy Williams
BECOME A SPONSOR OR RESERVE YOUR TICKETS TODAY!
The 2022 Good Apple Awards is SOLD OUT.
To be added to the waitlist for potential available tickets, please contact Drew Duncan at dduncan@neappleseed.org or (402) 438-8853 x 137.
QUESTIONS? Contact Drew Duncan at dduncan@neappleseed.org or (402) 438-8853 x137.