COVID-19 Updates
As school meal service regulations change at the national level, each state and district is making choices about how to best ensure hungry students receive meals. Please review your district's website and communications to learn about how your district is maintaining nutrition services for students.
Find grant opportunities to support school nutrition during the pandemic at Nebraska's Go Big Breakfast website.
School Nutrition and Equity
Equity in school nutrition is a vital part of equity in education. When schools have equitable nutrition programs, not only will kids be healthier and more ready to learn but schools will in turn see better academic performance and a decrease in behavioral issues. Find information, resources, and tools to help school districts make their nutrition programs more equitable at Appleseed's School Nutrition Equity Resource Page.
---
All kids should have the food they need to live healthy and active lives.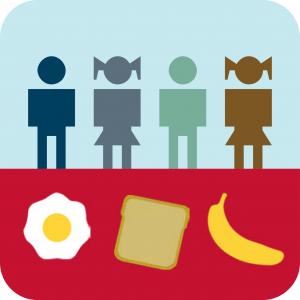 All across Nebraska, we know there are families struggling to make ends meet. But when kids go to school they shouldn't have to worry about their next meal. The school breakfast and lunch programs are great tools that school districts across Nebraska can use to make sure kids get the food they need. Our role is to make sure districts and schools know about these choices (found below) and are encouraged to use them.
How Do Schools Feed Kids? Tools For Schools Contact Nebraska Appleseed School Nutrition Supporters Related Issues
---
How Do Schools Feed Kids?
The National School Lunch and School Breakfast Programs are tools that districts across Nebraska can use to make sure kids get the food they need. District and School leadership should be making choices for these programs that remove barriers and encourage participation.
Proven Ways to Increase School Breakfast Participation
Implement Alternative Breakfast Models:
Grab and Go: students pick up food from kiosks or service lines around the school and eat in their classrooms or common areas
Second Chance Breakfast: students are given a second chance to pick up a meal following their first period class or home room
Breakfast in the Classroom: students are served breakfast in their classroom at the beginning of the school day
Implement Breakfast for All (Universal Free Meal) options:
Community Eligibility Provision (CEP): federal program that allows high poverty schools with populations of 40% or more directly certified students to serve free breakfast and lunch to all students regardless of family income
Provision 2: provision of the National School Lunch Act that allows schools to serve free breakfast and lunch to all students and eliminate FRPL applications
Free meals "nonpricing": free breakfast for all students with the school covering the difference between cost and federal reimbursement funds
Tools for Schools
Appleseed facilitates the Nebraska Student Nutrition Action Committee (SNAC), a group of advocates, administrators, school nutrition professionals, and state agency leaders who have joined forces to help Nebraska improve child nutrition programs. Go Big Breakfast focuses on school breakfast as part of Nebraska SNAC and provides stories of Nebraska success, a map of school-by-school breakfast performance, and resources to support positive change.
Nebraska School Breakfast Report & Data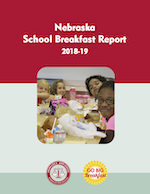 Download the Nebraska Appleseed/Go Big Breakfast Nebraska School Breakfast Report 2018-19 to find model best practices for serving meals to more students and to read examples of districts doing it well.
Did your district make it into the top 10?
What schools near you are serving alternative breakfast models?
How can my school administrators and staff do more to serve breakfast?
Download SY 18-19 breakfast option and performance data by Nebraska school and district including additional federal reimbursement, low income student participation and state rankings.
Contact
For additional resources or to learn more, please contact Eric Savaiano at esavaiano@neappleseed.org or 402-438-8853 ext. 126.
Nebraska Appleseed's School Breakfast Work Supporters
Related Issue Areas
Click below to learn more about Nebraska Appleseed's nutrition work