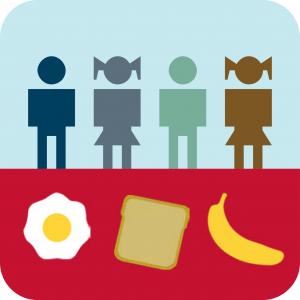 Breakfast at school is an essential part of many students' days. As food insecurity in Nebraska remains above the national average (1 in 5 children don't have enough food to live a healthy and active lifestyle), and every one of our 244 districts continue to have at least some low-income kids on free or reduced price meals, school breakfast and lunch make up a vital safety net for struggling families.
Statistics below are derived from meal participation data provided by the Nebraska Department of Education.
School Breakfast Map
The map below represents the performance of school districts serving low-income students breakfast. Serving 70 low-income (F/RP) students breakfast (SBP) per 100 at lunch (NSLP) is the national benchmark and the higher the better. Scroll over your district to see their performance, statewide ranking, and choices regarding breakfast service.
School Breakfast Data Tables
Table 1: Additional Low-Income Students Served and Additional Federal Reimbursements Received if Districts Reached Ratio of 70 in School Breakfast per 100 in School Lunch
Table 2: Breakfast Models, Provision 2, and Community Eligibility
Need Help Getting Started?
It's up to concerned parents and forward thinking administrators to make sure that as many students as possible are able to eat while at school. Parents and administrators interested in moving to an alternative breakfast model (like breakfast after the bell, grab and go, or second chance breakfast) or a breakfast for all option (like CEP or Provision 2) can connect with us at Nebraska Appleseed for assistance getting started. Call Eric at 402-438-8853 ext. 126 or email esavaiano@neappleseed.org.
Share Your Story
If you have a story of how school breakfast has made a difference in your life, some heroic administrator or parent's effort to increase breakfast participation, or anything else school meals related, we want to hear about it! Share your story with us below and we'll follow up to learn more: