The Nebraska Department of Health and Human Services (DHHS) is delaying voter approved Medicaid expansion and is pursuing a complicated Medicaid expansion plan, known as a Section 1115 waiver. Contrary to voter intent, DHHS is seeking to deny important vision and dental coverage to Nebraskans in the expansion group that 
Do not prove that they have met DHHS' legally suspect, expensive and unnecessary

work requirements

OR
Do not participate in mandated care and case management and wellness initiatives.
Vision and dental care are essential to overall health and well-being.
Without access vision and dental care, severe health issues go untreated, contributing to higher medical costs, and lower productivity. While vision and dental care are essential for healthy eyes and mouths, general health conditions have impacts on vision and dental health, making regular vision and dental screenings and care key to overall health.  Regular eye exams can help identify serious underlying health conditions, including stroke, diabetes, high blood pressure, autoimmune diseases, sexually transmitted diseases, and cancers.  Medications and health conditions, such as diabetes, HIV/AIDS, osteoporosis, and Alzheimer's disease, can also negatively impact dental health, further demonstrating the need for coordinated dental care. 
Untreated vision and dental issues contribute to poor overall health.
Research shows that untreated dental health conditions may contribute to a range of serious health issues, such as heart disease, cardiovascular problems, pregnancy and birth complications, and pneumonia.  Similar negative health impacts are seen in vision care. People with vision loss are more likely to have hearing loss, stroke, chronic kidney disease, Type 2 diabetes, and depression. Vision loss is also related to a risk of early death. 
Vision and dental care keeps medical costs down and encourages economic productivity.
When people have access to care, they are more financially secure and economically productive, but when untreated conditions turn into significant health issues, social and economic costs soar. When coverage is not available, people delay care and turn to the emergency room to get costly and ineffective treatment for issues that could have been prevented with regular dental and vision care.  Untreated vision issues not only harms people, but also their communities. Vision disability is one of the top 10 disabilities among adults, and some vision related conditions are treatable or preventable if caught and treated early. It has been estimated that the economic impact of major vision issues in adults over 40 is $145 billion each year.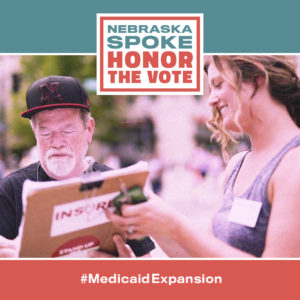 TAKE ACTION
Do Not Waiver. Stand for Expansion. DHHS is holding the following public hearings on their Section 1115 Waiver across the state: 
Scottsbluff on October 29;

Kearney on October 30;

Norfolk on November 7; and 

Omaha on November 12.  
Attend the public hearings and/or submit a comment on DHHS' Section 1115 waiver demanding that DHHS abandons their unnecessary Section 1115 waiver efforts and open enrollment to the Medicaid expansion group. 
If you would like to share a personal story about why Medicaid expansion is important to you, contact us at coveragegap@neappleseed.org.