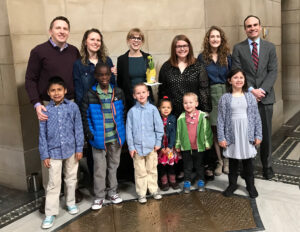 This coming year, Appleseed will continue our fight to strengthen and improve Nebraska's child welfare system at both the Legislature and through the courts. But one of the biggest priorities in 2019 is to make sure we take advantage of a golden opportunity presented by a new federal law that could improve the prospects of safe, united families and better outcomes for children in our foster care system.
Appleseed is working with other child advocates and lawmakers to successfully and wisely implement a landmark federal law called the Families First Prevention Services Act (FFPSA). This law, developed with strong bipartisan support and passed by Congress early this year, is a great chance for Nebraska to to improve our state's foster care system and make our children's well-being the top priority.
It provides funding for strategies that prevent children from entering foster care in the first place by ensuring they can remain in safe homes with their families. The FFPSA provides federal matching funds to states for evidence-based services in areas of mental health, substance abuse prevention and other in-home programs to help struggling parents best meet their children's needs in the home.
If a child must be removed from their home to ensure their safety, the FFPSA funds short-term services that support the child in being placed with a close relative or trusted family friend, known as "kinship care," which makes sure the child still can be cared for by familiar faces to reduce the trauma that can accompany being placed in foster care.
This not only is the right move for Nebraska children, but also lets our state save money because placing a child in foster care out of their homes is an expensive option.
Many aspects of the FFPSA go into effect at the first of the year, so plans are being made now to make sure we can ensure families are getting the full benefit of this new opportunity and our children's well-being is made the top priority.