June 15th marked 10 years since Deferred Action for Childhood Arrivals (DACA) was implemented. DACA has given thousands of Nebraskans the opportunity to continue building their lives here, at home, without fear of deportation. But despite everything DACA has offered recipients, it has not given them any sense of permanence, and longtime community members continue to live in uncertainty.
DACA was created only after Congress failed to pass the DREAM Act and several other positive immigration laws. This policy was meant to be a temporary solution to give Congress time to pass permanent legislation. Yet, ten years after it was implemented, there has been no congressional action, causing unnecessary harm to local families and whole communities. It is past time for a permanent solution for Dreamers who continue to live their lives in 2 year chunks.
We know that DACA is neither a permanent solution as a federal program nor for Dreamers trying to build homes and lives in their communities. Protection from deportation for only a short period at a time forces Dreamers to apply to renew their permit every two years. This requirement only adds to the uncertainty of ongoing threats to end the program.
Despite lack of congressional action, Dreamer leaders and community allies have accomplished important positive community change. Community action surrounding a permanent solution for Nebraska family members, friends and neighbors began long before DACA became a reality.
Here's a timeline of the important positive change before and after DACA:
2001: Bipartisan DREAM Act first introduced – this was the first of many positive immigration laws introduced offering a process for community members brought to the US as children to apply for citizenship. 
2012: DACA Program begins – introduced as an executive action giving many longtime community members a 2 year permit protecting them from deportation. 
2015: Nebraska Legislature passes DACA driver's license legislation with statewide support – Nebraska is the last state in the country to ensure community members with DACA can attain driver's licenses
2016: Nebraska Legislature passes DACA professional license legislation
2017: Nebraska civic leaders and organizations support Dreamers after a federal announcement that DACA may end.
2019: Dream & Promise Act passes the House with Nebraska support from Congressman Bacon. – This bill would have created a long overdue process to apply for residency and eventual citizenship for Dreamers and longtime residents with Temporary Protected Status (TPS). A longtime need for Nebraska Dreamers and TPS residents. 
2021: Nebraska Dreamers and civic leaders celebrate House passage of Dream & Promise Act. Another version of the bill that would create a process to apply for residency and eventual citizenship, the bill needs a vote in the U.S. Senate to provide long overdue protections for longtime community members.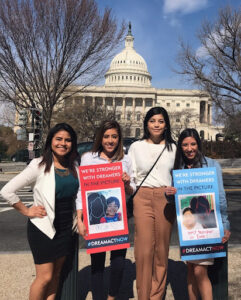 Hear from Nebraska community members with DACA and TPS about the need for positive immigration laws and a way to apply for citizenship: Check out Joseline, Cleofes, Diana, and Adilene stories.
Take Action and contact congress to share why you believe longtime Nebraska community members, like DACA recipients need a process for permanent residency and citizenship here.
As the DACA program grows older, so do the recipients of DACA. Ten years ago, DACA afforded protections to many Nebraskans to continue their lives in our state and build their future without fear of deportation. Nebraskans continue to grow and create positive community change in our communities, but federal policy has not kept up. Dreamers and longtime community members continue to live in uncertainty and it's time for positive immigration laws and full inclusion of longtime community members.