Fighting for justice and opportunity for all at the Nebraska Legislature

We are now more than half-way through the 2020 Nebraska legislative session. Senators have chosen their priority bills and several of Nebraska Appleseed's priorities made the list! You can find the complete list of priority bills here. 
The following list of bills is a snapshot of key legislation we've been working on with senators and with advocates like you to build more vibrant, inclusive communities for all. Some of these bills will advance as the session moves forward, while others will remain issues for the Legislature to consider in the future. As this session continues, we will keep you updated on the status of all of the bills we are supporting this year. 
Supporting young people in foster care through important milestones
LB219, introduced by Senator Anna Wishart, would help more young people in foster care have the support and tools they need to successfully transition to adulthood, including learning how to drive and getting a driver's license. This bill was introduced in the 2019 session and was debated and advanced to Select File this year. We expect LB219 to be up again for its second round of debate sometime in the next few weeks. 
Ensuring Nebraskans can power their lives
LB933, introduced by Senator Sue Crawford, has been advanced from the Natural Resources Committee to the floor of the Legislature. Each month, an estimated 1 in 20 households in Nebraska have their power shut off due to their inability to pay.  As amended by the Natural Resources Committee, this bill would limit fees related to utility shut-offs and provide additional protections to Nebraskans that rely on in-home medical equipment from being disconnected. 
Increasing access to supportive programs and services
LB329, introduced by Senator Kate Bolz, as amended, would address the "cliff effect" in the child care subsidy program. The cliff effect occurs when families slightly increase their earnings and lose child care subsidy, resulting in a net loss. LB 329 would address this issue by moving eligibility to 200% of the federal poverty level after 12 months, an income level where families can more easily pay for the cost of care.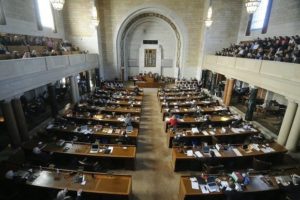 Nebraska currently has one of the least generous eligibility standards in the U.S. LB1049, introduced by Senator Kate Bolz, seeks to increase the qualifying family income for child care assistance from 130% to 150% of the federal poverty level. LB1049 would help more working families and bring us in line with surrounding states' standards.
LB255, introduced by Senator John McCollister, seeks to help families by raising the Supplemental Nutrition Assistance Program (SNAP) eligibility level from 130% to 140% of the federal poverty level in order to mitigate the "cliff effect" that currently exists in our SNAP program. With this change, hardworking parents who receive a raise would be able to support their families without losing essential food assistance. 
While LB1049 is still pending before the Health and Human Services Committee, LB255 is out on General File and LB329 has been advanced to Select File. 
Addressing Nebraska's affordable housing crisis
Nebraska has a shortage of affordable and available rental units, which often forces renters to pay more of their income on housing than they can afford. LB1020, introduced by Senator Tony Vargas, would protect tenants from discrimination based on their use of any legal source of income to pay their rent. LB1020 is currently pending before the Judiciary Committee, and you can read our testimony on the bill here.
Join our efforts: Share your housing experience and become an advocate with Collective Impact Lincoln.
Strengthening our child welfare system by supporting children and families
Hidden foster care impacts about half of our system-involved cases and this bill goes a long way to ensure that children and families are able to thrive together. LB1061, introduced by Senator Sue Crawford, is a bill that addresses issues within the child welfare system by reauthorizing the use of alternative response and increasing oversight of non-court cases, also referred to as hidden foster care. We anticipate that LB1061 will be up for its second round of debate sometime in the next few weeks. 
Protecting Nebraska workers
Everyone deserves to be paid fairly for time worked. LB1016, introduced by Senator Matt Hansen, provides robust updates to help the Department of Labor and employees with wage enforcement. LB1016 has been advanced to Select File and we expect it to be up for its second round of debate soon. 
Reducing injuries in the workplace
Nebraskans injured on the job currently face some of the longest waiting periods in the country to access workers' compensation. LB846, introduced by Senator Dan Quick, would reduce the initial waiting period to start receiving benefits from 7 days to 3 days and the retroactive waiting period to receive benefits for the initial period from 6 weeks to 2 weeks. For more than a decade, we've heard from Nebraska workers who have been injured on the job, yet are pressured to keep working. LB846 is currently pending before the Business and Labor Committee. 
Lifting the voices of young advocates
LB941, introduced by Senator Megan Hunt, creates the Nebraska Youth in Care Bill of Rights. This proposed bill of rights would ensure that youth placed out of their homes in the foster care and juvenile justice systems are aware of their rights and that those rights are protected. Most of these rights already exist in state and federal law. The Bill of Rights would include:
constitutional rights

rights related to accessing services & supports

rights related to equity for all youth

rights of pregnant and parenting youth

rights specific to youth & their foster care cases
LB941 is currently pending before the Judiciary Committee. 
Improving community safety
Community policing and public safety is based on trust with community members. LB924, introduced by Senator Ernie Chambers, would require all law enforcement personnel to take 2 hours of anti-bias training per year designed to reduce racial profiling. LB924 is currently on Final Reading. 
Improving access to education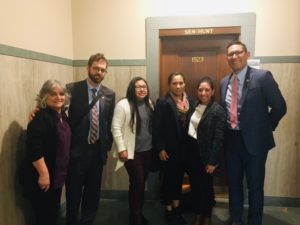 LB1153, introduced by Senator Tony Vargas, would improve access to high school equivalency for adults in Nebraska. Currently, the state only allows one private testing company, GED®, which doesn't allow paper and pencil testing and costs nearly twice its competitors. The number of Nebraskans getting their high school equivalency has dropped 80% since major changes to the GED exam in 2014, however 27 other states have avoided this by allowing additional test options. This bill would require the state to add another, more accessible option. LB1153 is currently pending before the Education Committee. 
Standing for Medicaid expansion. Nebraska does not waiver.
LB815, introduced by Senator Adam Morfeld, would prohibit the Department of Health and Human Services (DHHS) from using a Section 1115 waiver to expand Medicaid. Nebraskans are still waiting for lifesaving coverage while our state chooses to experiment with a Section 1115 waiver that imposes additional barriers and reduced benefits. 
Additionally, LB932, introduced by Senator Anna Wishart, would put the Medicaid expansion start date of October 2020 into statute. This is the date by which DHHS has stated it plans to expand Medicaid, so a bill requiring the start on October 1 provides budgetary certainty and ensures that those who have waited years for health care are finally able to see a doctor. 
Both LB932 and LB815 are currently pending before the Health and Human Services Committee. 
Take Action
During the 2020 Legislative Session, we want to tell you about important moments to take action on key bills. 
You can also sign up here to receive our weekly Legislative Update. We'll let you know when bills will have committee hearings and when they may come up for a floor vote. Plus, we'll let you know when our State Senators need to hear from you on big issues impacting our communities.