***For Immediate Release***
December 3, 2018
Contact, Eric Savaiano
Program Associate, Nebraska Appleseed
Office: (402)438-8853, Ext. 126
Email: esavaiano@neappleseed.org
New Report: Low GED® Participation Adds to Nebraska's Workforce Challenges
Nebraska's GED® completion rate fell 80% between 2013 and 2015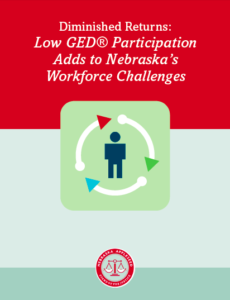 LINCOLN — Earning a high school diploma or its equivalent is more important than ever to ensure personal and professional success. However, nine percent of Nebraskans aged 18-64, which translates to over 100,000 people, are without a diploma or a high school equivalent. At the same time there is a persistent "skills gap," or not enough workers with the right education or skills to fill open positions in our state.
A new report released today by Nebraska Appleseed examines high school equivalency in Nebraska. The report looks at participation and completion of the GED® exam, the only recognized test to measure high school equivalency in Nebraska, before and after major changes to the GED® that occurred in 2014. The report details challenges that exist for our state, and makes recommendations for improving access to and completion of high school equivalency.
"Over the course of 10 months, we looked at available data and spoke with students, instructors, providers and others in the high school equivalency system in Nebraska. What we found is major obstacles exist for students to complete the GED® and move ahead," said Program Associate and report author Eric Savaiano. "The GED® is the only option for students in Nebraska, and the number of students completing it have significantly lagged in recent years. It's time to reexamine how we are supporting Nebraskans as they pursue additional education to get a better job."
The report recommends several ways Nebraska can improve access to and completion of high school equivalency:
Formally explore alternatives to the GED®, that have been implemented in the majority of states;
Double Nebraska's fiscal investment in high school equivalency, which would allow more full time instructors and help students afford the exam;
Remove administrative barriers and support greater access;
Make reasonable accommodations for English language learners.
"While employers struggle to fill jobs that require a high school equivalency, the number of adults pursuing and receiving their high school equivalency has fallen," said Eric Savaiano. "More adults with their high school equivalency not only support the Nebraska economy, but improves quality of life and job prospects for Nebraska's families. The report provides recommendations for how we can do better."