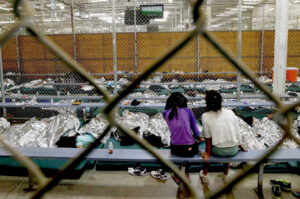 We all have looked on in horror at the recent images and sounds of children and families being torn apart and locked in cages after arriving in the U.S. to seek a safe home. Nebraskans are ready to stand together to denounce family imprisonment because families belong in communities, not cages.
Many Nebraskans raised their voices in local newspapers to condemn the inhumane treatment by the Trump Administration of families who risked much to come to America in search of a better life after escaping violence and poverty.
"Is U.S. a nation of love or hate?" Matt Baldwin, Lincoln Journal Star
"Families at border suffer heartbreak," Roger Doerr, Lincoln Journal Star
"Bible critical of family separation," Dan Kolar, Lincoln Journal Star
"Shamed into the right thing," Cheryl Gorman, Omaha World-Herald
"Separating families abhorrent," Rosemary Deane, Omaha World-Herald
"Disturbing policy," Joanna Lindberg, Omaha World-Herald
"Halt this immediately," Adam Klepper, Omaha World-Herald
"Is this how you treat a child?" Kathryn Titus, Omaha World-Herald
The President issued an executive order on June 20 that does nothing to fix the humanitarian crisis he created, leaving many children still separated from their parents.  The government is now exploring if they can detain families indefinitely.
These policies turn their backs on Nebraska values. Which is why Nebraskans are joining Americans across the country in a national day of action on June 30 to bring people together to call for the end of imprisoning families and children while urging that our immigration policies are rooted in Nebraska's values of compassion, humanity, and safe families.
Upcoming events
Saturday, June 30 (all times are local)  
Omaha – Rally at Plaza de la Raza, 24th and N St., 3:00 PM, RSVP on Facebook
Alliance – Box Butte County Courthouse, 508 Box Butte Ave., 9:00 – 10:00 AM RSVP on Facebook
Lincoln – Rally at Nebraska State Capitol, 14th and K St., 10:00 AM RSVP on Facebook
Chadron – Downtown Plaza, 10:00 AM, Event details here.
McCook – Norris Park, Norris Ave. and G St., 10:00 AM, Event details Event details here
Scottsbluff – Sen. Deb Fischer's office, 120 E. 16th St., 9:00 AM Event details here
Siouxland – Long Lines Family Rec Center, 401 Gordon Dr. Sioux City, Iowa, 11:00 AM – 1:00 PM, hosted by Unity in Action and Mary J. Treglia Community House, RSVP on Facebook
Take Action!
If you're able, please consider attending one of these local events. But we also need to urge our members of Congress to fix our immigration and asylum laws to keep families united and in humane community settings while their asylum cases are heard.
Congress is considering several bills dealing with family separation, but some of these bills include locking children up with their parents in destructive prison-like settings.
Tell our members of Congress families belong in communities, not in cages. They must not support any bill that imprisons families who are only seeking safe refuge. Our policies must reflect Nebraska's values of dignity, humanity, and safety for children and families.
U.S. Senators
Sen. Deb Fischer (202) 224-6551     Sen. Ben Sasse (202) 224-4224
U.S. Representatives
Dist. 1 – Rep. Jeff Fortenberry (202) 225-4806        
Dist. 2 – Rep. Don Bacon (202) 225-4155
Dist. 3 – Rep. Adrian Smith (202) 225-6435