Monday, Governor Ricketts signed into law LB 746, the Nebraska Strengthening Families Act (NSFA).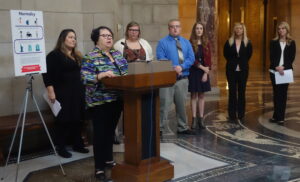 This is a victory for Nebraska's child welfare system, as the SFA promotes normalcy and permanency for youth growing up in foster care. The NSFA will allow kids to be kids by removing unnecessary barriers that prevent children in foster care from participating in developmentally appropriate activities like sports, sleepovers, and extracurricular activities.
Key pieces of LB 746 include:
The Reasonable and Prudent Parent Standard to allow foster parents to make day-to-day decisions regarding what age and in which developmentally appropriate activities youth can participate

The notification and explanation of rights for youth involved in the foster care system

Empowering youth to be more involved in the development of their case plans

Providing older youth with important documents, like their birth certificate and medical records, before they age out of the system

Limiting the use of Another Planned Permanent Living Arrangement (or independent living) to youth over age 16.
Read Appleseed's Fact Sheet on LB 746
We thank State Senator Kathy Campbell for her leadership on LB 746, and for being a tireless champion for improving Nebraska's child welfare system throughout her time in the Legislature and beyond.
Many young people who were involved in foster care, as well as parents, foster parents, foster care providers and other stakeholders shared their input and experiences throughout the legislative process. While this is an important milestone to improve the lives and outcomes of children and youth involved in the foster care system, work will continue on these issues through the ongoing involvement of many stakeholders and young people through the SFA Task Force of the Nebraska Children's Commission.