One of the cornerstones of our American health care system reached a big milestone today when we celebrated the 50th anniversary of the Medicaid program. For half a century, Medicaid has improved the lives of millions of Nebraskans by providing essential health coverage to people who need it the most, while also supporting Nebraska's hospitals and clinics and being a catalyst for innovation and improved efficiency in our health care system.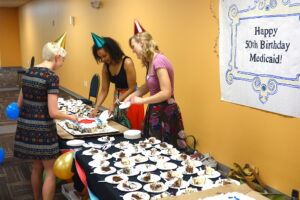 Every year, Medicaid coverage allows thousands of Nebraska children to have a healthy start in life, and it lets many of our seniors and people with disabilities live more full and independent lives.
We felt like that was something worth celebrating. So we did.
On Tuesday, July 28, we went to Lincoln's  Center For People In Need with cake, balloons, and party hats to throw Medicaid a "Happy 50th" birthday party.
See a full photo album from the Medicaid Birthday Party
Medicaid serves about 230,000 Nebraskans every year. They are people like Roxann, who has a number of chronic health challenges that require regular medication. But with the help of Medicaid,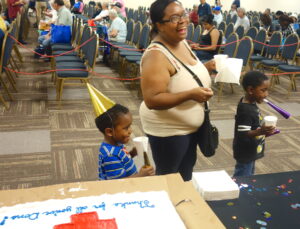 Roxann can afford the medicine she needs and the use of her service dog, "Dart," that helps her get around even though she has failing vision.
"I receive very excellent specialist care from Medicaid. I have access to specialists that have kept me alive," Roxann said.
Roxann and Dart came to the Center For People In Need to celebrate Medicaid's 50th with us. She was joined by other Nebraskans who have been served by Medicaid, plus other advocates and leaders who recognize how important it is for everyone to have health coverage.
State Senator Kathy Campbell, the chairwoman of the Legislature's Health and Human Services Committee, spoke to the crowd at the party about how Nebraska acted quickly to pass Medicaid in 1965 because making sure everyone – no matter how much money they make – is able to see a doctor is the right thing to do.
Medicaid is important "to make sure that we can get people into the right service at the right time and prevent further illness or falls or whatever we need to do to keep people healthy," Sen. Campbell said.
As we enter the second 50 years of the Medicaid program, it is essential our leaders protect Medicaid and keep it strong for the health of our people and the future of our health care economy.
Now, we have the chance to use Medicaid to cover nearly 77,000 uninsured Nebraskans who don't make enough money to afford health insurance and don't qualify for Medicaid currently. Many of these people work jobs that are important to our economy, but don't provide insurance.
It's up to our leaders to come up with a plan to cover our uninsured friends and neighbors because everyone needs to be able to afford to see a doctor.
Returning our tax dollars home to expand Medicaid is the quickest and most-efficient way to close this coverage gap. It's the right thing to do for our people and our economy.
The day our leaders stand up and say that every Nebraskan can now afford the health care that everyone needs will be another day to celebrate. We'll be happy to get another cake.