Can you imagine growing up and never attending a sleepover at a friend's house? Or being a huge Nebraska Huskers football fan but not being able to attend a game because you were in foster care?
It is hard for me to imagine what it would be like to grow up and miss out on these types of "normal" childhood experiences while watching my other friends have access to these on a daily basis. However, these were the real-life experiences of two young adults from Project Everlast as shared with a room full of child welfare advocates and service providers when they met to discuss the upcoming implementation of the Preventing Sex Trafficking and Strengthening Families Act ("Strengthening Families Act" or SFA).
This meeting served as the first of two convenings to discuss how Nebraska can improve practices relating to "normalcy", a key part of the SFA that ensures youth in foster care have access to developmentally appropriate activities and experiences that are a part of growing up.
In September 2014, Congress passed and President Obama signed the Strengthening Families Act. This groundbreaking federal law is designed to promote safety, permanency, well-being and normalcy for youth in foster care. Specifically, the SFA instructs states to:
Implement the Reasonable and Prudent Parent Standard to allow foster parents to use their best judgement in making decisions as to what activities that youth can take part in.
Limit the use of Independent Living as a court-ordered permanency goal.
Involve youth ages 14 and older in their case planning and provide them with a foster care bill of rights.
Provide young adults at 18 with important documents (birth certificate, social security card, etc) before they leave foster care.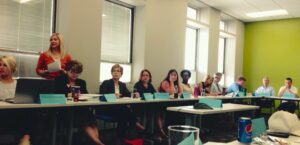 At the meeting, Nebraska Appleseed provided an overview of the SFA, and the group received an update from the Nebraska Department of Health and Human Services on their progress to meet these requirements.
This collaborative and youth-led initiative was guided by a Q&A with two young adults, Jared and Payne, who aged out of foster care and shared their experiences growing up in the system. Both discussed the barriers they faced that kept them from participating in baseball, Future Business Leaders of America events, church mission trips and getting to spend time with friends.
They spoke of the importance of having strong relationships with advocates, having a voice in their cases, and getting to take part in the activities that help them prepare for the transition out of foster care and into adulthood. Payne stated, that youth in foster care, "don't want to be targeted as 'foster kids' and need to be treated as equals with their peers."
To ensure more young adult voices are heard and are guiding this process, focus groups will take place to further inform the community advocates as they create recommendations for the state's implementation of the Strengthening Families Act.