As you may be aware, the Supreme Court is expected to rule on several cases related to the successful DACA program (Deferred Action for Childhood Arrivals) in the very near future — as soon as this coming Monday.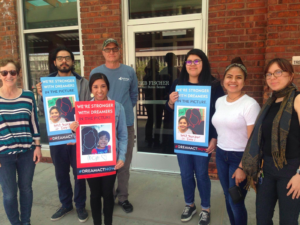 Recent news reports point out that ending DACA during a pandemic would be catastrophic. The New York Times notes that approximately 27,000 young professionals with DACA work in health care, many "on the front lines in the fight against the coronavirus."
Across our state, Nebraska communities can't afford to lose the talents and contributions of Nebraska Dreamers — from health care to education, from food production to small business. We can't afford to lose the friends, spouses, co-workers, moms and dads who are part of the fabric of Nebraska communities.
Take Action: Urge your U.S. Senators to pass long-overdue protections for Nebraska Dreamers
Now more than ever, it is critical for the Senate to move quickly to pass the Dream and Promise Act (which already passed the House last year) and create stability for long-time residents, families, and whole communities.
Take a moment to contact Nebraska's U.S. Senators Ben Sasse and Deb Fischer today. 
| | |
| --- | --- |
| Sen. Deb Fischer (202) 224-6551 | Sen. Ben Sasse (202) 224-4224 |
There is no reason Nebraska communities, employers, and families need to live with this uncertainty. The original bipartisan Dream Act was first introduced nearly 20 years ago.
It's time to move forward.