***For Immediate Release***
January 12, 2017
Contact
, Jeff Sheldon
Communications Director, Nebraska Appleseed
Office: (402) 438-8853
Mobile: (402) 840-7289
Email: jsheldon@neappleseed.org
"Light The Future" community vigil unites 300 Nebraskans in support of immigrants, refugees
Vigil powerfully demonstrates Nebraska values of united families, strong communities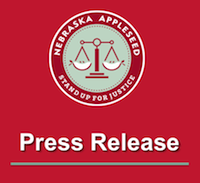 LINCOLN — Thursday night, a crowd of nearly 300 people withstood frigid temperatures to gather in Lincoln's Tower Square for a peaceful, candlelight vigil in a showing of strong and united support for Nebraska immigrants, refugees, and their families.
The "Light The Future" vigil, co-sponsored by more than a dozen local community organizations and leaders, was a powerful demonstration that Nebraskans value our immigrant and refugee neighbors, whose families contribute so much to the state, and that Nebraskans recognize our communities are stronger when everyone has an opportunity to belong.
Joseline Reyna, a UNL student and DACA recipient who hopes to attend law school, told the crowd immigrants and refugees continue to work hard to better their home communities and contribute to Nebraska while navigating the uncertainty many families are feeling about what's next for U.S. immigration policy.
"If you walk away with something today, I want you to remember that we have worked so hard and overcome so many obstacles," Reyna said. "That things that are mentioned that put our lives and the ones around us in danger, are scary. That we are real people, and that if the President does get rid of DACA this will affect people, students like me who have given so much to this country."
"The benefits of immigrants and refugees to an amazing city such as Lincoln are numerous," said Seth Mock, a refugee Nebraskan who spoke at Thursday's vigil. "Lincoln has been a gift to new immigrants and refugees, and an amazingly welcoming home. For this reason, Lincoln and Nebraska's future is brighter."
"Refugees need a safe home, and they need friends. It is my human, civic, and religious duty  to help them find both," said Rabbi Craig Lewis of Lincoln's South Street Temple, another one of the vigil's speakers.
Local immigrant and refugees speaking at the vigil reminded the audience how welcoming new Nebraskans into safe homes has saved lives and enriched Nebraska communities. And a collection of speakers from diverse faith backgrounds illustrated that values of kindness, dignity, and humanity for all are united throughout all religious faiths.
Speakers included:
Seth Mock of Lincoln, a refugee from South Sudan
Joseline Reyna, a UNL student and DACA recipient
Rabbi Craig Lewis – South Street Temple
Majid Alhijan – 70th Street Islamic Center
Lin Quenzer – Sacred Winds Mission Church
Rev. Kirstie Jeanette Engel – St. Paul United Methodist Church
"Light The Future" was co-sponsored by ACLU of Nebraska, Center For People In Need, the Clyde Malone Community Center, El Centro de las Americas, Catholic Social Services, Define American-UNL Chapter, Justice For Our Neighbors-Nebraska, Lincoln Mayor Chris Beutler, Lutheran Family Services, NAACP Lincoln Branch, Nebraska Appleseed, Nebraskans For Peace, UNL OASIS, People's Health Center, and YWCA Lincoln.
The vigil came two days after a diverse collection of nearly 70 Nebraska leaders and organizations sent a letter to members of Congress urging them to support policies that allow immigrant families to continue to enrich Nebraska. Companion vigils to stand with immigrants and refugees also were held Thursday night in Omaha and Grand Island.
For photos from Thursday's event, please contact Nebraska Appleseed Communications Director Jeff Sheldon at (402) 473-5599 or jsheldon@neappleseed.org.
# # #