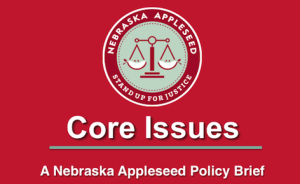 Today, we released a new policy brief on one of our Core Issues. Too many uninsured, low-income Nebraskans struggle with behavioral health challenges. This holds them back from reaching their full potential as family members, employees, and community leaders.
The brief, "Medicaid Expansion and Behavioral Health in Nebraska," explains how Nebraska could take giant strides toward meeting Nebraska's behavioral health challenges while saving millions of dollars in treatment costs by expanding Medicaid.
Click here to read our Core Issues policy brief
Among the key findings

:
Nearly

one-third

of uninsured Nebraskans in the coverage gap have a mental illness or substance use disorder. In 2014, that number counted approximately

21,000 Nebraskans

.
Through Medicaid expansion, low-income adults with a serious mental illness are

30 percent

more likely to receive treatment. This could translate into

4,000 fewer Nebraskans

experiencing symptoms of depression.
Nebraska could save at least

$11 million

a year in corrections costs through Medicaid expansion. At least half of people incarcerated in state and federal prisons and jails have mental health needs and two-thirds meet the clinical criteria for substance use disorders.
An estimated

$37 million

could be saved annually in the state General Fund by covering people who currently are served with state behavioral health aid.
All Nebraskans should be able to get affordable, quality health coverage. Expanding Medicaid would help Nebraska meet a long-standing challenge in improving access to behavioral health services while providing significant savings to our state budget.
Currently, 31 states and the District of Columbia have expanded Medicaid to provide health insurance to working adults with low incomes. This has been proven to drastically reduce uninsured rates, improve health care outcomes, and cut down uncompensated care costs for hospitals.
Take Action!
We urge you to contact your State Senator today and tell them Nebraska should no longer lag behind in affordable health insurance. We must expand Medicaid so all hard-working Nebraskans can get the health coverage they need.
If you want to get more involved and stay updated on the fight for health care access for all Nebraskans, join the Insure The Good Life campaign or share your personal story with our field organizer Kait Madsen at kmadsen@neappleseed.org.