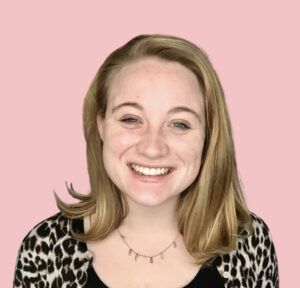 This is a guest blog post by Libby Israel, Nebraska Appleseed's outgoing Youth Ambassador for Food and Nutrition Access who has spent 2 semesters in the role.
Before my time at Nebraska Appleseed, anti-hunger work was something I had always thought about, but never really knew how to get involved with. I had seen the effects of food insecurity in my school and community, but never saw a way to make a difference. So, when I saw the opportunity to engage in hunger work right here in Nebraska, I knew it was something I had to do.
My time at Nebraska Appleseed ignited my passion for increasing food access, and helped me see just how multidimensional anti-hunger work is. No day was ever the same during my time here, and I was able to work on so many different types of outreach, projects and campaigns.
As a Youth Ambassador, I helped work on outreach to schools, districts, and parents regarding school meals throughout the COVID-19 pandemic. I was also able to help create best practice resources, and highlight innovative meal programs such as Farm to School. Similarly, I worked on updating Nebraska's School Breakfast report and supporting Nebraska Appleseed's work with Nebraska child nutrition coalition, Nebraska SNAC.
By far, one of my favorite projects I worked on during my time was our Nebraska Hunger Heroes Hall of Fame, which spotlights the heroic work of over 50 school nutrition professionals from across the state. This project was especially important to me because my grandmother worked as a school nutrition professional for over 15 years, so being able to give back and help show my appreciation and thanks for all the hard work school nutrition staff do day in and day out was really special to me.
As a Youth Ambassador, I loved getting to do work on the ground and see the impact of advocacy and policy change in real time. From working on increasing access to SNAP in Nebraska to mapping the breakfast gap, each day I was able to develop a deeper understanding of how food insecurity affects my community.
My time at Nebraska Appleseed was eye opening. Every week I had the opportunity to learn new and exciting skills, and as I end my time here I am truly grateful for the experience I was able to gain in nonprofits and the impact I can have on the community.