Note: This a guest post from Claire Breen, Economic Justice Intern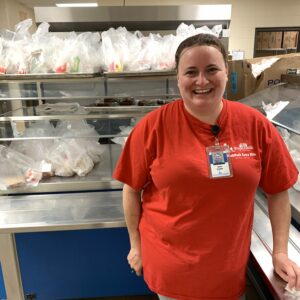 For faculty and staff at Campbell Elementary School in Lincoln, NE, focusing on the well-being of their students has always been a priority. So, when it became clear that many of their students didn't always have a chance to eat breakfast before school, they took immediate steps to implement an alternative breakfast model that better met the needs of their students. Four years later, Campbell Elementary's breakfast program has become a shining example of the benefits that come from implementing alternative breakfast programs.
Campbell Elementary is a late-start school with some students arriving at their before-school program as early as 7:00am and leaving as late as 6:00pm. Due to this long school day, it is important that Campbell's breakfast program allows students to eat after the school day begins without interrupting classroom instruction. Community Learning Centers Director, Emily Koopman, understands that "it's really important that [students are] able to eat throughout the day because they're young, hungry, and have a lot of energy that they burn during school." The transition to the grab and go breakfast model wasn't a huge leap for her and other school leaders because it worked with the school's existing morning routine rather than against it. Even if buses or parents arrive late due to traffic in the area, students are able to quickly grab a breakfast bag in the cafeteria and eat with their peers in the classroom.
Danielle Tuttle, mother of 4 current and former Campbell students, agrees that the program works well with her busy morning schedule. Her son, Ray participates in the alternative breakfast program at Campbell Elementary. For her, the grab and go model is more than an additional option for her child to receive breakfast. As a single-income household, she relies on the program to ensure that her family has enough to eat throughout the school year. For her children, "having the food helps them focus. They get to the point that when they're too hungry, they shut down." 
In addition to ensuring students are fed, the extra time and flexibility that grab and go provides for students has led to substantial improvements in the classroom. First grade teacher, Benjamin Esters, shared that "whenever I send [kids] to get breakfast, right after it's an immediate mood change. They're a lot more calm, a lot more focused." These behavioral changes lead directly to academic success. Campbell Elementary is laying the foundation for stronger scholastic achievements among all of their students.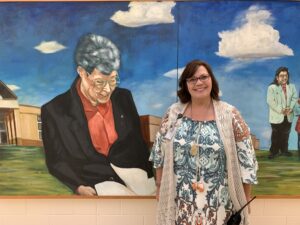 The positive impacts created by Campbell's alternative breakfast model didn't happen overnight. They began with a coalition of teachers, custodians, nutrition staff, administrators, and others recognizing the constraints that families faced in participating in a traditional breakfast program. By adopting an alternative breakfast model like grab and go, Campbell Elementary was able to ease these constraints and drastically change the culture surrounding school breakfast. Campbell Principal, Julie Lawler, explains, "we don't want them to be focused on 'I'm hungry, when will I eat again.' We want them to feel like we have a system in place, everything is planned out, we grab and go, get to your classroom, and start your day." 
By ensuring that their students have the fuel they need to focus, Campbell Elementary School has created a community that encourages students to learn and grow. To learn more about implementing an alternative breakfast program at your school, contact our Economic Justice Program Associate Eric Savaiano at esavaiano@neappleseed.org or 402-438-8853 ext. 126.