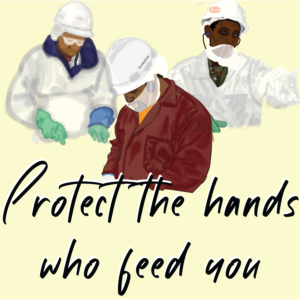 We are extremely disheartened and sorry to share that this week in the Legislature, the Meatpacking Employees COVID-19 Protection Act LB241, introduced and prioritized by Senator Tony Vargas, was stopped from advancing. For practical purposes, this important bill is dead for this session.
Please make one more call or email to your senator on this issue. Thank the senators who supported LB241 and common-sense protections for the important people at the center of Nebraska's meat processing. Share your disappointment with those who voted to stop the bill. (See vote list below.)
We extend our gratitude and thanks to Senator Vargas for his hard work and leadership on this legislation, which he has fought for tirelessly since the pandemic began, and to other senators who strongly supported this bill.
We also celebrate the many worker leaders, family members, and communities across the state who raised deep concerns and moved forward a critical public conversation about the health and safety conditions in meatpacking and poultry plants.
Find your senator here.
Senators who stood with meatpacking workers: Aguilar, Blood, Bostar, Brandt, J. Cavanaugh, M. Cavanaugh, Day, DeBoer, Flood, M. Hansen, Hunt, Lathrop, Lindstrom, Linehan, McCollister, McDonnell, McKinney, Morfeld, Pansing Brooks, Vargas, Walz, Wayne, Wishart
Senators who voted to stop the bill: Albrecht, Arch, Bostelman, Brewer, Briese, Clements, Erdman, Friesen, Geist, Gragert, Groene, Halloran, B. Hansen, Hilgers, Hilkemann, Hughes, Kolterman, Lowe, Moser, Murman, Palz, Sanders, Slama, Stinner, Williams
Find this week's vote count to "bracket" or stop LB241 here. 
Find the first-round vote to advance the bill here.
Thank you for contacting your senator to show Nebraska's strong support for family members, friends, and neighbors working essential food processing jobs!