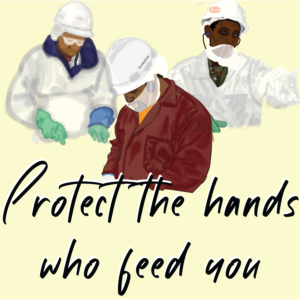 The Meatpacking Employees COVID-19 Protection Act (LB 241) is scheduled for floor debate this Thursday! This is a critical moment for senators to hear community support for the bill.
Take a minute to email your senator to support LB 241 and common-sense packing plant protections to keep workers and communities safe. A short email makes a big difference!
Nebraskans who work in meat and poultry plants across the state continue to report very recent examples of dangerous COVID conditions, including dangerous crowding in locker rooms and cafeterias, pressure to work while sick, and insufficient and poor quality masks.
The pandemic is not over. COVID-19 and new variants continue to be a danger. As one worker put it, "The COVID problem is now." Even as vaccine rollout proceeds, public health experts caution we will need continued protections for some time.
Take Action to protect Nebraska family members, friends, and neighbors working essential food processing jobs. Email your senator today!