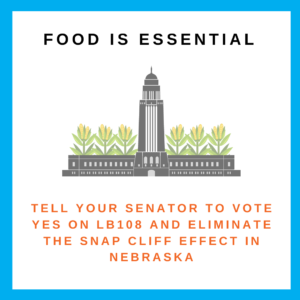 With 29 yes votes and strong community support, the SNAP cliff effect bill (LB108) will be up for its second round of debate very soon! We need your help to get this bill over the finish line.
LB108 addresses the SNAP cliff effect, where a small raise at work triggers a much larger loss of the SNAP benefits families rely on. This bill ensures our state SNAP program rewards work and doesn't discourage it.
Take Action Now: 
Email your senator today to help your fellow Nebraskans avoid the tough choice between accessing better job opportunities and feeding their families.
You can help make a difference for our communities by supporting LB108! If you have any questions, email Megan at mhamann@neappleseed.org.