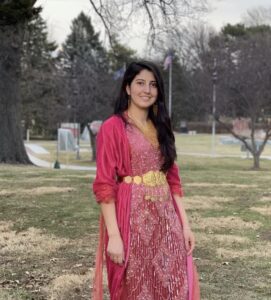 At Nebraska Is Home we know that vibrant communities are ones in which people from all different backgrounds respect and celebrate each other's values and talents. In celebration of June as Immigrant Heritage Month, we want to share a few stories from some of the immigrants who bring vitality and passion to Nebraska.
Meet Nibras, a young global leader who has dedicated her talents and time to making the world a better and more welcoming place. She is a Yazidi refugee from Iraq who is currently studying at Creighton University. She is passionate about education for girls and refugees, and has received local and international recognition for her advocacy efforts.
Recently, our Appleseed intern, Abby Chan, caught up with Nibras for a fun interview and shared with us what she learned:
Nibras Khudaida was born and raised in Sreshka, Iraq, and immigrated to the United States in April of 2015. Nebraska was the top choice for Nibras and her family, as her uncle had settled here months before and found that it felt like home. The Yazidi community in Nebraska is quite large, which made the transition of moving a little easier on Nibras and her family.
Stepping off of the plane at the Lincoln Airport, many people showed up to welcome the  Khudaidas to their new home. Some local organizations that were instrumental in helping the family acclimate to America were Lutheran Family Services, Catholic Social Services, and the Center for People in Need. They helped Nibras and her family rent their first home, helped them strengthen their English language skills, and educated them on the laws, rules, and culture of their new home.
Nibras was welcomed from all aspects of the community. She recalls, "People visited us often to check on us or if we needed anything. They showed they cared about us. After I started high school, my teachers and my classmates made me feel very welcome by helping me out by doing small acts. I felt welcome in school because teachers treated everyone the same."
Although Nibras has gotten the hang of life in America, she wishes she'd known more about the education system. While she was preparing to take the ACT and applying to college, she had to resort to using Google as well as her teachers for advice. The college search did end up well for Nibras, as she is currently a Creighton University student.
While juggling school and family time, Nibras also makes trips to speak at the United Nations and conferences all around the country. She advocates for girls' education, creates projects and programs to help refugees in Nebraska to access higher education, and also helps refugee students in conflict zones. Nibras uses her voice to advocate for a change in the treatment and education for refugees. She aspires to help out the next generation.
Nibras has given speeches at the United Nations, and has been featured on the social media accounts of the Malala Fund and Representative Jeff Fortenberry.
You can keep up with this brilliant young global leader by following Nibras on Twitter at @NibrasKhudaida