Medicaid turns 54!
It's time for Nebraska to implement Medicaid expansion
Today, Medicaid turns 54! Since it began, it's saved many, many lives, lifting people out of poverty and giving them the chance to pursue their passions and dreams. For decades, Medicaid has provided stable coverage for millions of Americans, including thousands of Nebraskans. Many of Nebraska's low-income parents, pregnant women, children, people with disabilities, and seniors have been able to access quality health care because of Medicaid. Despite many attacks on the program, it continues to thrive and keep our neighbors healthy.
We believe health care coverage is a vital part of living a good life. But for years, we've heard from many Nebraskans struggling to access quality, affordable health care because they're in the coverage gap – they don't qualify for Medicaid, but don't make enough money to get tax credits for private insurance. Nebraskans in the coverage gap are single parents trying to give their children a healthier future. They're young people starting their careers. They're people who are near retirement.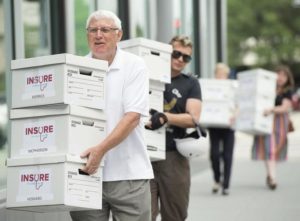 Medicaid expansion provides the solution for 90,000 Nebraskans without a path to health coverage. Medicaid expansion is an investment to our neighbors and to our state. It brings back $600 million of federal tax dollars to cover hard-working Nebraskans otherwise unable to get quality, affordable insurance. Medicaid expansion first became an option for states in 2013. Last year, after years of legislative inaction, we saw an incredible opportunity to strengthen health care in Nebraska through expanding Medicaid.
The Insure the Good Life campaign put Medicaid expansion on the ballot as Initiative 427. Hundreds of volunteers collected 135,000 signatures across 50 counties in Nebraska. Together, we helped put Medicaid expansion on the ballot. Every signature represented a chance of a healthy life for our friends and family. This was the first accomplishment of an energized journey. 
Once Medicaid expansion made it on the ballot, it was time for Nebraskans to vote for Initiative 427 in November and join 34 other states that had helped their communities access critical health care. Many volunteers knocked on doors in their own neighborhoods and in communities across the state.
And you did it! Nebraska voters chose a healthier future for 90,000 Nebraskans at the polls in November. Nebraskans made it clear that our neighbors cannot wait any longer for critical health care. 
So where does Nebraska stand? In April, the Nebraska Department of Health & Human Services announced that expanded coverage would not begin until October 2020 and that the program would include restrictions on benefits, work requirements, and changes to coverage for people already enrolled in Medicaid. When voters spoke last November, they did not ask for delays and barriers to coverage.
Join us in celebrating 54 years of Medicaid and fighting for expanded health care coverage.
Call Governor Ricketts office at (402) 471-2244 and urge him to implement Medicaid expansion without delay and without unnecessary requirements. We know the life-changing impact Medicaid can have on our communities. It's time to make sure this opportunity is not lost.
Molly McCleery
Health Care Access Program Director
Nebraska Appleseed