Tell Congress it's time to 'Raise the Wage'
Raising the minimum wage is an investment in the future of Nebraska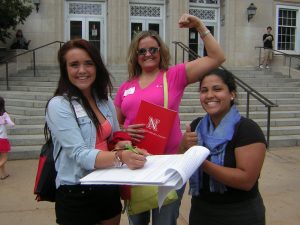 This week, the House of Representatives will vote on the Raise the Wage Act, a bill that would gradually increase the federal minimum wage to $15 an hour. 
Despite the fact that our nation's productivity has doubled in the past 50 years, low-wage workers are making 25% less than their counterparts did half a century ago. As the minimum wage lags further and further behind the rate of inflation, hard-working parents must choose between basic necessities for their children and low-wage workers must work longer hours just to make ends meet. The reality is, working 40 hours or more a week is just not enough anymore.
By gradually raising the federal minimum wage to $15 an hour, Congress has the 
opportunity to lift 1.3 million of our neighbors and friends out of poverty, nearly half of whom are children. Furthermore, this bill would raise the income of tens of millions of Americans, and increase the income of families who earn below three times the poverty rate by $21.9 billion. 
Urge your House representative to put hard-working Nebraskans first and vote to raise the minimum wage.
Updating the federal minimum wage is long overdue. Raising the minimum wage is an investment in the future of Nebraska, and the future of our country. This will strengthen our communities and ensure that fewer children grow up in poverty. Economists agree that a $15 minimum wage would have a positive effect on the American public, and it's time our lawmakers passed this commonsense legislation. Tell your Representative that it's time for a reasonable minimum wage.  
Thank you,
James Goddard
Director of Economic Justice program
Nebraska Appleseed