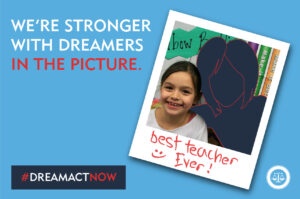 We're asking for you to take a minute today to stand with DREAMers, their families, and strong Nebraska communities.
Call our members of Congress. Tell them they must pass a clean version of the bipartisan "DREAM Act of 2017" this week and avoid potentially another costly government shutdown. Our communities are stronger with Nebraska Dreamers in the picture!
Sen. Deb Fischer (202) 224-6551     
Sen. Ben Sasse (202) 224-4224
Dist. 1 – Rep. Jeff Fortenberry (202) 225-4806        Dist. 2 – Rep. Don Bacon (202) 225-4155
Dist. 3 – Rep. Adrian Smith (202) 225-6435
Don't know your U.S. Representative? Click here to find out.
For months, voices like yours from across Nebraska have been calling on Congress to pass the DREAM Act, so that 3,400 hard-working young Nebraskans like Alejandra for whom Nebraska is home, have the chance to keep going to school, growing careers, and contributing to their home communities.
In recent weeks, we've delivered more than 600 of your letters to our members of Congress urging them to pass the DREAM Act. And last week, dozens of you came to events in Lincoln and Omaha to see how you can get involved.
If Congress doesn't reach an agreement to pass a bill to protect DREAMers by Thursday, there could be another federal shutdown like the one in January. Meanwhile, more DREAMers lose their DACA protections each day. And that number will skyrocket after the March 5 end of DACA. We can't wait any longer!
Now is the time to pass the bipartisan "DREAM Act of 2017," which would allow Dreamers to keep learning, working, and contributing to their home state, and eventually, earn U.S. citizenship.
Call our U.S. Senators and your Congressman today. Tell them to pass a clean version of the DREAM Act of 2017.