For generations, immigrants and refugee Nebraskans have made valuable contributions to our state – and are an important part of strong communities, local businesses, and Nebraska families.
But recent harmful and divisive policies in Washington, D.C. have created fear and uncertainty in many local communities.
We have a chance now to show Nebraskans stand with immigrant and refugee neighbors. Early next week, the Legislature will debate two Legislative Resolutions that recognize Nebraska appreciates and welcomes immigrants and refugees.
Take Action!
Contact your State Senator today! Ask them to vote "YES" on LR 26 and LR 27.
LR 26 (Sen. Tony Vargas) – A resolution in support of DREAMers – young immigrant Nebraskans who grew up here, attended local schools, and seek to contribute their talents to the state they call home. The resolution recognizes the value these hardworking young Nebraskans bring to our communities and oppose any effort that would put them at risk and create a barrier to their continued contributions.
LR 27 (Sen. Kate Bolz) – A resolution building on Nebraska's proud history of refugee resettlement and proclaiming the Legislature believes in protecting refugees and appreciates their long-standing contributions to Nebraska.
Urge your State Senator to vote "YES" on both of these Legislative Resolutions next week.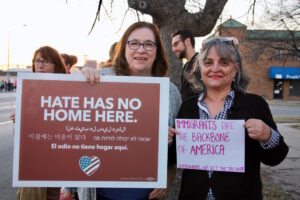 Recently, Nebraskans have left no doubt we welcome and appreciate new neighbors looking for a safe home. More than 70 local leaders and institutions signed a letter to Congress this year supporting young immigrant Nebraskans. In the last two years, the Legislature has passed bills recognizing the contributions of DREAMers and ensuring their ability to obtain driver's and professional licenses.
Plus, thousands of Nebraskans attended vigils across the state already this year in strong showings of support and solidarity with refugees and immigrants.
Let's send another clear message today! Call or email your State Senator and tell them Nebraskans welcome the contributions and value of all of our community members.
Urge them to vote "YES" on both LR 26 and LR 27.