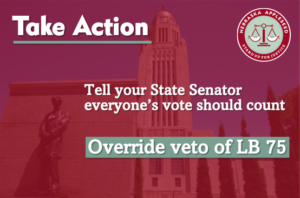 There's one more hurdle to overcome to protect voting rights for thousands of Nebraskans.
Thursday afternoon, Governor Ricketts vetoed LB 75, a bill that would end the arbitrary two-year waiting period for someone to vote after they complete a prison sentence or probation.
Will you call or email your State Senator today? Urge them to vote to override the veto of LB 75. The Legislature is off for a three-day weekend starting today. When they return next week, make sure their inboxes and voicemails are full of your messages.
The Governor has said that a two-year wait to vote is "not too much to ask."  But, a two-year wait is too much to ask someone who lives and works in our community, but has no say in their federal, state, or local government.
When we cast a ballot, we are voting for the community we want to live in. Denying returning citizens that right denies them the opportunity to contribute to Nebraska's future. The voting ban disproportionately harms people with low incomes and people of color, essentially silencing their voices.
Our democracy is stronger when it reflects the community it serves and everyone's voice counts. This bill will help nearly 7,800 Nebraskans regain their voice in our community.
It's time we extend the right to vote to returning citizens upon completion of their sentence.

Contact your State Senator today. Tell them to vote to override the Governor's veto of LB 75.