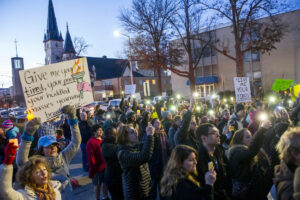 Late Friday, President Trump added to last week's anti-immigrant and refugee executive orders with an order that indefinitely bans refugees from Syria, and severely restricts immigration from several other Muslim-majority countries.
These executive orders do not reflect America's strongly held values that insist that we create safe homes for those escaping violence and persecution. And judging potential immigrants based on religion also violates our ideals of treating people of all faiths with justice and dignity.
Take two more important actions now:
Call Nebraska's members of Congress

and let them know you support refugee resettlement and oppose the recent executive orders.
If you live near Omaha, attend the "

Light the Way for Refugees" Vigil,

6:00 pm Tuesday evening

in Turner Park

,

sponsored by Lutheran Family Services, Omaha Together One Community, and Refugee Empowerment Center.

(

FB link

)
Take Action!
It's important for you to speak up today! Please contact our U.S. Senators and your Congressman and tell them you oppose these discriminatory executive orders.
U.S. Senators
Sen. Deb Fischer (402) 441-4600
Sen. Ben Sasse (402) 476-1400
U.S. Representatives
Dist. 1 – Rep. Jeff Fortenberry (402) 438-1598
Dist. 2 – Rep. Don Bacon 888-221-7452
Dist. 3 – Rep. Adrian Smith (308) 384-3900
Click here to find your U.S. Representative
Tell our members of Congress:
You support refugee resettlement in Nebraska and oppose the President's executive order on refugees. Refusing refugees in fact makes the U.S. less safe by stoking anti-American sentiment abroad.
The outright ban on refugees from Syria and the severe restriction of providing a safe home to people from countries with large Muslim populations are a contradiction of our fundamental American values.
We have a critical and historic role to play with today's refugees, who make up the largest displacement of people since World War II. We must do our part to provide safe refuge to Syrian refugees fleeing violence and terror. Turning our backs is unworthy of our country's claim of being a model of fairness, justice and freedom for all.
Many bipartisan leaders and Nebraska community members already have spoken out against the harm this order will do to U.S. security and to people fleeing violence. Many hundreds of Nebraskans attended weekend events supporting refugees. Senator Sasse also spoke out against the order, calling it "too broad."
Call our members of Congress today. Tell them we support the U.S refugee program, and we support immigrant and refugee Nebraskans as valued members of our communities.