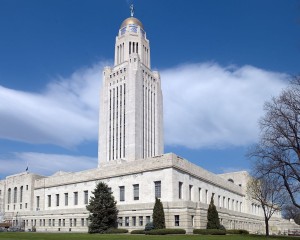 We're already a few weeks into the 2016 Nebraska Legislature session. Every day at the State Capitol, Appleseed will be fighting for justice and opportunity for all Nebraskans by advocating for bills, meeting with State Senators, and organizing Nebraskans to make their voices heard on issues that affect thousands of people.
We just wanted to take a second to tell you about some of the big issues we'll be working on this year and what you need to know about a few important bills.
Our 2016 Legislative priorities
Affordable health insurance for all Nebraskans
Right now, 77,000 Nebraskans with low incomes have no way to afford health insurance, which hurts their families, our communities, and our economy. LB 1032, the Transitional Health Insurance Program Act, provides a way for these people to afford health insurance while bringing nearly $2 billion in Nebraska's tax dollars back to the state.
Let Kids be Kids in our foster care system
Growing up in foster care can be hard for many Nebraska kids, especially when the foster care system can make it difficult to have normal growing-up experiences like going on class field trips, getting that first part-time job, or applying for a driver's license. These are all experiences child welfare experts agree are important parts of a young person's growth and development.
LB 746 would remove some administrative red tape that makes it harder for youth in foster care to have these experiences. In short, it better allows kids to be kids – which is an important part of becoming a healthy adult!
Stop predatory Payday Lender practices
For some Nebraskans with low incomes, a payday lender has been one of the only sources they have for credit. When an unexpected expense like car repair or medical bill comes up, many Nebraskans have turned to payday lenders for loans to make ends meet.
But with unaffordable payments, short payment schedules, and excessive fees, payday lenders can keep many people trapped in a cycle of debt with no end in sight.
A bill introduced by Sen. Kathy Campbell, LB 1036, would put a stop to many of these bad practices and allow people to access a more fair and transparent loan.
Adult Education for Nebraskans with low incomes
Nebraskans who participate in the state's Aid to Dependent Children (ADC) cash assistance program must meet certain work requirements. LB 701, introduced by Sen. Heath Mello, reauthorizes a successful policy where ADC participants can engage in associate's degree programs for up to 36 months as one way of meeting the work requirements.
This would allow Nebraskans with low incomes to continue meeting their basic needs while learning new skills to get better jobs and move ahead.
Allowing young Nebraska immigrants to fully participate in the workforce
One of the biggest victories for young Nebraskans last session was the passage of LB 623 to allow young Nebraska immigrants who were brought to the U.S. as children to get driver's licenses.
A new bill this session introduced by Sen. Heath Mello, LB 947, would ensure these young Nebraskans who are authorized to work in Nebraska are able to obtain a professional or commercial license to practice their profession and contribute more fully to our state's economy.
Take Action
During the 2016 Legislative Session, we want to tell you about important moments to take action on key bills.
You can sign up here to receive our weekly Legislative Update. We'll tell you about when bills will have committee hearings and when they may come up for a floor vote. Plus, we'll let you know when our State Senators need to hear from you on big issues.