***For Immediate Release***
Wednesday, October 21, 2020
For questions about SNAP, contact: 
Eric Savaiano
Economic Justice Program Manager, Food and Nutrition Access
O: (402) 438-8853 x 126
esavaiano@neappleseed.org
Media contact:
Magdalena Cazarez
Communications Director, Nebraska Appleseed
C: (402) 504-0074
mcazarez@neappleseed.org
More than 1,200 Nebraskans Urge Governor Ricketts to Extend SNAP Emergency Allotments
Representing 106 communities, Nebraskans express grave concerns, causing hunger and hardship
LINCOLN, NE — On Monday, October 19, Nebraska Appleseed submitted a petition on behalf of 1,242 Nebraskans urging Governor Ricketts to accept SNAP (Supplemental Nutrition Assistance Program) emergency allotments that have been refused since August. As positive COVID-19 cases in Nebraska reach their highest levels and unemployment rises around the country again, Nebraskans urge Governor Ricketts and his administration to make the right choice to extend these critical benefits.
Nebraska signers, representing 106 communities, expressed grave concerns that Nebraska continues to be the only state in the country to refuse SNAP emergency allotments, causing avoidable hunger and hardship. Signers cited the potential $8M per month in food support would not only help families, but also benefit the Nebraska economy. Additionally, with the increased cost of groceries, job loss, and challenges reaching food pantries, life is far from "normal."
Nebraska Appleseed launched Hunger in the Heartland, an online gallery illustrating food insecurity due to COVID-19. Find a sample of comments submitted with signatures below:
"I was let go of my job during COVID. My unemployment is about to run out and with unemployment and child support I get $6.00 of SNAP benefits. I'm struggling a little now but as winter approaches it will be a real struggle. Please extend the emergency SNAP benefits." – Falls City
"We need to continue to help our state. We are trying to get back to normal but abruptly ending help before we are all back on our feet and back to normal is not the way to do it. We are trying to stand up after being knocked down by the pandemic, don't pull the carpet out from under us before we are standing and steady." – Plattsmouth
"You are a Catholic. Catholicism supports social justice — giving to those who have nothing to give. Out of the compassion of your faith, out of Christ's love and example for us, please help our fellow Nebraskans. I, as a Nebraskan, want my tax dollars to go to this." – Lancaster County
A joint-letter, sent to the Governor in August, shows the economic impacts of the COVID-19 pandemic for Nebraskans. A press conference was held by SNAP advocates and front-line anti-hunger organizations in September.
"COVID rates are spiking and many in our communities are struggling. Through this petition, community members are asking for reasonable support during extraordinarily difficult times," said Eric Savaiano, Nebraska Appleseed's Economic Justice Program Manager. "This program is 100 percent federally funded and has the potential to reach 40,000 Nebraska households. It's a program designed to respond to an emergency and failing to extend these benefits when so many are struggling is indefensible."
The Governor recently announced $11M in state CARES Act funding to support the state's two food banks, Food Bank of Lincoln and Food Bank for the Heartland. While these funds are needed, they cannot replace flexible and larger scale SNAP benefits.
"For every meal the food banks provide, SNAP provides nine. Nebraska stands out as the only state to refuse these benefits and that decision stands in stark contrast to the resources granted this week," Savaiano shared. "Why would we not make use of this tool that supports families unnecessarily suffering with hunger, stress, and pain through the pandemic at no cost to the state? We call on the Governor to extend SNAP emergency allotments as soon as possible and for as long as we are eligible."
Signer Locations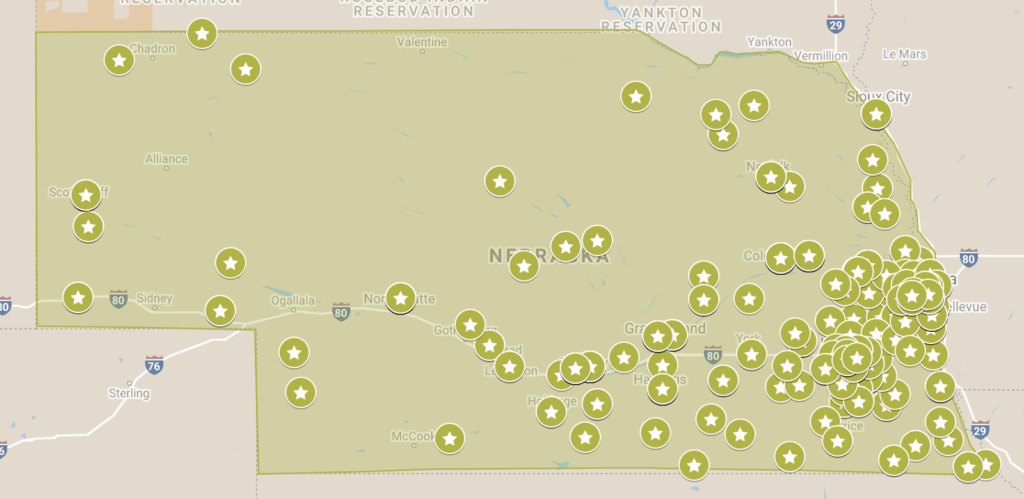 For media interviews with petition signers or organization representatives, contact Magdalena Cazarez at mcazarez@neappleseed.org or (402) 504-0074.
###