Throughout October, Nebraska Appleseed is celebrating the outstanding contributions of individuals and organizations standing up for justice and opportunity for all as part of the 2020 Good Apple Awards.
This week, Appleseed is proud to spotlight Black Leaders Movement. They are igniting the fight for justice and equality with dedicated activism and bold ideas, and by forging new alliances and friendships, encouraging everyone to join their march toward a better society.
Throughout this year, in every corner of Nebraska, city streets gave way to protests generations in the making. Even in the midst of a pandemic and beneath the beating summer sun, the stories of Black Americans merged with those of Nebraskans from all backgrounds to share one message: 
"Black Lives Matter!"
After the murder of George Floyd at the hand of police in Minneapolis, countless marches, rallies, and demonstrations sprouted to protest police brutality, and along the way, remember those we lost to senseless violence in hopes of healing the divide in our society that makes such acts all too common. In candlelit vigils across Nebraska, people spoke the names of those lost: Breonna Taylor. Ahmaud Arbery. James Scurlock.
They come at a critical moment as Nebraska struggles with its story on race. It's a hard story—one stained by the brutal legacy of discrimination and fueled by generational ignorance that has fed conflict and cynicism toward minorities, and left police brutality unchecked.
In Lincoln, a group of young Black men and women are working to tell a different story, one written across the communities they love. They are Black Leaders Movement, founded in 2020 and consisting of Black Nebraskans ages 15 to 24.
Together, they have stood up and spoken out, and brought their message of hope directly to the people, organizing peaceful marches throughout the year, holding vigils, and taking concrete actions to reshape the policies and structures deeply embedded with racism, and in the process, reimagining what's possible in Nebraska.
What's possible in Nebraska, they believe, begins with a different conversation on race, one that is centered on the lived experiences of Black Nebraskans and uplifts their stories to help others identify the ways injustice has sunk into our society.
In all of its forms, racism is profoundly dangerous. On a broad level, it punctures illusions of who we believe we are as a community, and painfully reveals to us just how much we need to change. But on a personal level, it imprisons people with a narrow view of the world, and sets them off on a dangerous chase to fix a world they see as unordered and broken.
Building a better community, takes a community, but it begins on an individual level.
To see our community in a new way, we must see ourselves in a new way. It takes each of us to admit to our flaws, address our blind spots, and discover the imperfections that harm more than just ourselves.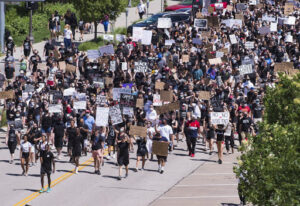 No one understands this more than Black Leaders Movement. After demonstrations turned violent in the wake of George Floyd's murder, they organized peaceful events nightly throughout the summer, and invited Nebraskans from all walks of life to walk with them, to listen, and to share in their struggles.
Throughout streets in Lincoln, and on the steps of the State Capitol and the County-City Building, they spoke to crowds of people and signs, voicing their anger and frustration, their pain and fears, and their hopes and dreams, all while bearing the weight of what it means to be Black in America.
But they also know that it will take more than words and realizations to deliver us up from the poisonous well of racism. It takes acknowledging that the brutal legacy of discrimination is still alive and evident in our public systems and programs, and within our institutions and leaders.
It's why that in addition to organizing demonstrations, they are taking concrete steps to reshape laws, connect with policymakers, inform community members with vital information on the issues impacting them, and connect neighbors to move solidarity into action.
Earlier this year, they hosted a March for Economic Equality to share the ways Black Americans are systemically stripped of opportunity. They would take their message directly to the Lincoln City Council to find common ground on the policy changes that can begin to dismantle the inequitable policies disproportionately impacting communities of color, especially in a year that has compounded the issues these communities face.
"The hardships of this year have demanded safety nets for survival and when the federal and state governments fail to respond adequately, the safety nets have to be supplied from people's own personal networks," said Vic Klafter, an Appleseed Community Organizer for Collective Impact Lincoln.
"Because of systemic economic marginalization of people of color, especially Black and Indigenous people, the means within those personal networks is exhausted much more quickly and completely and results in significantly more crises, such as evictions, that often initiate a cycle of poverty that could have been avoided with more equitable provision of financial assistance."
They've encouraged investing more in mental health and victim advocacy, funding more accessible public parks, and reimagining the role of police and outlining what a new model of public safety can look like. 
In the lead up to the upcoming election, they're partnering with local organizations to get out the vote by supporting voter registration, sharing information on candidates and issues, and promoting the different ways people can cast their ballots.
For Black Leaders Movement, they believe in the promise of our ideals as a society, but recognize the realities of our time. With their youth and ambition, they are leveraging the tools at their fingertips, and reaching out to others to expand their network and reach.
"Good leaders lead a community, and great leaders build a community, Vic said. "Black Leaders Movement are the leaders we need right now because they are both brilliant and inclusive; they call on others to stand up and take their own role in this movement."
They recognize that despite our different stories, we all share the same hopes. Even though we come from different places, we all strive to move in the same direction—to pave the road toward the community we all want to see.
Change is coming. Change is Black Leaders Movement.
To learn more about Black Leaders Movement and how you can join their march toward racial equality, visit their website here. You can also connect with them on Facebook, Twitter, and Instagram.