Throughout October, Nebraska Appleseed is celebrating the outstanding contributions of individuals and organizations standing up for justice and opportunity for all as part of the 2020 Good Apple Awards.
 This week, Appleseed is proud to spotlight The Children of Smithfield. A group of young leaders in Nebraska whose parents and loved ones work in meatpacking plants, their mission is to ensure plant workers are treated as essential—pandemic or not. We're honored to share this guest blog post from Nhu-Y Ngo, an attorney in New York City, former Appleseed intern, and member of The Children of Smithfield, whose father works in a meatpacking plant in Nebraska.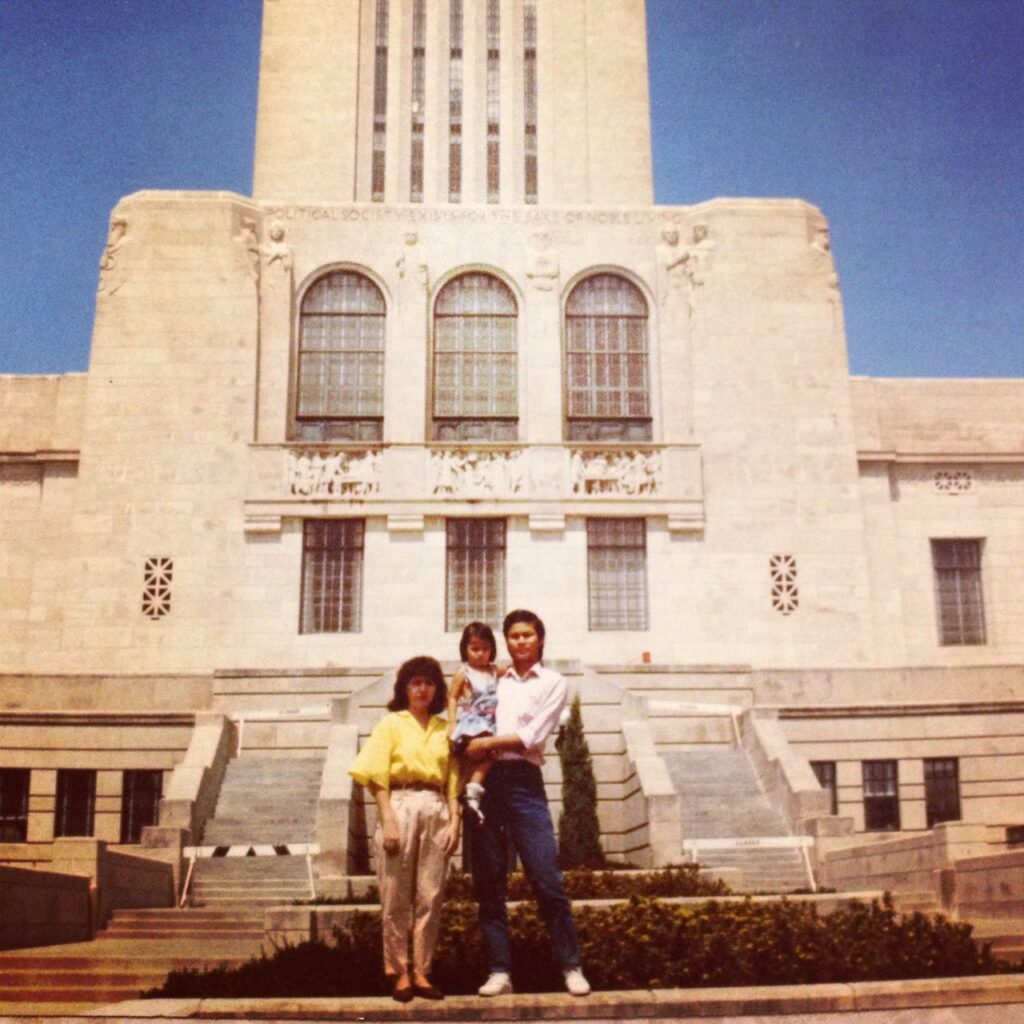 When Farmland (now Smithfield), the large meatpacking plant in Crete, Nebraska, gave my dad his 20 years of service recognition certificate, my mom framed it and prominently hung it up in our house. It hangs near four college diplomas that my dad worked countless overtime hours for me and my siblings to obtain. Because of COVID-19, I live in fear that my dad will not be alive to receive another recognition certificate.
This fear is not new.
His job has always been difficult; the conditions have always been grueling. He has long suffered from chronic pain. Growing up, I accompanied him to numerous medical visits, trying my best to interpret his pain to the doctor who never quite understood. I tried my best to make the pain go away, but I never could. When I moved away for college, the fear that he'd be severely hurt persisted. I'd compartmentalize the fear, so I could focus on my schoolwork. But sometimes I couldn't, like when my sister called in the middle of midterms to tell me that dad had been cut on the line. My dad later told me not to worry. But I worried and still worry.
Now, the fear has intensified as a deadly pandemic plagues our world. I currently live in New York, and the distance from Nebraska initially made me despondent and unsure about how to help my family.  But I was jolted into action when my dad sent me a photo of himself using a hairnet as a mask because his plant did not provide adequate personal protective gear. I was appalled. 
I reached out to Nebraska Appleseed to see how I could help make sure my dad and his colleagues were safe. My connection to Nebraska Appleseed dates back nearly 14 years, starting when I was an intern the summer after my freshman year of college and later the summer after my junior year. At Appleseed, I worked on immigrant and workers' rights initiatives, such as their meatpacking safety work. Nebraska Appleseed has long worked to protect Nebraskans working in meatpacking plants, and I have so much respect for the organization.
My former supervisor Darcy told me about a group of adult children of workers who were organizing to make sure that their parents at the Crete plant had safe working conditions. They called themselves "The Children of Smithfield." I connected with them, and we have since worked together to make sure that our parents, who fear workplace retaliation for voicing concerns, are heard through us. Some have asked why we are speaking out, and the answer is that this is what we have done since an early age. Our name, "The Children of Smithfield," reflects that we have worked since childhood to help our parents who have done so much for us. We know no other life but advocacy.
We have since worked together to make sure that our parents, who fear workplace retaliation for voicing concerns, are heard through us.
Our work evolves as the virus spreads and mutates, but our overarching goals are simple: we want humane working conditions, adequate protections, and justice for our parents. Our parents are essential workers who are not expendable. And they are more than just workers–they are whole human beings deserving of basic protections and respect. And our work is far reaching because the fight for humane working conditions in the meatpacking industry is a long one that precedes this pandemic and will extend beyond it.
With that larger picture in mind, we have partnered with organizations like Solidarity with Packing Plant Workers and Nebraska Appleseed because we know we cannot wage this fight alone. We are grateful for the support of Nebraska Appleseed and are so honored to be one of the honorees of the Good Apple Awards. We want to share this award with all our coalition partners because it has and continues to be a team effort. We invite anyone interested in our goals to join us. 
Learn more about The Children of Smithfield and their work advocating for meatpacking workers and their families.