As you know, Nebraska voters approved Initiative 427 this past November to expand Medicaid to 90,000 Nebraskans. Finally, many of our hard-working, uninsured friends and neighbors will be able to get the health coverage that everyone needs.
Moving forward with Medicaid expansion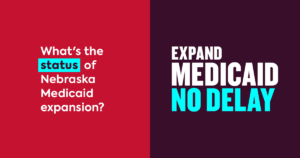 We know there are still many questions about next steps for expanding Medicaid and how our leaders will deliver on their commitment to Nebraska voters. Since November, we have been engaged in making sure both the Legislature and the Department of Health and Human Services do their part to implement Initiative 427 effectively and efficiently.
We were pleased to see both Governor Ricketts and the Legislature's Appropriations Committee uphold the priorities of the people by fully funding Medicaid expansion in their budget proposals for the next biennium.
Drafting a plan to swiftly insure Nebraskans in the coverage gap
To implement Medicaid expansion, the Nebraska Department of Health and Human Services (DHHS) must submit a "State Plan Amendment" to the federal government by April 1 of this year. Each state has a Medicaid State Plan that functions as an agreement between the state and federal government – outlining the groups of people who are covered by Medicaid and the services that are included in the Medicaid benefits package. DHHS's State Plan Amendment will outline changes to our Medicaid State Plan to take up the expansion and will include the date when expanded coverage will begin.
The Governor's budget assumes implementation of expansion on January 1, 2020. DHHS has not yet specified the start date for the program, only that it will likely be "further into 2020." However, we are hopeful coverage could start January 1, 2020, meaning Nebraskans who have already waited more than six years to access care could enroll next fall during the Open Enrollment window for Medicaid and the Health Insurance Marketplace.
Your advocacy is still needed
Although voters passed Initiative 427 in November, it's crucial we continue to speak out for Nebraskans' immediate need to access health care. If you have a story about why expansion is important to you, and why you need it to be implemented now, please email us at coveragegap@neappleseed.org. We value the opportunity to learn more about your experience.
We remain extremely grateful to supporters who have shown incredible determination and dedication advocating for Medicaid Expansion. Because of your commitment, Nebraska families are going to be able to get the medical care they should have had all along.
Stay up to date with Medicaid expansion news