Blog written by Katie Hile, U.S. Citizenship Instructor for the Asian Community and Cultural Center with quotes and contributions by Hieu-Bui, citizenship student and New Nebraskan.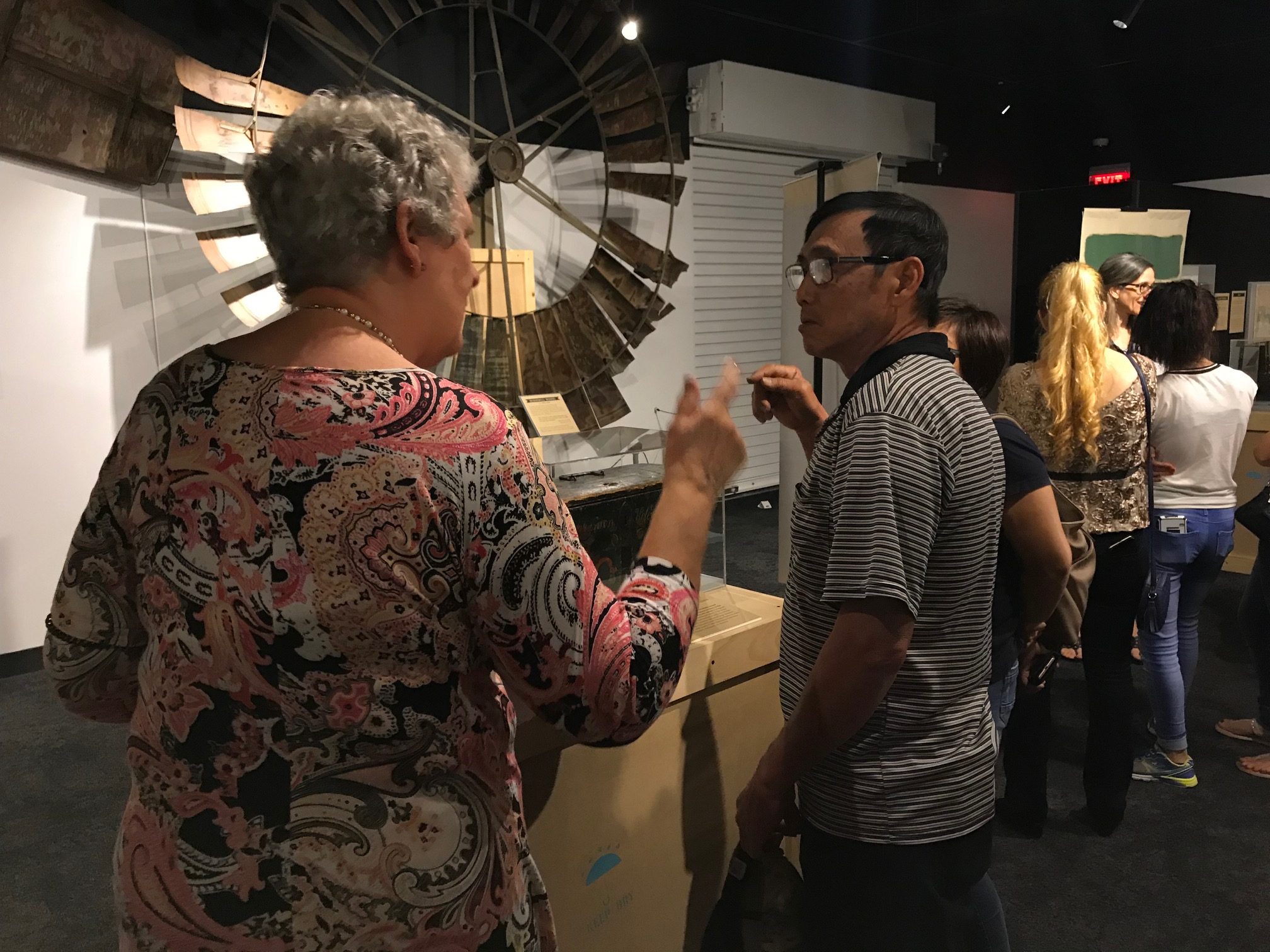 As a part of Welcoming Week 2018, History Nebraska hosted a dynamic evening at the Nebraska History Museum for twenty-five students currently enrolled in citizenship preparation classes at the Asian Community and Cultural Center and El Centro de las Américas. The twelve-week program provided by the two community centers is funded by the office of U.S. Citizenship and Immigration Services (USCIS). In partnership with the Center for Legal Immigration Assistance, this collaborative initiative provides legal permanent residents (LPRs) with citizenship instruction and naturalization application services.
Together, students, interpreters, teachers, and docents explored exhibits of Nebraska's state history together with thoughtful conversation about the students' family histories that are helping to create this most recent chapter of Nebraska history and shared experience. In addition to being moved by many artifacts and Standing Bear's powerful story, one student recounts his experience in interacting with exhibits at Nebraska's History Museum:
"I saw many things about the history of Nebraska, including the Constitution of State and Certificate of 1865. I saw the motorcycle made by Kawasaki in Lincoln and I saw the picture that talked about Nebraska's electrical system introduced by Senator Norris. …I thought my trip was rich for my knowledge. I discovered many things about my state."
It will always take courage to make our communities, cities, and country a home for every American: to be a home for those seeking safety and a new life. Equally, too, it is a privilege to welcome those who have so much to share – dreams, talents, family, and a commitment to making our communities strong. As we embrace a new generation of Americans, let's celebrate the tremendous gift we have that is to welcome the immigrant.
———-
For information on the USCIS-funded program in Lincoln, Nebraska, please contact Katie Hile at katie@lincolnasiancenter.org or Kelly Ross at El Centro de las Americas at kelly@elcentrone.org