***

For Immediate Release***
May 9, 2018
Contact, Jeff Sheldon
Communications Director, Nebraska Appleseed
Office: (402) 438-8853
Mobile: (402) 840-7289


jsheldon@neappleseed.org
Advocates, Workers formally oppose dangerous USDA pork plan
Increasing already high processing line speeds pose greater risk to food and worker safety
LINCOLN — Last week, Nebraska Appleseed joined current and former Nebraska pork processing plant employees, plus other advocates from across the country, in formally opposing a new rule proposed by the U.S. Department of Agriculture (USDA). This new rule would greatly increase the already dangerous line speeds in pork processing plants while also removing federal inspectors who ensure the safety of Americans' food.
The opposition was given in a public comment submitted by Nebraska Appleseed to Paul Kieker, the acting administrator of the USDA's Food Safety and Inspection Service. Nationwide, thousands of public health, workers' safety, and food safety groups also voiced their opposition, including the United Food and Commercial Workers.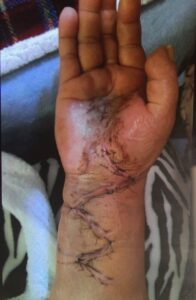 "Permanent, crippling injuries are not only common in meatpacking plants – they are a hallmark of the system," said Omaid Zabih, Appleseed's federal policy director. "The effects of these injuries are not limited to the workers themselves; they extend to their families and Nebraska's communities.
"Because of the significant danger this poses to our country's workers and our food safety, the USDA should immediately remove this rule from consideration," Zabih said. "We urge Nebraska's members of Congress to voice their opposition to this rule to the USDA and stop this harmful proposal from moving forward."
Workers in pork processing plants already face disproportionately high rates of permanent, crippling injuries caused by punishing line speeds that are too fast as they are. Workers make more than 20,000 forceful motions per shift on the low end, up to as many as 100,000 motions per shift. These non-stop cutting, pulling, grabbing, twisting, and lifting motions result in debilitating injuries to their arms, wrists, shoulders, neck, and back. This public health crisis would only be made worse by the new rule, which would remove the maximum cap on line speeds in pork plants nationwide, greatly increasing potential danger to workers.
Furthermore, the rule reduces the number of impartial federal food safety inspectors. This would put the safety of the food Americans consume in the hands of private inspectors hired by, and beholden to, the processing plants themselves.
The comment opposing this pork rule includes several horrifying first-hand accounts from current and former Nebraska pork plant employees about the dangers they already face on the job:
"There is a lot of injustice and yelling. They treat us like slaves."

"At the meatpacking plant, I feel like I'm in a war zone because there are so many injuries and wounded people."

"Ever since the accident at my job, I've been frustrated because I can't even comb my hair, [and] my niece helps me every day. I hurt my right hand and it's so hard because now I can't cook — I have no strength in this arm."
For nearly 20 years, Nebraska Appleseed has worked with local and national partners to highlight the dangers in meatpacking, pork, and poultry plants and improve workers' safety. These testimonials have been collected during years of Nebraska community meetings, forums and worker surveys. They are backed up by mountains of academic findings that show meat, pork, and poultry plants are some of the country's most dangerous workplaces.
In 2013, Nebraska Appleseed joined human rights groups including Southern Poverty Law Center in opposing a similar rule proposed by the USDA to increase work speed in poultry plants and formally petitioning OSHA for work speed protections for meat and poultry workers. Nebraska Appleseed documented similar findings in the meatpacking industry in our 2009 report "The Speed Kills You" and a 2006 report "Dignity On The Line."
For more information and interview requests, please contact Nebraska Appleseed Communications Director Jeff Sheldon at (402) 438-8853 or email jsheldon@neappleseed.org.
# # #