Warning: This blog contains spoilers about this season of The Fosters
After a long hiatus, we are back blogging about the hit Freeform show, "The Fosters." Since we last left you, there have been many changes with our favorite T.V. foster family.
On a show that deals with almost every topic you could imagine (cancer, the sex offender registry, steroids, and teen suicide just in this season alone) we were shocked when The Fosters took on a less prominent issue…child welfare advocates. To be fair, The Fosters was actually continuing a dialogue on issues related to the privatization of foster care services, but the discussion was personified by the most notorious villain the show has provided us yet.
This season Callie was approached by a young professional woman that was going to help her get "Fost and Found" (her foster care support app) released to the public, empower all youth in foster care to share their voice, and make systematic changes to the child welfare system to improve the lives of youth. Here we have a picture of the foster care advocate at work:
Wait, that isn't the right photo…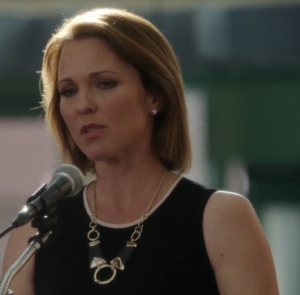 There we go, that is the villain Justina Marks (Sorry for the mix-up, Sarah). Even though some of Justina's public rhetoric may align with Appleseed's Child Welfare Program, her shady tactics do not.
Let's break this down for just a moment. Justina wanted to fund Callie's app so she could use her as the face of a legislative bill privatizing California's foster care system. She lied to Callie about what the bill did and how it affected youth, she actually lied to the public about being in foster care herself (to make her voice more genuine) and to top it off she is on the payroll of one of the private agencies that benefits from said legislative bill.
I don't think Justina would make it here at Appleseed. As a matter of principle, we believe that the youth voice is paramount in policy choices that affect their lives. Justina Marks stands for everything that "foster care advocacy" should not be, and fortunately, Callie's voice cannot be silenced as she blows up Justina's nefarious plot and exposes her for who she really is.
Sorry Justina, but if you want to be a real foster care advocate, you have to actually advocate for the young people, not your own financial interests.