This is a guest post from Sarah Liewer, Nebraska campaign lead for No Kid Hungry.
Adequate meals in the summer are essential to children's health and learning retention, however, thousands of children in Nebraska are food insecure and struggle to eat when they are not in school – most importantly in the summer months.
Currently, only 15 percent of children in communities around Nebraska are taking advantage of the Summer Food Service Program meals according to the Nebraska Department of Education. This shocking statistic proves that Nebraska has work to do to encourage higher participation for the kids in our communities.
The Summer Food Service Program sites across the state (see map) will work this summer to ensure Nebraska kids will have the meals they need to stay healthy and be ready for success in the classroom this fall. This Summer Food Service program is federally funded and allows community organizations to provide meals to children in need free of cost during summer months.
Currently, there are more than 350 of these sites across Nebraska that will provide free meals to children 18 and younger, no matter their family's income.
The U.S. Department of Agriculture's Food and Nutrition Service released this map to help individuals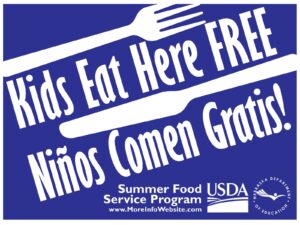 find summer food sites in many Nebraska communities. You can also find the closest summer meals site by texting "FOOD" or "COMIDA" to 877-877 or call 2-1-1 for more information about programs in your area.
New organizations can get involved and improve participation in Nebraska this summer to raise the participation from 15 percent.
Organizations can learn more about starting or supporting summer food programs from the Nebraska Department of Education and the USDA Food and Nutrition Service. FNS has a Summer Meals Toolkit to help organizations learn about supporting summer food participation at any level of program administration.