We are in the final weeks of all-day hearings. Every committee but Judiciary will wrap up hearings on Thursday, March 4th, while the Judiciary committee's hearing schedule will end on Friday, March 12th. All-day floor debate begins the week of March 15th, focusing primarily on senators' priority bills for the session. Learn more about Appleseed's priority bills on our blog.
While hearings continue, your voice is important in ensuring that we are building a vibrant, diverse, and inclusive Nebraska. Here is how you can safely advocate during hearings, and visit the Unicameral's website for more information. 
Essential protections for essential Nebraskans
The Business and Labor Committee recently held a hearing on LB258, introduced by Senator Tony Vargas, which would ensure Nebraskans have access to basic, earned paid sick leave – promoting healthier and stronger families, especially working parents with young children. Along with community members working in meatpacking plants, we testified in support of LB258. Read our testimony here.
"At my work, we can arrange in advance for time off for something more serious like a surgery. But if I'm sick one day, I can't take the day off. There is no paid time off, and they'll give me a point [penalty] as well."
Next Monday, the Business and Labor Committee will also hold a hearing on LB241, introduced by Senator Tony Vargas, which protects Nebraska's meatpacking workers with common-sense and critical COVID-19 protections: 6-foot distancing, sufficient masks, effective screening and quarantine practices, and enforcement mechanisms to ensure compliance.
Join today's Facebook live in Spanish at 6 pm CT to learn more about the bills and how to support legislation that protects Nebraskans working in the meat processing plants.
Take action: Contact the Business & Labor Committee to support LB258 and LB241: 
Sen. Ben Hansen, Chairperson, 402-471-2728, bhansen@leg.ne.gov 
Sen. Carol Blood, 402-471-2627, cblood@leg.ne.gov  
Sen. Tim Gragert, 402-471-280, tgragert@leg.ne.gov  
Sen. Steve Halloran, (402) 471-2712, shalloran@leg.ne.gov  
Sen. Matt Hansen, (402) 471-2610, mhansen@leg.ne.gov  
Sen. Megan Hunt, (402) 471-2722, mhunt@leg.ne.gov   
Sen. Steve Lathrop, (402) 471-2623, slathrop@leg.ne.gov 
Improving food security for our neighbors across Nebraska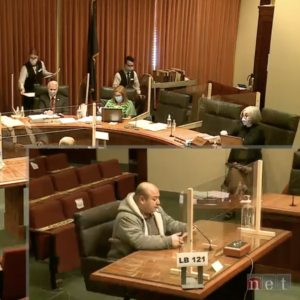 Last week, we testified in front of the Health & Human Services Committee on three bills that increase access to the Supplemental Nutrition Assistance Program (SNAP) for Nebraskans and their families. Our Economic Justice program manager, Eric Savaiano, and board member, Derrick Martinez, testified in support of this legislation.
Learn more about how to get involved in expanding food access to all Nebraska families across our state.
Stay up to date on Appleseed's issues
You can keep up with all the happenings at the Legislature by following Appleseed online. Like our Facebook page and follow legislative hearings in real-time on Appleseed's Twitter feed. Stop by our blog for opinion pieces, informative updates, and news stories.
We'll let you know how you can take action to get involved and make your voice heard throughout the session!
Want to support our work? Consider giving a donation today.