This blog post is in collaboration with Tori Ostenso, Economic Justice community organizer and Bhagya Pushkaran, Economic Justice intern.
Over 700,000 Nebraskans, or over 83%, voted FOR Initiative 428 in the 2020 election to reform payday loans and cap interest at 36% APR (annual percentage rate) (1, 2)., This landslide victory over predatory lending practices in Nebraska resulted from years of legal research, policy advocacy, and community organizing at the state and national level.
In this blog, we're looking back at over a decade's worth of advocacy efforts to regulate the payday lending industry in order to appreciate the significance of the Initiative 428 victory and look ahead at what to expect as Nebraska implements the new measure.
The long road to consumer protections in payday lending
Although we, at Nebraska Appleseed, have worked to eradicate poverty since our founding, our involvement in payday lending reform began in 2008. We supported several legislative bills reforming payday lending from Senator Amanda McGill (3) and Senator Danielle Conrad. Neither of these bills made it out of committee. (4) In 2009, Senator McGill's bill (5) was reintroduced but still did not make it out of committee.
In 2014, we renewed our focus around payday lending reform and began researching payday lending reforms in Nebraska. In collaboration with a diverse Nebraska coalition to address the issue, we also worked closely with a national partner, Pew Charitable Trusts, to craft a Nebraska specific legislative payday lending reform bill the following year.
This work culminated in LB1036 (2016), which was introduced by Senator Kathy Campbell. (6) To demonstrate the payday lending industry's impact on low-income borrowers, Economic Justice program organizers Tori Ostenso and Kait Madsen conducted a focus group of payday loan borrowers in Norfolk, NE. Our report, "A loan at what cost? Borrower's Experience of Payday Loans in Nebraska" (7) was delivered to the members of the Banking and Finance Committee. Unfortunately, LB1036 did not advance out of committee.
In 2017, LB194, introduced by Senator Tony Vargas, capped payday loan fees, ensured more time to repay the loan and other improvements, and included yearly reporting requirements for payday lenders. (8) While LB194 passed in 2018, the streamlined version did not have many of the core reforms originally proposed. (9) However, LB194 did close significant loopholes. It required that payday lenders disclose more information to consumers and issue an annual report to the Department of Banking that discloses the number of consumers, loans, and average interest rate. LB194 was a significant step forward, but it did not change the cost and fee structure that made payday loans dangerous.
Reforming the payday lending industry with a ballot measure
After several attempts at reform in the Legislature, advocates recognized we would continue facing hurdles with the banking committee, even though this issue had broad support. From there, advocates turned to the idea of pursuing reform via a ballot initiative.
The Women's Fund of Omaha, Voices for Children in Nebraska, and Nebraska Appleseed began discussions to coordinate the effort, including coalition building with state and national partners, fundraising, policy writing, signature-gathering efforts across the state, regular meetings to coordinate advocacy and communications, and community organizing to connect with impacted individuals.
In June of 2020, the initiative qualified for the ballot with over 120,000 signatures! Despite many obstacles — including the challenges of organizing during the COVID-19 pandemic and three legal challenges attempting to eliminate the ballot measure —  the campaign advanced.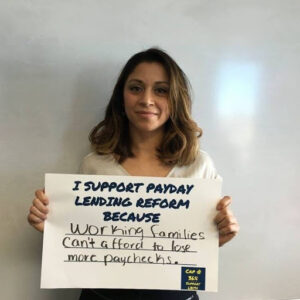 With the rate cap passed, what changes can we expect to see in Nebraska?
Nebraska follows our neighboring states, Colorado and South Dakota, in enacting legislation to limit how payday lenders operate. These states have seen positive results on their economy and for former payday borrowers.
In South Dakota, less than two months after voters approved an interest rate cap on payday lenders, 121 lenders opted to leave the state, according to state money lender license totals for 2017. (10) Former payday lending stores are now churches, small businesses, and credit unions that provide more equitable lending options for South Dakotans. (11) In Colorado, banks and credit unions moved into communities where payday lenders operated to provide more responsible financial options. (12) We expect to see similar changes to the lending landscape in Nebraska as we implement this measure.
While Initiative 428 clears a pathway to financial independence and security for all Nebraskans, this measure is especially beneficial for Black, Latinx and Indigenous community members because predatory loans have disproportionately impacted these communities for a number of reasons. This includes systemic exclusion from traditional banking due to discrimination, (13) systemic discrimination in housing, lending, policing, and employment contributing to higher rates of poverty, and the increased prevalence of payday lending storefronts in communities of color. (14)
As the measure goes into effect amidst unprecedented economic uncertainty, it will be up to political leadership and community advocates to be more vigilant than ever in responding to our communities' needs and ensuring that safe, responsible loan products are available and accessible to all.
On the state level, we must monitor any attempts to pass legislation that allows lenders to operate in the same predatory manner as before. We must also keep watch on federal regulatory trends. This includes the looming threat of "rent-a-bank" schemes to undermine state interest rate caps (15) and the transition of leadership and renewed consumer protection-focus from within the Consumer Financial Protection Bureau due to the incoming Presidential Administration. (16)
The successful ballot initiative would not have been possible without your support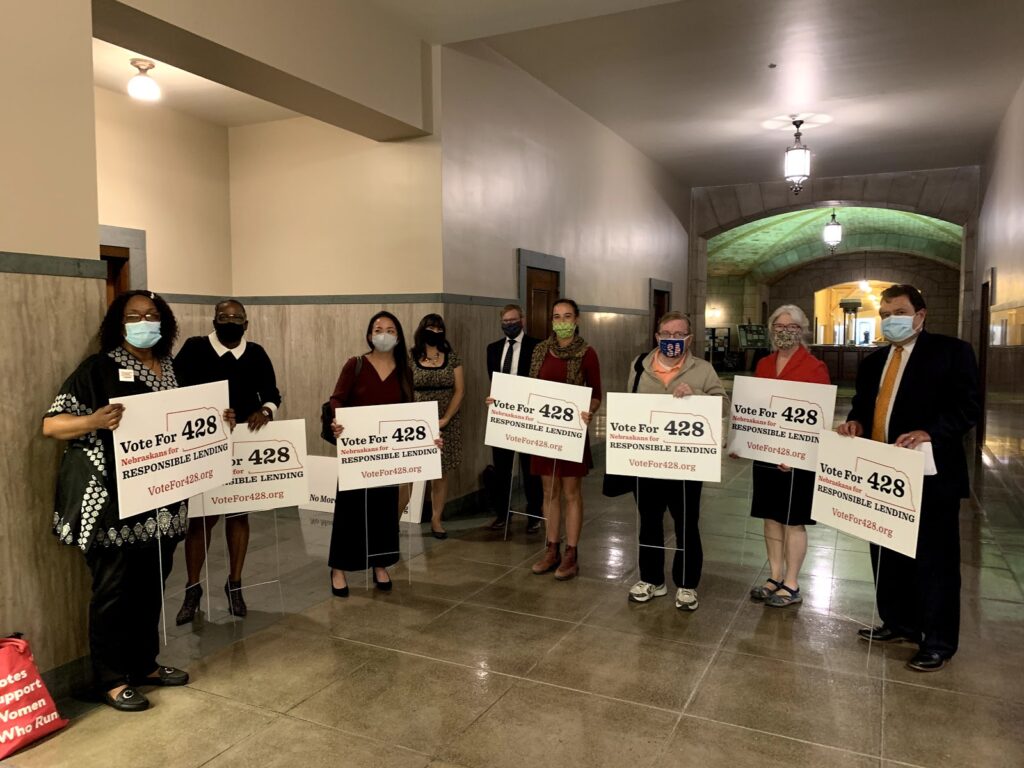 Senator Ernie Chambers, Senator Amanda McGill, Senator Danielle Conrad, Senator Kathy Campbell, and Senator Tony Vargas were champions in the Legislature for predatory lending reform. Through their legislative efforts to curb the predatory loans, they set the stage for a successful ballot initiative. Particularly, LB194, which requires critical reporting and statistics for issue advocacy.
Many organizations and advocates in Nebraska were invaluable in this historical payday lending win through decades of advocacy, including: the AARP of Nebraska, ACLU of Nebraska, Beta Upsilon chapter of Omega Psi Phi fraternity, Brain Injury Alliance of Nebraska, Catholic Conference of Nebraska, Community Action of Nebraska, Financial Hope Collaborative at Creighton University, Habitat for Humanity of Omaha, Heart Ministry Center, Heartland Workers Center, Immigrant Legal Center, Intercultural Senior Center, Latino Center of the Midlands, League of Latin American Citizens, League of Women Voters of Greater Omaha, Legal Aid of Nebraska, Lending Link, Lincoln NAACP, Missouri River District of the UMC, National Association of Social Workers – Nebraska Chapter, Nebraska Appleseed, Nebraska Children's Home Society, North Omaha Neighborhood Alliance, Omaha Together One Community, Planned Parenthood North Central States, St. Paul United Methodist Church, Society of St. Vincent de Paul, Veteran Legal Services, Voices for Children in Nebraska, Women's Foundation of Lincoln and Lancaster Count, Women's Fund of Omaha, Youth Emergency Services, YWCA of Grand Island, YWCA of Lincoln.
Because of the dedication of an incredible coalition of supporters, outstanding legal team, and your strong voter support, Initiative 428 made it to the ballot. It was victorious in the November 2020 election.
---
For official ballot language, see: Evnen, Robert B. (2020). Nebraska Secretary of State, Informational Pamphlet: Initiative Measure Nos. 428, 429, 430, 431. Appearing on the 2020 General Election Ballot. https://sos.nebraska.gov/sites/sos.nebraska.gov/files/doc/elections/2020/Init.%20Measures%20428-431%20Pamphlet.pdf
This APR matches the federal interest rate cap for active duty military imposed by the Department of Defense's Military Lending Act in 2006
L.B. 1144, 100th Legislature 2nd Session, (Nebraska 2008). https://nebraskalegislature.gov/FloorDocs/100/PDF/Intro/LB1144.pdf
The bill that made these regulatory payday lending bills possible was the Delayed Deposit Services Licensing Act which was championed by Ernie Chambers in 1994. This bill gave the Nebraska Department of Banking and Finance Authority to regulate Payday Lending Businesses.
L.B. 431, 101st Legislature 1st Session, (Nebraska 2009). https://nebraskalegislature.gov/FloorDocs/101/PDF/Intro/LB431.pdf
L.B. 1036, 104th Legislature 2nd Session, (Nebraska 2016). https://nebraskalegislature.gov/bills/view_bill.php?DocumentID=40840
Nebraska Appleseed (2016). Report: "A loan at what cost? Borrower's Experience of Payday Loans in Nebraska", https://neappleseed.org/download/34004/
L.B. 194, "Introduced version", 105th Legislature 1st Session, (Nebraska 2017). https://nebraskalegislature.gov/FloorDocs/105/PDF/Intro/LB194.pdf
L.B. 194, "Slip law version", 105th Legislature 2nd Session, (Nebraska 2018). https://nebraskalegislature.gov/FloorDocs/105/PDF/Slip/LB194.pdf
Ferguson, D. (2017, January 6), Payday Lenders Flee South Dakota After Rate Cap, Argus Leader, https://www.argusleader.com/story/news/politics/2017/01/06/payday-lenders-flee-sd-after-rate-cap/96103624/
Rios, C., Standaert, D., & Farahi, Y. (2020, January). Report: The Sky Doesn't Fall: Life After Payday Lending in South Dakota, Center For Responsible Lending, https://www.responsiblelending.org/sites/default/files/nodes/files/research-publication/crl-the-sky-doesnt-fall-jan2020_1.pdf
Virtual Panel Discussion: Insights from States that Stopped Predatory Lending. (2020, October 21) https://www.facebook.com/85054374416/videos/293015731668003
FDIC Survey. (2019). "How America Banks: Household use of Banking and Financial Services," https://www.fdic.gov/analysis/household-survey/2019report.pdf
Li, Wei et al. (2009, March 26). Center for Responsible Lending Report,"Predatory Profiling: The Role of Race and Ethnicity in the Location of Payday Lenders in California", https://www.responsiblelending.org/sites/default/files/nodes/files/research-publication/predatory-profiling.pdf
Center For Responsible Lending. (2020, August). One-pager: The OCC and FDIC Plan to Trample State Laws by Gutting the Longstanding "True Lender" Doctrine. https://www.responsiblelending.org/sites/default/files/nodes/files/research-publication/crl-gutting-true-lender-rule-10aug2020.pdf
Passy, J. (2020, November 24). Biden has the power to make the Consumer Financial Protection Bureau more aggressive — he has President Trump to thank. Marketwatch. https://www.marketwatch.com/story/biden-will-have-the-power-to-give-the-consumer-financial-protection-bureau-more-teeth-and-he-has-president-trump-to-thank-11606209669