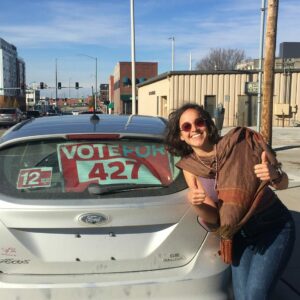 Victoria Ostenso, also known as Tori, joined our Economic Justice team as a Community Organizer focused on our payday lending work. Tori's pronouns are she/her/hers.
Fun fact: Tori was our first Weitz Fellow in 2015-16!  Tori's most memorable experience while working at Appleseed was going on 4-5 day outreach/advocacy trips with fellow organizers "out West" to some of the more rural communities in Nebraska. Tori is from a small town of 3000 people in Northern Wisconsin, which made the connections that she made on these trips even more special. Many of the folks they met were welcoming and made Tori feel right at home. Delicious food, including dosas, sushi, horchata, pupusas, and tacos tacos tacos also helped!
"I love the team-oriented approach that Appleseed takes to social change and how supportive everyone on staff is of one another," said Tori. "I also appreciate working for a woman-lead, and (dare-I-say) feminist organization. Their approach is human-centered, intersectional, and compassionate. I am so grateful to be back on the team and contributing to such important work."
Catch Tori traveling to new places, near and far (and safely during COVID-19). She enjoys exploring in the trees, swimming in lakes, rivers + ocean, learning new ways of seeing the world, and meeting new people.
You can reach Tori at tostenso@neappleseed.org.