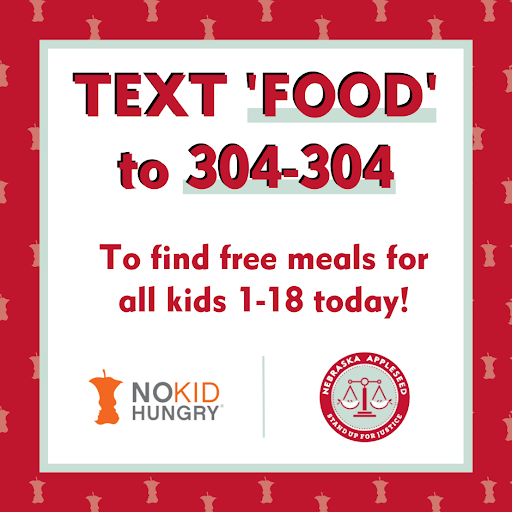 We have great news for the kids of Nebraska! The Summer Food Service Program (SFSP) will continue to provide FREE meals for children ages 1 to 18 throughout the summer while school is not in session. Nebraska school districts, nonprofit organizations, libraries, tribal organizations, and others will be providing these free, healthy meals at convenient locations throughout the state.
The No Kid Hungry campaign has made it easy to find a food service location in your community by operating a text line. Just text "FOOD" or "COMIDA" to 304-304 to find the programs nearest to you. In addition, individuals can check for nearby locations with the USDA Meals for Kids map. Both are updated regularly and are active nationwide throughout the summer.
This year, Appleseed is partnering with 11 SFSP sponsors to increase equity and access at their program sites. With efforts ranging from seeking community input on meal choices with taste testing, to hosting awareness events like a petting zoo, to increasing service days and hours, these sponsors will be testing out ideas to better serve kids. Read all of Appleseed's SFSP Equity Best Practices.
Help us spread the word and encourage your friends, family, and neighbors to participate in SFSP this summer! All are welcome!