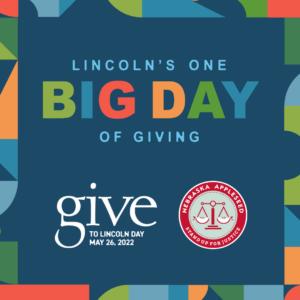 Give to Lincoln Day is one of the biggest opportunities all year to make a huge impact on building a just, vibrant, and inclusive Nebraska.
Contribute to Appleseed now through May 26th and your support not only increases a proportional match of $500,000 from Lincoln Community Foundation, but generous friends of Appleseed will also give a $10,000 bonus if we get 350 supporters during Give to Lincoln Day!
Spread the word and tell your friends and family. You can give online, offline, IRA, or LCF Donor Advised Funds, just click here to learn all the details and ways to give.
Our communities are resilient but continue to face many challenges. Join Appleseed in finding ways to solve them together. Visit givetolincoln.com/nonprofits/nebraska-appleseed and support Appleseed during Give to Lincoln Day.