Join us throughout the month of October as we celebrate the honorees of its 2021 Good Apple Awards, Appleseed's annual fundraiser celebrating community advocates who are building a more just, vibrant, and inclusive Nebraska.
The 2021 awardees represent what's possible when Nebraskans step forward to tackle our toughest problems in the spirit of building community, working collaboratively, and persistently pursuing justice and positive change.
Named after Appleseed's founding executive director, the Milo Mumgaard Emerging Leader Award recognizes young, emerging leaders who have a vision for the best of what Nebraska can be and, through initiative, hard work, and dedication, are pushing to make their vision a reality. Even before being elected to the Nebraska Legislature to represent District 11, Senator Terrell McKinney has been a strong advocate for equity and economic justice through living out his motto, "all power to the people."
Terrell worked at Appleseed as a part-time Hunger Action Advocate in 2018 and then as an organizer on the Medicaid expansion ballot initiative soon after. When he worked with Appleseed, he brought together hunger advocates, direct service providers, and community members to collectively work on eliminating hunger in our communities. He also worked directly with folks that needed health care and supported greater access through Medicaid expansion.
Both leading up to and in his role as a State Senator, Terrell brings equity to the forefront in direct and impactful ways. He's always keen to draw out critical issues, addressing them head-on, and helping us all better understand the communities in which we live. Current efforts include being a leader in the Raise the Wage Nebraska coalition to gradually raise the minimum wage to $15 per hour as a way to decrease poverty in the state. Senator McKinney said the effort can "change the cycle of surviving the good life to living the good life."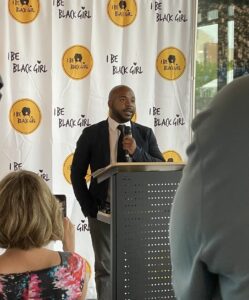 "It has been inspiring to see Terrell grow and continue to lead for his community," said James Goddard, Programs Senior Director at Nebraska Appleseed. "He has made equity and economic prosperity centers of his efforts, in things like raising the minimum wage and improving the treatment of those involved in the corrections system. Terrell has always been a leader in his community, and never bends or waivers from centering the community as his north star."
"I'm inspired by Terrell's story and him as a person," said Eric Savaiano, Program Manager – Economic Justice, Food and Nutrition Access at Nebraska Appleseed. "He's studying law, coaching young people in wrestling, hosting podcasts, being a father, and using his state senator platform to make positive change for the North Omaha community and the state. He lives out his 'all power to the people' motto with frequent community events, town halls, transparent communication, and real questions on his social media and in-person. Terrell's vision for the community is clear in his words and his actions and he works hard to see his vision come to life."
Watch the Milo Mumgaard Emerging Leader Award presentation video on our Facebook page. 
To learn about all of this year's Good Apple Award honorees and how you can contribute to Nebraska Appleseed in honor of them, visit neappleseed.org/goodapple.