This is a guest blog post by Morgan Gurwell, Appleseed's Food and Nutrition Access Youth Ambassador.
What is SNAP?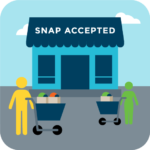 The Supplemental Nutrition Assistance Program (SNAP), formerly known as Food Stamps, is the largest federal food assistance program. It supports individuals and families across the country in putting food on the table. There are 42 million people utilizing SNAP benefits nationwide including about 160,000 Nebraskans. 
How does SNAP work?
Once your application has been processed through the Nebraska Department of Health and Human Services and you are found eligible, you will receive an Electronic Balance Transfer (EBT) card. This works a lot like a debit card. Each month you are eligible, benefits will be reloaded onto the card, which you can use at approved food stores. At participating stores, you will use your unique PIN to confirm the purchase just like you would with a debit card. 
When will I receive my benefits?
If you qualify, benefits should be received in the EBT account 30 days after the application was submitted. If your income met the requirements for expedited processing, then benefits should appear within seven days of the application submission. Moving forward, benefits will be available at 8 a.m. CT on the scheduled date (in Nebraska), which is based on the last digit of the head-of-household's Social Security number:
Ending in 1 or 2: 1st of the month

Ending in 3 or 4: 2nd of the month

Ending in 5 or 6: 3rd of the month

Ending in 7 or 8: 4th of the month

Ending in 9 or 0: 5th of the month
How can I check the balance on my EBT card?
There are three simple ways to check your EBT card balance:
Visit

www.ebtedge.com.

Call the toll free number: (877) 247-6328 (247-NEBT)

Check the bottom of your most recent grocery receipt
Another great tool is the Providers app. Providers, formerly called Fresh EBT, is a simple digital way to manage your EBT balance. Simply link your EBT account to Providers and a free debit account will be created. This allows you to see your paychecks, savings, and benefits (SNAP, WIC, Child Tax Credit, Disability, etc.) all in one place to manage your resources. 
Do I have to use all my benefits at once?
No! Whatever you don't use will roll over to the next month. However, if the benefits aren't used within 365 days, they will be permanently removed from your account. 
What can I buy with SNAP?
Fruits and vegetables;

Meat, poultry, and fish;

Dairy products;

Breads and cereals;

Other foods such as snack foods and non-alcoholic beverages; and

Seeds and plants, which produce food for the household to eat.
Here is what you CAN'T buy:
Beer, wine, liquor, cigarettes, or tobacco

Vitamins, medicines, and supplements. If an item has a Supplement Facts label, it is considered a supplement and is not eligible for SNAP purchase.

Live animals (except shellfish, fish removed from water, and animals slaughtered prior to pick-up from the store).

Foods that are hot at the point of sale

Any nonfood items such as:

Pet foods  

Cleaning supplies, paper products, and other household supplies.

Hygiene items, cosmetics
If shopping at a large-chain grocery store with scanning equipment, you don't need to separate your non-eligible SNAP items when checking out. The system should identify barcodes that are eligible and allow EBT payment for those items. All other items must be paid for in cash or some other form of payment. If shopping at a store without scanning abilities, two separate transactions will need to be made for eligible and non-eligible items. 
Can I return items purchased with an EBT card?
Yes, as long as it follows the store's return policy. Credit will be put back on the EBT account; no cash refunds will be given. 
Who accepts SNAP benefits?
Many grocery stores and convenience stores! Check out this store-finder map for a location near you. 
SNAP benefits can also be used at certain farmer's markets. This is a great way to support local farmers and purchase fresh and healthy produce! Some farmer's markets and retailers even participate in Double Up Food Bucks, which allows you to purchase double the amount of produce for the same price up to $20 when using your EBT card. 
What impact does SNAP have on the economy?
According to the U.S Department of Agriculture (USDA), around $1.70 is added to the economy for every dollar spent through the SNAP program. In this way, SNAP benefits spent at local stores support local businesses and create jobs.
If I take a raise at work, will I lose my SNAP benefits?
Thanks to community advocacy, a recent change was made in May 2021 and the income eligibility limit for SNAP has gone up in Nebraska! This allows families to take small pay increases without fear of losing their SNAP benefits. The new monthly gross income eligibility limit has increased from 130% of the Federal Poverty Level (FPL) to 165%. The net income limit remains at 100% FPL. See these updated gross income eligibility limits below: 
For a household size of 1: $1,770

For a household size of 2: $2,395

For a household size of 3: $3,020

For a household size of 4: $3,643
Learn more from Appleseed's SNAP Income Eligibility Limit Fact Sheet.
How can I apply for SNAP?
If you need help applying or want to see if you qualify, call the Food Bank's SNAP Hotline at 855-444-5556 or visit the ACCESSNebraska portal for the online application.
[button style="danger" href="tel:8554445556"]Call the Hotline[/button]