Each year, Appleseed is fortunate to work with bright, talented, and dedicated interns and law clerks who are passionate about fighting for justice and opportunity for all Nebraskans. Although we have had to adjust the way we work during the COVID-19 pandemic, we were able to have interns and clerks join our team from across the nation! Meet some of these outstanding young Nebraskans who dedicate their time to positive change in their communities.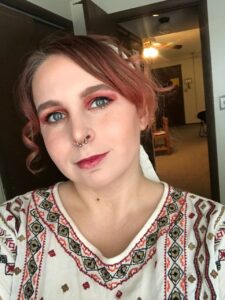 Madeline Almond
she/her, they/them
Madeline is from Baton Rouge, Louisiana, and is interning with Appleseed's Community Assistance Line for her third semester. As a senior History major at Nebraska Wesleyan University, Madeline plans to become a defense attorney focused on underserved populations, which drew her to Appleseed after learning about us on campus. One of Madeline's accomplishments is graduating summa cum laude from her community college with her wife.
Lucy Peterkin
she/her
Lucy is a sophomore at the University of Nebraska-Lincoln majoring in International Business with minors in Mathematics, Human Rights and Humanitarian Affairs, and Business Law. This is her second semester interning with Appleseed and she'll continue bringing her awesome skills to our Immigrants & Communities Program after having worked with our Organizing Director. An interesting fact about Lucy is that she is the same height as Princess Leia, Lady Gaga, and Ruth Bader Ginsburg: 5'1″.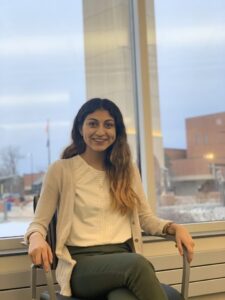 Marissa Morales
she/her
A senior studying at the University of Nebraska at Omaha, Marissa is majoring in political science and sociology with minors in nonprofit management and Chicano studies. She's interning with the Health Care Access Program and wanted to get involved with Appleseed so she could learn how to be a better advocate for public policy in the Omaha community. After undergraduate school, she hopes to get her masters in Public Administration and work in local government. Marissa loves exploring new coffee shops and has gone to over 22 local coffee shops in Omaha!
Brittany Roos
she/her
Brittany is a senior from North Platte, Nebraska studying Legal Studies at the University of Central Florida and is interning with our Organizing Team this semester. What drew her to interning at Appleseed was the opportunity to work alongside the community to affect change and to be on the front lines of systemic change in Nebraska. One of Brittany's accomplishments she is most proud of is being a single mom who works a full-time job and takes full-time classes toward her degree. When she's not busy being an amazing mom and student, she likes to spend her free time reading, crafting, and playing video games.
Bhagya Pushkaran
she/her
Bhagya is an Economic Justice intern working with the Payday Lending campaign. She is a sophomore majoring in Political Science and Mathematics with minors in Arabic and Agricultural Leadership and Communication. After graduation, she wants to attend law school to become a lawyer focusing in either Immigration or Human Rights and eventually wants to be able to open her own nonprofit aimed at providing legal services and other resources to minority groups. A fun fact about Bhagya is that she can identify any type of spice used in cooking! She credits that to growing up around so many spices and constantly eating Indian food.
Henry Dobson
he/him
Henry is a second-year law student from Omaha studying at the Creighton University School of Law. Henry chose a clerkship at Nebraska Appleseed so that he could work toward making positive systemic change in Nebraska. Some of Henry's hobbies include reading, listening to music, getting takeout food, and playing badminton or croquet in his yard.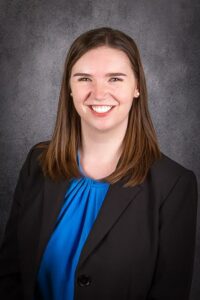 Claudia Brock
she/her
Claudia is a third-year law student at the University of Nebraska College of Law. Claudia first started clerking for Nebraska Appleseed during the summer of 2019 and has continued to bring back her stellar skills each semester. She appreciates that Appleseed centers those most impacted by systemic problems in all the work it does through community organizing, public policy, and litigation. She is a proud member of the Nebraska Law Review and currently serves as the Research Editor.
Rachel Tomlinson Dick
she/her
Rachel is a second-year law student from Omaha, Nebraska studying at the University of Nebraska College of Law. Rachel chose a clerkship at Nebraska Appleseed so she could contribute to meaningful, structural change and to learn from people who are doing the kind of work she wants to pursue in the future. For fun, she enjoys hanging out with her kiddo, playing guitar, sewing, gardening, and doing yoga.
Nick Grandgenett
he/him
Nick is a third-year law student at the University of Nebraska College of Law. This is his fifth semester clerking with Appleseed and he has previously clerked under the Child Welfare and Immigrants & Communities programs. After law school, Nick hopes to work for an organization that advocates for the rights of new Americans. When he's not studying or working, Nick enjoys developing gardens that cultivate and preserve vegetables in urban growing spaces.