The actions you've taken in 2018 have renewed the fight for a more-just society, building a Nebraska where everyone can have the justice and opportunity they need to get ahead.
Health Care for Every Nebraskan
You astounded us. Thousands of Nebraskans have contacted their elected officials, made office visits, signed petitions and taken other actions to protect access to life-saving health care in 2018.
With the ACA's protections under threat through much of last year, you continued to be vigilant. You urged our members of Congress to restore funding to the Children's Health Insurance Program so Nebraska kids could get the care they need to grow up healthy.
When the Insure The Good Life campaign turned in boxes (and boxes!) of petitions on July 5, more than 135,000 Nebraskans had signed their name to put Medicaid expansion on the ballot in November.
That's a number to be proud of, but here are some more:
275 volunteers

worked with Appleseed to gather signatures in their communities.

More than

50 counties

reached their qualifying signature threshold, far more than the 38 that were needed.

You gathered signatures from

all 93

of Nebraska's counties to support Medicaid expansion.
Our work isn't done. Now, we're working with volunteers and new faces to spread the word in local communities about why Nebraskans should vote on November 6 to join the 34 other states that already have expanded Medicaid so 90,000 uninsured Nebraskans can finally get the health care they need.
Together, we can help our hard-working family members, friends, and neighbors have a shot at the healthy future that everyone wants.
Standing with our Immigrant and Refugee Neighbors
You inspired us.  Just as we've been horrified as our government has torn families apart, put children in cages, and thrown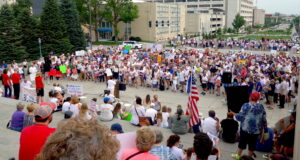 millions of families' lives into uncertainty by ending legal protections for immigrants, our resolve has only grown by seeing thousands of Nebraskans stand up for our values this year.
Thousands of you attended events across the state to support refugees, immigrants, and Nebraskans with Temporary Protected Status (TPS), which the Trump administration has ended for thousands of people despite their countries of origin still being too dangerous to return to.
Nebraskans joined Americans across the country to hold rallies during a nationwide day of action on June 30 to call for an end to the White House's needlessly cruel policy of imprisoning asylum-seeking families.
Hundreds more responded to the White House's decision to end the Deferred Action for Childhood Arrivals (DACA)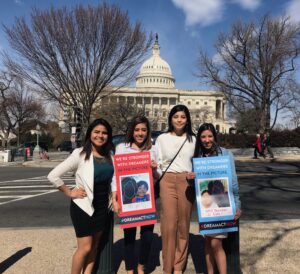 program by contacting your U.S. Senator and Congressman to urge passing a law to protect Dreamers and their families while creating a path to citizenship for the young Nebraskans who know our state as home.
You helped sponsor trips to Washington, D.C., for Dreamers to tell our leaders their own stories, and join advocates from around the nation to fight for updated immigration laws that put families first. Your financial support also helped 15 young Nebraskans renew their DACA status.
And communities across Nebraska have held welcoming events in the spirit of bringing together new neighbors with long-time community members to embrace our diversity and celebrate our shared history of building this state together.
Listening Door to Door
You're directing us. As part of Collective Impact Lincoln, a collaborative project with Civic Nebraska and South of Downtown Community Development Organization, we've gone door to door to talk with people in six of Lincoln's oldest neighborhoods about the challenges they face and the opportunities to improve their communities.
We held 138 in-depth conversations with community members on their front porches and have heard from residents how they want their city improved.
This summer across Nebraska, we're continuing to get out into local neighborhoods by working with local community leaders to increase voter participation for the November election.
We help provide resources and training to local leaders in eight communities across Nebraska to increase voter participation because our democracy is richer and our future is stronger when every voter's voice is heard.
Fighting Child Hunger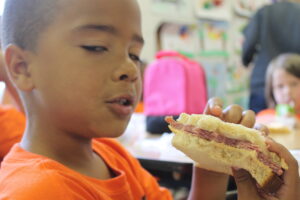 You're partnering with us. Every Nebraska child should be able to get the meals they need to learn, grow, and be healthy as they enter adulthood. But some hard-working families still struggle to put enough food on the table and still make other ends meet.
Communities are stepping up to make sure our kids' health is a top priority. We've worked with schools like Grand Island Senior High to help more students get the healthy breakfast that's so important to classroom success. We educated five schools on the opportunity to apply for grants to serve more students breakfast and we recently gave a presentation at the Nebraska School Nutrition Association Conference about our School Breakfast Report.
The need doesn't end when school lets out for the summer. We've promoted Nebraska's more than 350 summer food sites that use federal funds to provide children with free meals in the summer, and we helped distribute 10,000 summer meal vouchers for children to be used at local restaurants.
Nebraskans like you continue to stand up for our children's health by urging our members of Congress to protect vital food assistance programs like SNAP in the 2018 Farm Bill. SNAP helps 1 in 11 Nebraskans, most of them families with children, put food on the table.
Healthy Futures for Nebraska Youth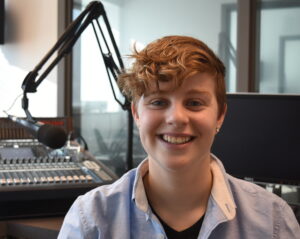 You speak to us. The voices of young people who have interacted with Nebraska's foster care system must be heard when deciding its future reforms.
During National Foster Care Awareness Month in May, we hosted a series of blogs and podcasts featuring the essential voices and perspectives of young Nebraskans who have been in foster care, foster parents, and service providers.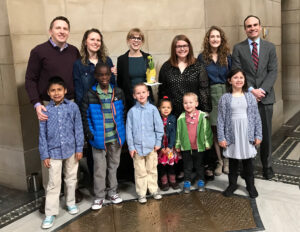 These passionate Nebraskans know where our foster system can fall short and offer an invaluable voice in providing solutions that will let every Nebraska child have a healthy, safe, and loving home to grow up in.
You continue to join us in advocating for a child welfare system that lives up to that standard. Your advocacy in March helped the Nebraska Legislature pass LB 1078, a crucial child welfare reform bill. At the federal level, we will oversee Nebraska's implementation of the Family First Prevention Services Act while fighting against foster care and adoption discrimination.
Impact Litigation
You trust us to challenge systemic injustice through the courts. In 2018, we're pursuing litigation to fix the systems that are counted on to serve Nebraskans every day.
Your support allows us to continue legal cases that seek justice for young Nebraskans who have experience with foster care, who have Special Immigrant Juvenile Status, and those who are trying to get access to the vital health coverage and support services they need as they grow into adulthood.
This year, we continue to fight with local and national legal partners to resolve Nebraska's prison overcrowding crisis that has forced people who are incarcerated to be denied their basic human rights, including access to needed health care.