Throughout October, Nebraska Appleseed is celebrating the outstanding contributions of individuals and organizations standing up for justice and opportunity for all as part of the 2020 Good Apple Awards.
During #celebrateprobono week, we're proud to spotlight the Tenant Assistance Project, a collaborative effort between the City of Lincoln, the Lincoln Commission on Human Rights, the Nebraska State Bar Association, the UNL Civil Law Clinic, and Legal Aid of Nebraska.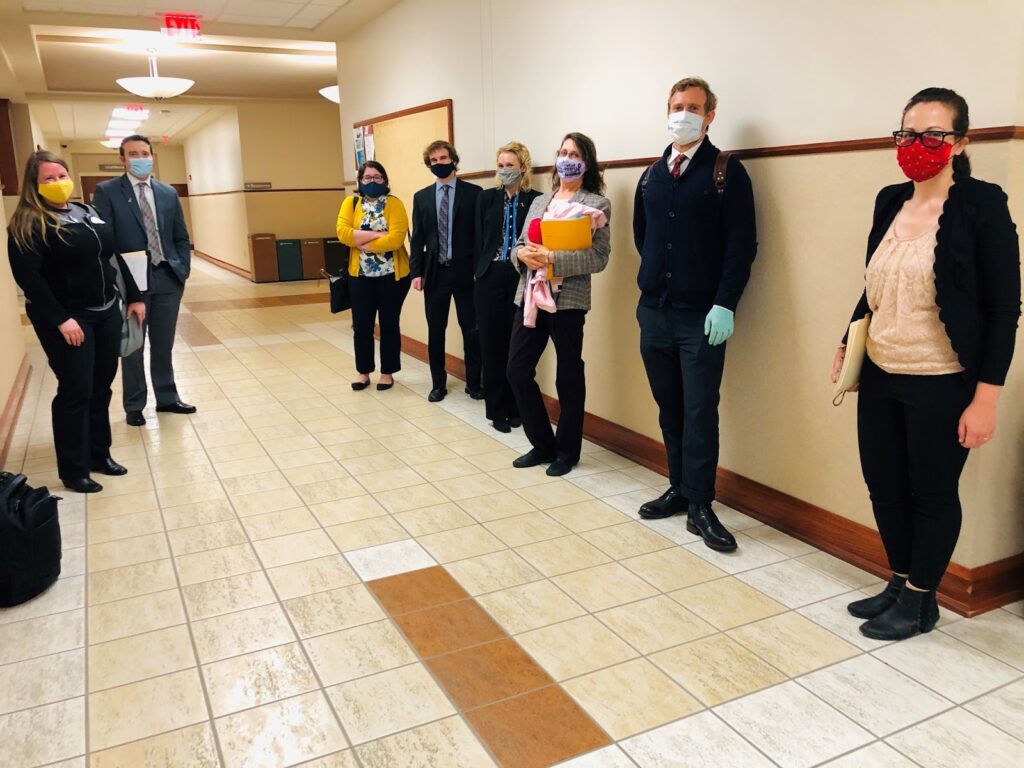 "One morning during the lockdown in April I happened to check the eviction docket and saw there were nearly a dozen families being summoned to appear at the courthouse at a time when all government agencies were urging people to stay in their homes. I found it disgusting that one of the few government functions that remained open for business was the one that facilitated the removal of people from their homes."
For Ryan Sullivan, the director of the Civil Clinic at the University of Nebraska-Lincoln College of Law, in the midst of a growing pandemic, a hard truth remained: too many of our neighbors are dangerously close to being made homeless.
So, Ryan acted, and after looking at the docket, made his way down to the courthouse to offer families help in navigating the often-intimidating eviction process, and along the way, maybe provide some hope.
"I had been developing a TAP (Tenant Assistance Project) like program for years, and that morning decided to test it out and I ended up helping several families avoid eviction just by being there and providing them some advocacy," Ryan said.
At a time when having access to safe, affordable, and secure housing is more important than ever, having a helping hand to guide you when it's threatened is everything.
It was true for another attorney Ryan knew—Mindy Rush-Chipman, the director of the Lincoln Commission on Human Rights—who felt moved to do something as well. What followed grew into an inspiring, powerful effort.
"My good friend Mindy Rush-Chipman started volunteering as well, and we were down there about every day assisting families remain in their home. Seeing the impact of just an hour or so of our time each morning inspired us to get others involved, including other pro bono-minded attorneys, as well as students at the College of Law, and soon the program developed into a full-fledged pro bono program now approaching one hundred attorney, student, and community volunteers."
From Ryan and Mindy's initial volunteerism came the Tenant Assistance Project, a program started in March by the City of Lincoln, the Lincoln Commission on Human Rights, the Nebraska State Bar Association, the UNL Civil Law Clinic, and Legal Aid of Nebraska.
The Project aims to provide tenants facing evictions with volunteer attorneys who can provide limited-scope representation, and offer a chance to maintain stable housing.
Unlike criminal cases where defendants have a right to an attorney, evictions are a civil proceeding where tenants don't have guaranteed access to representation, and often face the process without a lawyer. 
And despite an initial eviction moratorium from the state of Nebraska in response to COVID-19, community members were still finding themselves thrown out of their home and apartments, painfully compounding the issues felt by tenants beyond the pandemic.
"As the pandemic was starting, we already knew how fragile our systems were to help neighbors get what they need to survive—including the basic need of housing. As soon as we realized people were rapidly losing work and things were shutting down, we knew that rent— which is already unaffordable for a lot of our neighbors—was going to be inevitably impacted," said Isabel Salas, a Community Organizer with the South of Downtown Community Development Organization and volunteer with the Tenant Assistance Project. 
"We had already known that having access to basic legal representation, even if it's just on the day of your hearing, would dramatically improve the chances that you won't be evicted, will get more time to secure housing and just basically have a chance to remain stable in your housing. This is when we got serious about what the TAP became—that instant, necessary legal help for struggling tenants in a crisis," Isabel added.
Having an attorney means having a fighting chance—a chance thousands of Nebraska families need. An earlier study from June predicted that as many as 107,000 Nebraskans could be at risk of homelessness, and even after the Center for Disease Control implemented a broader halt on evictions in September, the squeeze felt by Nebraskans continues to tighten as the pandemic extends its grip further into 2020 and beyond.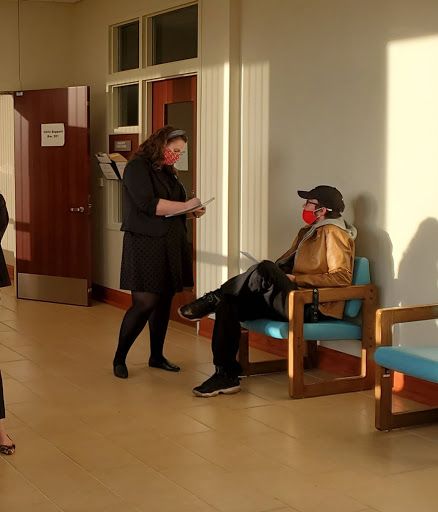 The pandemic is accelerating and worsening a cycle that keeps tenants vulnerable. For an individual, evictions are often the culmination of unfortunate events, largely out of their control: a lost job, an injury that creates steep medical bills, or even the neglect of a landlord that makes tenants feel like second-class citizens.
On a community level, in addition to depressing an area's economic value and affecting local schools, Laurie Heer Dale, the director of the Volunteer Lawyers Project at the Nebraska State Bar Association puts it simply:
"Reduced homelessness arguably creates a healthier and safer community."
But beyond the economic realities that put someone at the risk of being evicted, the legal maze that emerges, as a result, is a terrifying proposition. 
When someone receives an eviction notice, no one is there to layout the process or inform you of your rights. For many, even getting to a courthouse is difficult, with transportation limitations battling with the need to potentially take time off work, and choosing between fighting to keep a roof over your head, and work to feed your family.
The Tenant Assistance Project is out to ensure no one faces this difficult journey alone.
"We've definitely shown the strength of our community's willingness to help out our neighbors during the pandemic," Isabel said. 
"I hope my work and the work of others has strengthened the position of tenants in our community, a particularly under-represented and vulnerable population," Ryan said.
"In Lancaster County an order evicting someone from their home had become the easiest civil order to obtain; the existence of TAP has made this process more challenging (as it should be) because the tenants now have legal representation to assist them in asserting their defenses. While the result has been fewer eviction orders, an additional consequence is that it's forcing landlords to work with their tenants in an amicable way before automatically resorting to eviction."
The progress made has been inspiring, ever more so as the prospect of winter and seasonal changes makes evictions even more dangerous for tenants made vulnerable. To this moment, however, the work has been gratifying for those involved.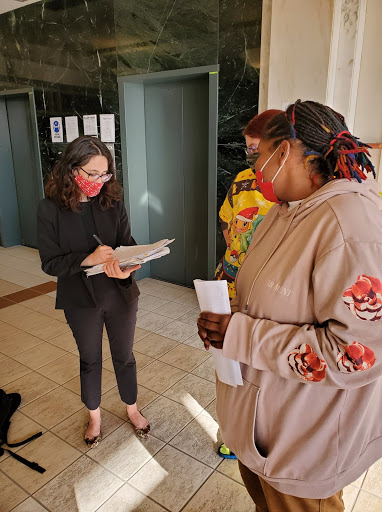 "As an attorney who has devoted her legal career to assisting some of the most vulnerable people in our state, the work of TAP is incredibly gratifying; and, I am proud of VLP's involvement," Laurie said. 
"This has definitely been a humbling experience and a reminder that we don't do any of our work alone. All of the moving parts came together because we were organized, strategized and were able to identify each other's strengths to create this project," Isabel said.
"Our collective leadership and tenacity to working through barriers and setbacks and advocating for the scales of justice to be just a little more even through legal representation has reinforced that being a leader is actually about working together and uplifting each other's talents as a team."
The work is far from over. However, the success of the Tenant Assistance Project encourages those involved to imagine where the long road of this work leads.
Isabel said, "The dream at the end of the long road for me personally is getting long-term funding for a right to counsel policy, which is essentially what the TAP team is volunteering. Many other cities have instituted right to counsel initiatives and fit it within their municipal budgets. What this guarantees is the right to legal counsel for eviction court, much like folks have the right to an attorney in other courts."
"TAP has confirmed that for there to be lawful outcomes from a process that too often and too hastily results in a family being forced from their home, there needs to be legal representation on both sides of the case", Ryan said.
"The pandemic may have been the ignitor for the launching of this program, but the need for legal representation for low income tenants will remain long after we have survived this health crisis."
To learn more about the Tenant Assistance Project, visit their Facebook page.
If you are a tenant who is impacted by an eviction, contact Legal Aid of Nebraska for potential legal representation. You can call Legal Aid's COVID-19 hotline at 1-844-268-5627, or submit an application for assistance at LawHelpNE.org.