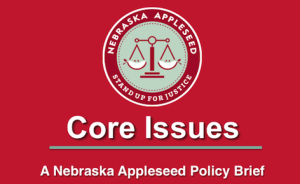 Public policy plays a big role in the lives of thousands of Nebraskans every day. At Nebraska Appleseed, we extensively research policy solutions to some of our state's most-pressing issues like poverty, health care access, child welfare, and immigration.
Armed with data and evidence-based findings, we strive to put forward achievable solutions on the Core Issues that affect Nebraskans across the state.
Today, we release a new policy brief, "Medicaid Works for a Healthy Workforce and a Stronger Economy," that explains the important role Medicaid plays in the health of Nebraska's workforce and how expanding Medicaid would lead to further economic gains in the state.
Click here to download a PDF of this policy brief
Introduction
Being healthy is an important part of working hard and being able to contribute to one's community, and a crucial aspect of being healthy is having health insurance.
When people have access to the care they need, they miss fewer work hours and are more productive, which adds to Nebraska's overall economic health. A recent University of Nebraska-Kearney study discussed the impact of health coverage on labor, noting that "[p]rograms that improve the health and vitality of workers improve the quality of labor. Access to medical care improves the physical vigor and the emotional stability of the labor force, which enhances worker longevity and contributes to a workforce that is more productive because it is more experienced."1  In other words, having health insurance means that employees can get the preventive care and treatment they need to stay healthy and productive.
Workforce Impact
Just like private health coverage, Medicaid provides health insurance to many Nebraskans, allowing them to stay healthy and engaged in the workforce. In fact, 60 percent of Medicaid enrollees are part of a family with at least one full or part-time worker.2  Medicaid supports many Nebraskans as they work to earn money to provide for their families and contribute to local economies.
In addition to its impact on present employees, Medicaid also positively affects Nebraska's future workforce. The majority of Nebraska Medicaid enrollees are children who experience numerous long-term benefits from receiving health coverage in their youth.3  Children covered by Medicaid in their youth miss fewer school days because of illness or injury and are more likely to have higher academic achievement, graduate from high school, and attend and graduate from college.4  Further, a recent study by the National Bureau of Economic Research found that children with access to Medicaid earn more income, contribute more tax revenue, and require less public benefits as adults. The more years the children were Medicaid-eligible, the larger the difference in adulthood earnings and positive economic contributions.5
Expanding Coverage for Hard-Working Nebraskans
Although hard work is a Nebraska value, our state could do more to support working Nebraskans. Many hard-working Nebraskans fall into the coverage gap — they are ineligible for Medicaid currently, but do not make enough to qualify for subsidies through the Health Insurance Marketplace. They have no pathway to affordable health care coverage unless our state expands Medicaid under the Affordable Care Act.
Of Nebraskans in the coverage gap, 73 percent are working now. And those people are employees in occupations that form the foundation of Nebraska's economy like food service, construction, sales, hospitality, and health care support.6 Of those in the coverage gap who are not working, more than half are individuals with disabilities, students, non-working spouses, or those that have left the workforce.7
Without access to health care, those in the coverage gap struggle to access preventive care and manage health conditions, which can reduce their ability to work as many hours as they would otherwise. Shelly Sedlak of Seward, Nebraska, told her personal story to legislators last spring at a hearing for LB 472, a bill that would have brought tax dollars back to Nebraska to close the coverage gap.
"Until recently, I was a store manager in Seward, Nebraska, where I found great purpose in helping my neighbors in my community find the items that they needed. I loved my job," Sedlak said. "It gave me a great sense of self worth, pride especially. But now that is gone. A little over five years ago I suffered a brain aneurism and which caused a stroke. That turned my life upside down.
"Lots of Nebraskans are like me. We want to be useful and contribute to our towns, but first we need to get medical treatment. We didn't ask to become sick or injured. I certainly didn't ask to have that stroke. If I had the right care maybe I could get back to work again and feel like I was useful to my friends, family, and neighbors."8
Hard work and contributing to the community are Nebraska values. Nebraska has the opportunity to support our hard-working friends and neighbors by expanding Medicaid and ensuring that all Nebraskans have access to the care they need.
Endnotes
1. Allan Jenkins and Ron Konecny, Nebraska Medicaid Expansion: Protecting a Critical Infrastructure, Supporting Main Street, Improving Worker Health and Productivity, University of Nebraska-Kearney, Apr. 2015, pp. 33, available at http://www.nebraskahospitals.org/file_download/inline/9eb5a4d7-8725-4385-959f-0f404c895128
2. Edwin Park, et al. "Frequently Asked Questions About Medicaid," Center on Budget and Policy Priorities, June 29, 2015, http://www.cbpp.org/research/health/frequently-asked-questions-about-medicaid#_ftn20
3. Center on Budget and Policy Priorities, "Medicaid Works in Nebraska," July 2015, http://www.cbpp.org/sites/default/files/atoms/files/medicaid_nebraska_7-9-15.pdf
4. Ibid.
5. Margot Sanger-Katz, "How Medicaid for Children Partly Pays for Itself," The New York Times, Jan. 12, 2015, http://www.nytimes.com/2015/01/13/upshot/how-medicaid-for-children-recoups-much-of-its-cost-in-the-long-run.html?emc=eta1&_r=0
6. Dee Mahan & Kathleen Stoll, "Closing the Coverage Gap in Nebraska: Health Insurance for Working Individuals and Families," Families USA, Nov. 2014, http://familiesusa.org/sites/default/files/product_documents/MCD_Nebraska%20Medicaid%20gap%20and%20employment_final_web.pdf
7. Mahan & Stoll, "Top 9 Occupations of Working but Uninsured Nebraskans Who Would Benefit from New Medicaid Coverage," Families USA, Dec. 2014, http://familiesusa.org/product/top-9-occupations-working-uninsured-nebraskans-who-would-benefit-new-medicaid-coverage
8. Testimony of Shelly Sedlak, LB 472 Health and Human Services Committee Hearing, Feb. 25, 2015, http://www.legislature.ne.gov/FloorDocs/104/PDF/Transcripts/Health/2015-02-25.pdf